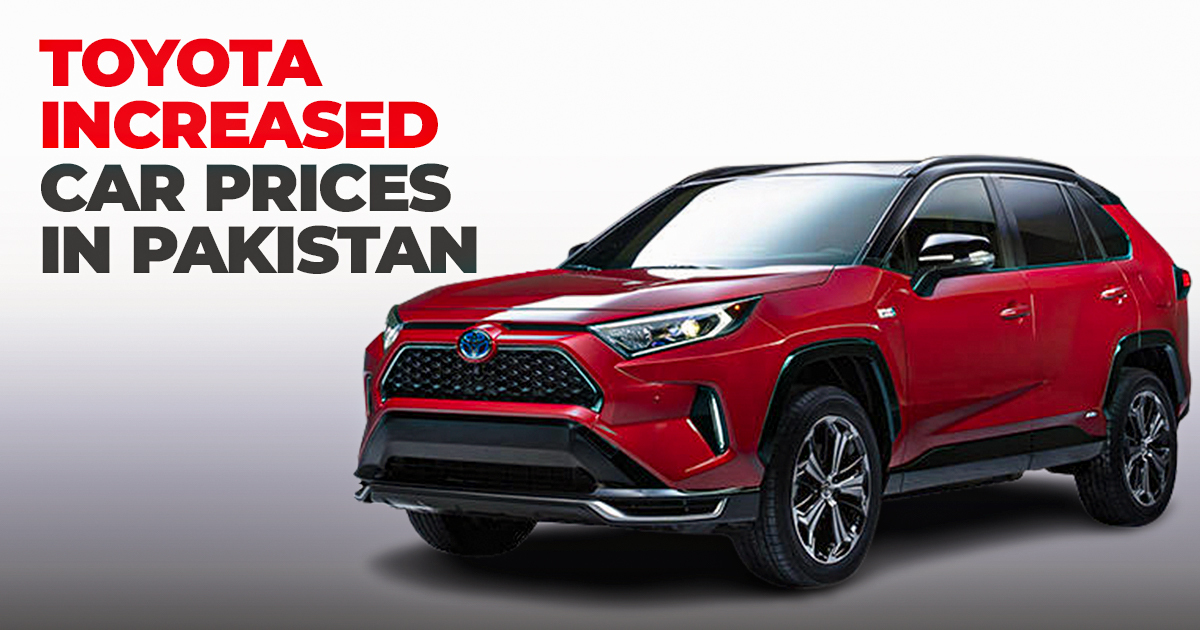 Once Again, Toyota Increased Car Prices in Pakistan
Inflation has hit the entire world in today's time and age! However, certain countries tend to catch the effects of increased inflation quite adversely. Unfortunately, Pakistan is one of them. Over the last few years, car prices have drastically increased globally. Automobiles are slowly going out of the reach of the middle-class segment in society. The car enthusiasts in Pakistan complain that these cars have gone beyond reach. It is especially true for Toyota cars. Toyota increased car prices in Pakistan yet again! This upsurge in the prices is due to many factors. Mainly, it is due to the enhanced rate of assembled parts of the cars and their cost of transport cost. It makes it even more challenging for the public to afford the Toyota cars, leading to great dismay.
Toyota Corolla New Prices.
In April, the prices of Toyota cars have increased twice. It has come as a shock for all the prospective buyers. Potential customers of Toyota and IMC are indeed in trouble now! Whatever they had saved by now would surely fall short of a lot of cash due to the price increase. One primary reason the price has now doubled up is the Pakistani rupee, which has devalued. Compared to its value in the past, it is now relatively undervalued. Therefore, the Indus Motor Company cannot sell the automobiles at the previous rates. According to the company's management, to ensure the stability of the enterprise, this price hike is mandatory.
Toyota Corolla is one of the most loved cars that this company has to offer. In the month of April, its prices have skyrocketed extensively. For instance, with an increase of Rs 1.93 million, Corolla Cross has reached a price tag of Rs11.179 million. On the other hand, Corolla Cross Premium is now available at Rs12.249 million, which was previously purchasable at Rs 2.140 million.
Toyota Altis is yet another model that showcases a rise in prices. For instance, the Corolla Altis X Manual 1.6 is now available at the whopping cost of Rs. 3,909,000. This is a rise of around Rs. 160,000. Similarly, Corolla Altis X Automatic 1.6 has a new price tag. 4,099,000. Previously, a customer could have it at Rs. 3,929,000, only. Corolla Altis Grande X CVT-i 1.8 shows the biggest jump with this price hike. It has reached a price tag of Rs. 4,899,000, while previously it was available at Rs. 4,689,000.
Toyota is one of the most trusted automobile manufacturers across the globe. It is adorned by car lovers who know all the perks a Toyota driver enjoys. Though the newly increased prices appear unjust to the car buyers, the company is justified in making these changes. The devaluation of the Pakistani rupee has enhanced the prices of assembled items. Putting them together has also become next to impossible with their high cost. IMC, also known as Indus Motors Company, has no other way to deal with the problem. Hence, this upwelling of prices is warranted.
Revised Prices of Toyota Yaris
One of the most sought-after cars amongst automobile lovers in Pakistan is Toyota Yaris. It is a vehicle that offers its drivers and passengers a comfortable environment. Since its launch in Pakistan, it has garnered much attention from car enthusiasts. However, Toyota's sudden hike in prices has affected all the variants of Yaris.
For instance, the Yaris GLI MT 1.3, arguable one of the most comfortable cars available, is now available for Rs. 3,039,000. It is a sudden hike of around Rs. 140,000. The price of Yaris ATIV MT 1.3 has also hopped from Rs. 3,059,000 to Rs. 3,209,000. The current price of Yaris ATIV CVT 1 showcases a jump of Rs. 140,000 by going at Rs. 3,249,000 from Rs.3,109,000. The highest surge is in the price of Yaris ATIV X CVT 1.5, which is around RS. 160,000. Its price has gone from Rs. 3499000 to Rs. 3659000.
Toyota Revo Price Changes
Another car and its variants that are now selling at a higher price are Toyota Revo. Its rate has augmented quite a lot, making it difficult for the average buyer to purchase it. With a hike of Rs.300,000, the Hilux E variant has reached Rs. 7,359,000. The Toyota Hilux Revo G Manual 2.8 has reached a whopping cost of Rs. 7,989,000, with an increase in Rs. 330,000. It is surely quite shocking! Another variant is Hilux Revo V Automatic 2.8, which was previously available at Rs. 7,989,000 is now purchasable at Rs. 8,839,000.
The biggest influx is in the rate of the Hilux Revo Rocco variant. Previously available at Rs. 9,319,000, this car has jumped quite high and has moved to RS. 9,729,000. The new Toyota Car Prices are surely destined to affect the budget of the current buyers massively! A lot of them may even end up dropping the idea of buying a new Toyota car altogether.
New rates of Toyota Fortuner
In terms of style and elegance, there is no comparison to Toyota Fortuner. It is a car that makes heads turn whenever it's on the road. Nonetheless, it is still not safe from the recent price hike. Rather, it is the one that is showing the highest surge in prices. The variant is Fortuner 2.7 G now comes for Rs. 9,959,000, which is an increase of Rs. 460,000 from the previous amount.
Apart from this, the Fortuner 2.7 V is available at Rs. 11,459,000, while previously it was somewhere around Rs. 10,949,000 only. With a hike of Rs. 550,000, the Fortuner 2.8 Sigma now comes with a price tag of Rs. 12,039,000. Lastly, the latest variant, Fortuner Legender, offers the highest hike! The surge of price for this car is around Rs. 580,000, and is now available at Rs. 12,679,000.
Among all Toyota's cars and variants, the Fortuner Legender has showcased the highest increase in its cost. Though the prices have increased in the entire lineup of Toyota's vehicles, Fortuner Legender is undoubtedly the most affected one. Moreover, getting customized car accessories from an Autostore will add to its cost.
Term and Conditions
The hike in the prices of Toyota cars comes with a few terms and conditions. Following these conditions, prospective customers can plan their future purchases accordingly. All these new prices will be operational post the month of April. Customers who had placed their orders during April or after will have to pay the latest costs.
However, those who were efficient enough to place orders before 23rd March are safe. They would have to pay the earlier amounts. Alongside this, all these new prices are devoid of any mandatory additional charges. For instance, they don't include transportation charges or transit insurance costs. Now that the freight prices have also increased globally, the end price may increase exponentially! By adding them, the new vehicle's overall price will improve further.