Toyota Fortuner Modification
The attention-grabber Toyota Fortuner is all-time favorite mid-size SUV for most of the Pakistani SUV enthusiasts. Its remarkable off-road capabilities along with extremely subtle and smooth long route stealthiness makes it a versatile choice for everyone. One of the top preferences of the mid-size SUV, the Toyota Fortuner modification gives the taste of:
Luxuriousness

Smootherness

Subtleness

Aggressiveness

Power.
Perfectly pictured above, Toyota Fortuner also has massive popularity in the world of SUV enthusiasts due to its remarkable aftermarket accessory's availability in the common market. There are a huge number of aftermarket add-ons that can readily equip in your Toyota Fortuner and make it more interesting and compelling. 
For that purpose, we have gathered a list of the most demanding and latest aftermarket products. These products will surely drive your attention and make your Fortuner life more easy, convenient, and exciting. 
Toyota Fortuner Legender Tithum Style Body Kit 2021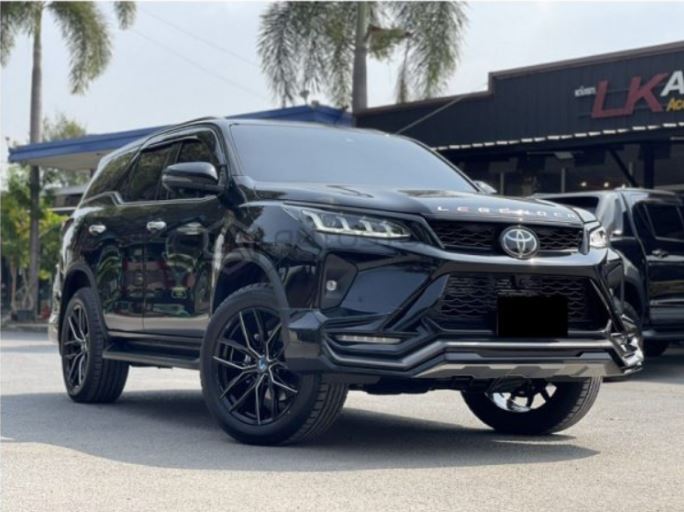 Being as aggressive as it seems. The all-new version of Toyota Fortuner delivers enhanced visuals and aesthetics that suits your needs. However, if you are one of those die-hard SUV enthusiasts that looks forward to a more aggressive look on their SUV, the Toyota Fortuner Legender Tithum Style Body Kit is just meant for you.
This Legender Tithum Style Body Kit changes the game to a whole new level. The aggressiveness on the car is beyond expectations along with meanish possible looks that it can develop. The front end is completely is made for a better and more combative tone. The front grille come with a bigger mesh for better air intake. There are a lot of curves that bring the macho-ness to the car. The bigger grille mesh extends downloads where a front camera is also located. A pretty neat and synchronized pattern is carried in the very bottom of the front bumper. The fog lamp's covers are also enhanced to make them visually better.
Talking about the rear end, the approach is again very aggressive. The rear bumper has been modified to a greater extent along with 4 additional exhaust pipe covers for better visuals. A set of reflector is present on top of the exhaust covers for better night caution.
Toyota Fortuner Front Armoured Bumper V2: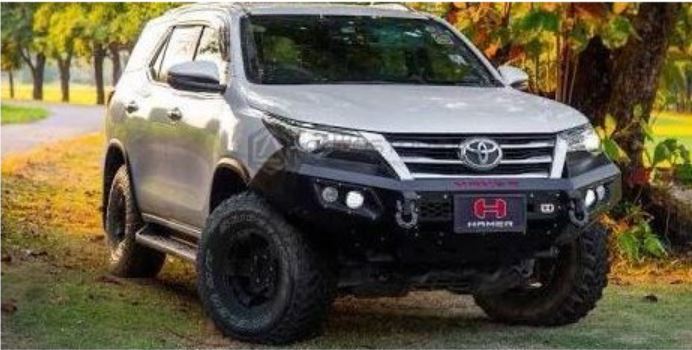 Despite the fact of Toyota Fortuner being a family mid-size SUV, many enthusiasts from all over Pakistan race it in different competitions and rallies. To get parallel with that aspect, we present to you the Toyota Fortuner Front Armoured Bumper V2. This aggressive-looking, muscular beast carries a whole new sensation of what this SUV is capable of.
Upon installing this thunder, the front end gets really huge and brawny and looks like it will shred anything in front of it in tiny pieces. The armour is quite visible with sharp edges and acute angles throughout the kit. There are four fog lamps placed as well for better visibility for night racing.
Toyota Fortuner Multimedia Tesla Style Unit: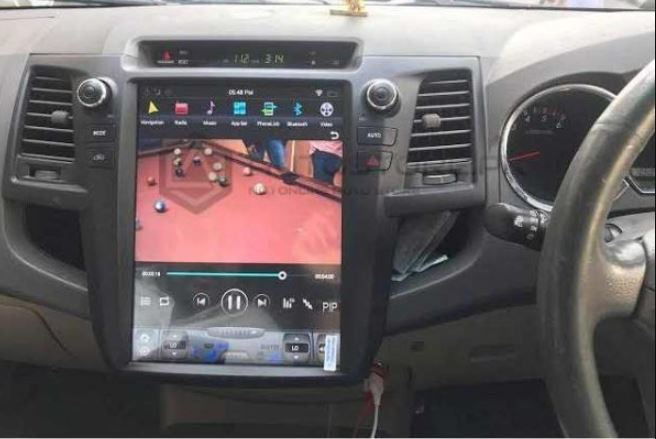 Talking about the various multimedia screens in the automobile industry, the ones that are used in the Tesla models are surely appreciated more than the rest. The huge floating capacitive touchscreen as an infotainment source surely gives a lot of vibes than just a display with functions. 
This huge screen can be a part of your Toyota Fortuner as well. The same 10.4" large touch screen along with various other functions and a 5-point touch capacity are included and provided for your comfort and convenience. It carries 2 GB of RAM for better data processing and handling along with 32 GB of ROM for better data storage capacity. It is just a ready plug and play device with no additional configuration whatsoever. You do not have to mess with the original wires, everything is just as perfect as it seems. So if you are into big infotainment systems with massive displays, the Toyota Fortuner Multimedia Tesla Style Unit is exactly what you should go for.
Toyota Fortuner Front LED Grille With Logo: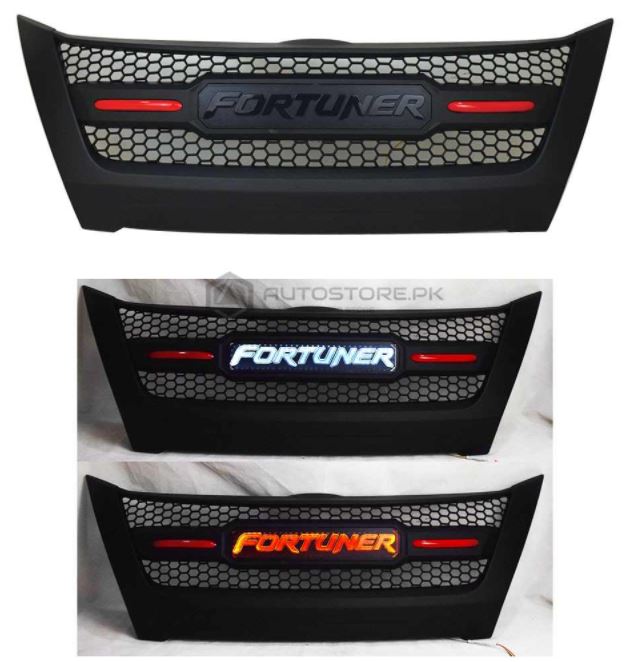 This particular aftermarket accessory replaces the traditional front grille with a customized one. This one carries the name 'FORTUNER' instead of the regular Toyota's emblem. One particular feature that distinguishes this grille from the rest of the aftermarket grilles is the LED support to the logo. The logo shines out when the LED is turned on for the fortuner. It highlights the name prominently to remind everyone which car they are staring at. Therefore, if you are into LED supported custom front grille for your mid-size SUV, the Toyota Fortuner Front LED Grille with Logo is your best bet.
Toyota Fortuner LED Fog Lamp Covers: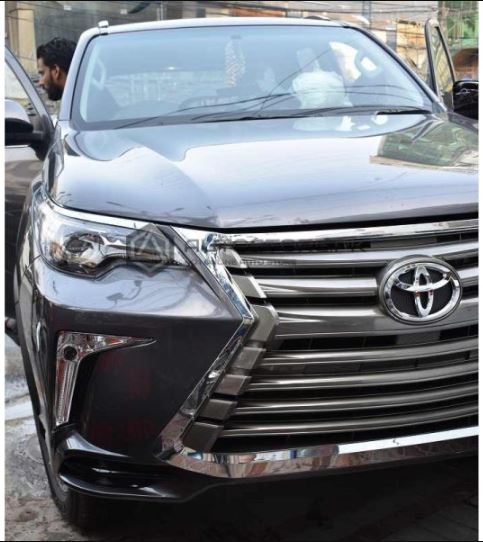 Toyota Fortuner is a car everyone cares to give another stare when this beast passes by them. In order to make their second glimpse worthwhile and to improve the visuals from the front, we offer the customized Toyota Fortuner LED Fog Lamp Covers. These stances completely change the fog lamp game for the mid-size SUV. The new customized lamps are made of a custom shape that bends at 90 in the middle. This fog lamp cover matches with the Fortuner  to a better extent and provides a very cool look to the car.
Toyota Fortuner Side Steps: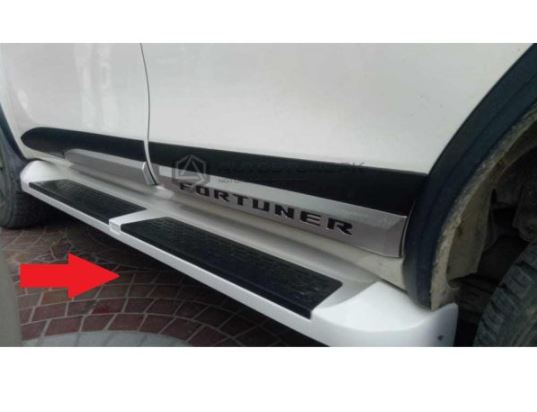 As you know that the Toyota Fortuner is a SUV with a considerable amount of ground clearance. This means although it is a good option for going off-road, the path to enter this huge monster is quite hard to reach. It is a challenge, especially for younger and elder people, about getting inside the SUV. Therefore, we would recommend one of the hottest car accessories for the Toyota Fortuner aka Toyota Fortuner Side Steps. 
The Side Steps not only provide sufficient strength and aid in climbing inside the car, but also improves the overall visual exterior as well. The backed-out pads give a significant look with the combination of silver.  The overall combination gives a remarkable and distinctive add-on to your Toyota Fortuner.
So, we have chosen these premium aftermarket parts that will certainly fulfill your needs regarding your Toyota Fortuner. These accessories will not only provide you the essential convenience you are looking forward to but will also increase the overall styling of your mid-size SUV. In order to equip you with the best possible products in the market that provides both reliability and quality. We recommend you to make a purchase only from autostore.pk. It's the no.1 aftermarket auto parts store in Pakistan. Autostore.pk provides the highest quality car accessories under the best price tags.