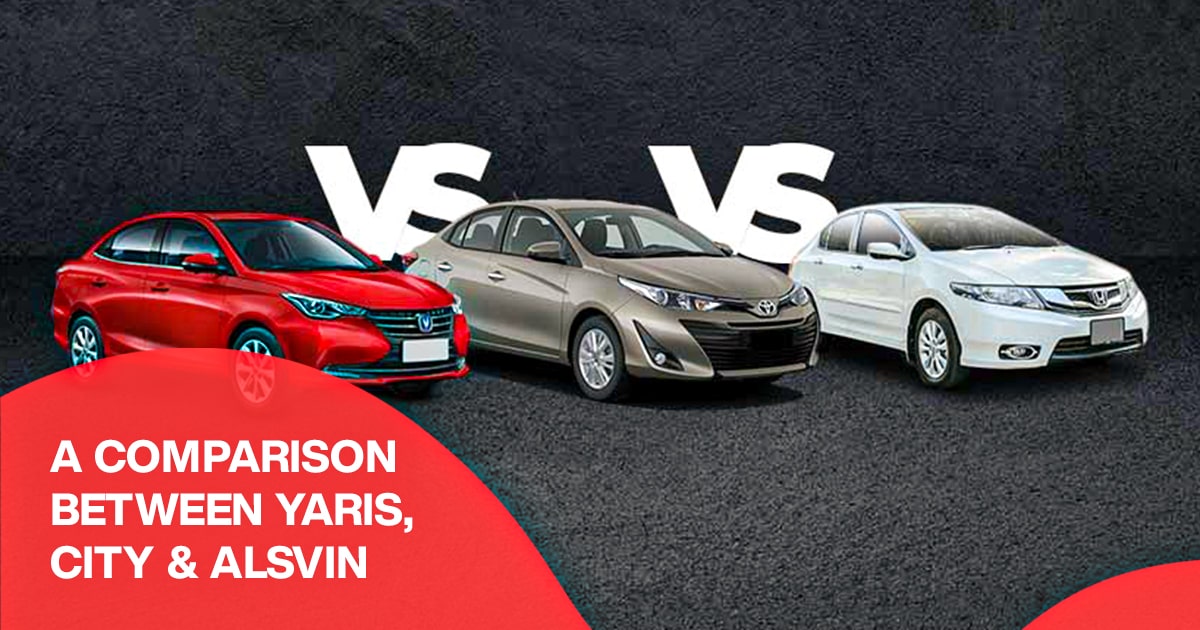 A Comparison Between Yaris, City & Alsvin
The sedan portion of the automotive market of Pakistan is loaded with selective competition. Most of the rivalry arises with the support of old vs new cars here. However, we may end up discussing a much similar topic in this article. 
Honda City is no newbie in the sedan segment. It has ruled the market for a decent number of years. In comparison, the Yaris and Alsvin are relatively newer in the industry. The former one of them ended up being a bit overpriced. Whereas the other dropped a few bucks than the standard rate.
But what if the three of them are put on a single table? Following is a comparison of the three of the most popular sedans of this generation; Toyota Yaris vs Honda City vs Changan Alsvin.
Engine & Transmission 
The Toyota Yaris boasts of a 1329 cc engine which generates 123 Nm torque and 98.6hp. In contrast, the Alsvin houses a 1370 cc engine with 99hp and 135 Nm torque. Last but not least is the City, with a 1339cc engine. It generated 98.6hp and 128 Nm torque. This one is pretty clear as Alsvin takes the victory cup.
Interior 
When it comes to the interior of the car, the Alsvin does exceptionally well again. The material and designation used look sophisticated as well as give a premium feel. Moreover, it is fairly roomy, similar to the other two. 
The "new" generation of City has made some improvements regarding the styling of the car interior. Even though it is quite groomed, yet there's a bit of material slipping here and there on it. The case with Yaris is almost no difference in terms of the interior. 
Exterior
The City portrays a classy, sporty look. Although it is a rather common sight on our streets, it embodies a subtle elegance, with sharp edges bordering its looks. 
Instead of the arrival of the next 7th generation Honda City, Pakistan ended up almost a decade late. But all of these generations are not much different from each other in terms of looks.
Toyota Yaris disappointed many with its controversial disproportionate looks. The massive bumper, together with the headlights and grille, give an odd outcome. This has been compared by many to "the jokers' smile". The Changan Alsvin, we'd say, is relatively balanced. It depicts a sporty design but with a shaped family feel to it.  
Safety 
The Yaris is a step ahead of the other two sedans when it comes to car safety. It has dual airbags, which the City lacks. Also, it accompanies Hill Start Assist, a factor absent in both the Alsvin and City.
Features:
A comparison of features could very much result in a draw between these three. All three of them come with an infotainment screen, a USB connection feature, etc. However, Yaris and Alsvin lack rear A.C vents. 
As of now, the three sedans are under the testing radar of Pakistanis. The "new" Honda City 7th Generation is a bit behind in some features. But the Yaris isn't exactly an item looked out by most of the budget-tied people here. The third option is the Alsvin, but time is slowly testing out its credibility in the market. Therefore, it will remain unclear if Alsvin will be the bang for the buck the people in Pakistan have been searching for. 
Pricing
The price factor is what most people base their buying decision on. 

Changan Alsvin comes in three variants and lands on the lower end of the list with a price of 21.49 lacs to 25.89 lacs.
Changan Alsvin 1.3L MT Comfort – PKR 2,149,000 – Manual
Changan Alsvin 1.5L DCT Comfort – PKR 2,399,000 – Automatic
Changan Alsvin 1.5L DCT Lumiere – PKR 2,589,000 – Automatic
The Toyota Yaris price in Pakistan ranges from 24.09 lacs to 28.99 lacs. Yaris have six variants.
Toyota Yaris GLI MT – PKR 2,409,000 – Manual
Toyota Yaris ATIV MT – PKR 2,519,000 – Manual
Toyota Yaris GLI CVT – PKR 2,589,000 – Automatic
Toyota Yaris ATIV CVT – PKR 2,669,000 – Automatic
Toyota Yaris ATIV X MT – PKR 2,719,000 – Manual
Toyota Yaris ATIV X CVT – PKR 2,899,000 – Automatic
Honda City price in Pakistan ranges from 25.99 lacs to 31.74 lacs. Being called overpriced, it comes in five variants.
Honda City 1.2L M/T – PKR 2,599,000 – Manual
Honda City 1.2L CVT – PKR 2,799,000 – Automatic
Honda City 1.5L CVT – PKR – 2,899,000 – Automatic
Honda City 1.5L ASPIRE M/T – PKR 3,019,000 – Manual
Honda City 1.5L ASPIRE CVT – PKR 3,174,000 – Automatic