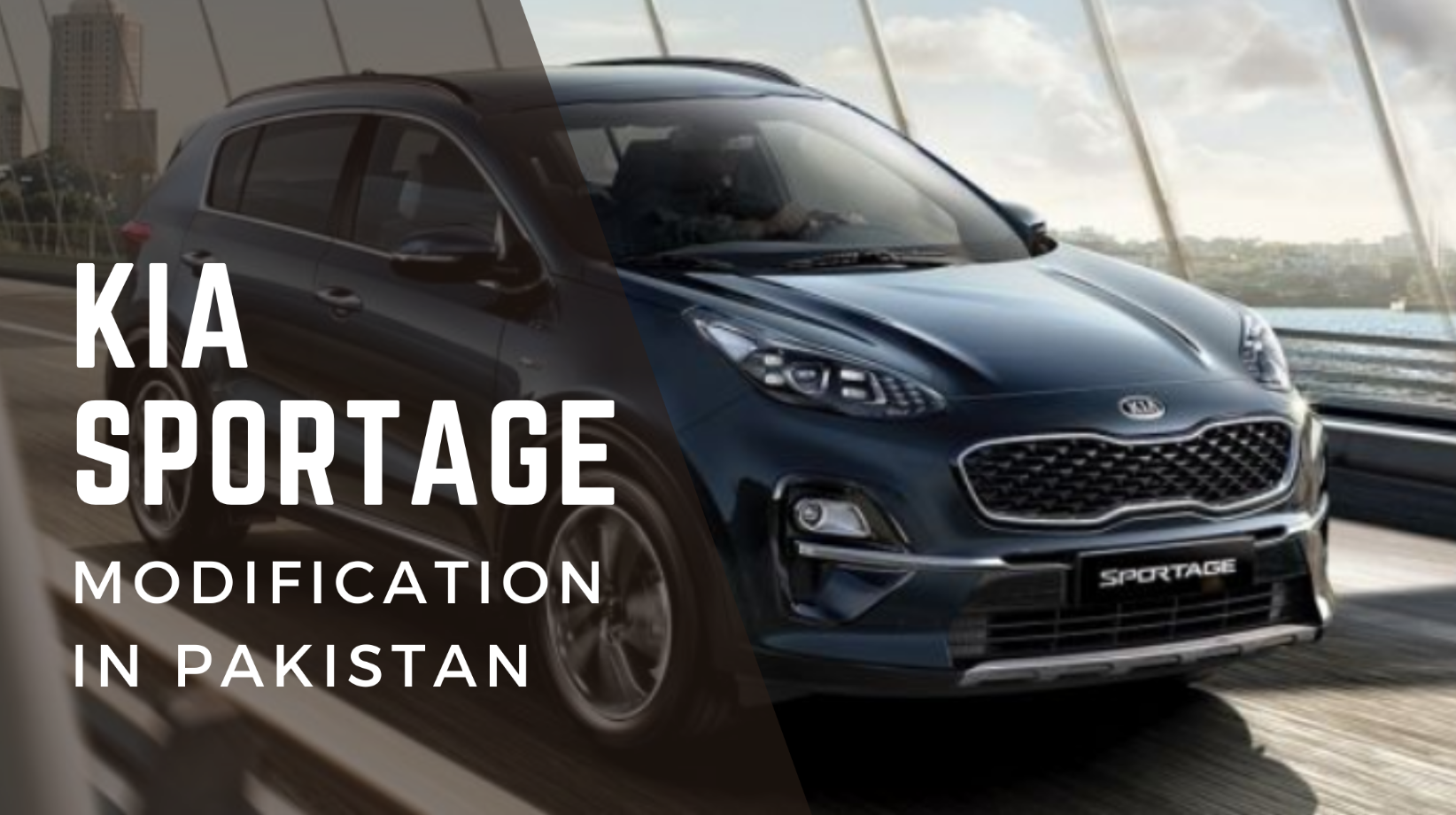 KIA Sportage Modification in Pakistan
Introduction:
KIA Sportage can now unofficially be called the 'national crossover SUV of Pakistan" due to its immense amount of features and qualities. With an endless list of counting its perks and qualities, the KIA Sportage can be considered one of the most favorite automobiles amongst the Pakistani automotive enthusiasts from 2019 till now.
With that much popularity gained within such a short period, a lot of automotive aftermarket accessories manufacturers started to launch its aftermarket modifications that significantly enhance the looks of the KIA Sportage.
With an excessive amount of modifications for both the interior and the exterior, the KIA Sportage comes with a support of a huge variety of aftermarket accessories ranging from side mirror covers to spoilers to inner mats. It can be said without a doubt that KIA Sportage is one of those automobiles that comes with such a huge variety of aftermarket accessories. Hence, to save you from confusion, we have handpicked several car accessories that will help you to get an enhanced look for your KIA Sportage within no time.
KIA Sportage LED Sill Plates V9 2019-2021:
Starting with one of the most notable interior accessories of KIA Sportage, the LED Sill Plates can be a great addition when it comes to witnessing something right after you open the door of your KIA Sportage. 
The LED Sill Plates not only amplifies the looks of your KIA Sportage with its chrome coat but also serves as a valuable source of protection against getting your shoe rubbed against the inner chassis.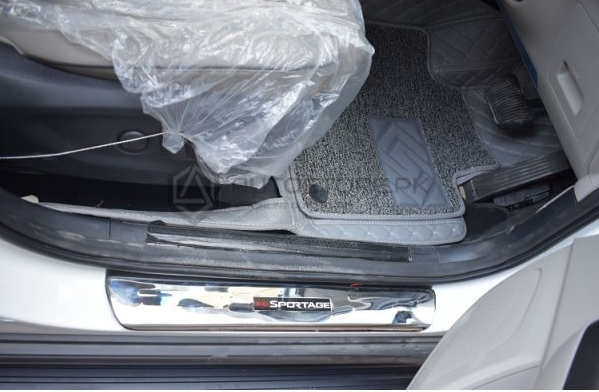 We often neglect the amount of care we should do while getting inside or outside the car or sometimes we are in such a hurry that unintentionally, our shoe gets rubbed against the inner framework that can result in worn paint, prominent scratches, or even unremovable marks. However, this factor can be minimized by adding these LED Sill Plates on both sides inside the door panel. 
Apart from providing protection, it also increases the appeal by its chrome coat along with KIA Sportage badging in the center. The LED function makes it lit up and gets it prominent while operating the doors at night.  
KIA Sportage 9D Diamond Floor Mats Black Stitch with Black Grass:
Getting a pair of mats is somewhat an essential accessory for your car. But what if you get a chance to acquire the best quality floor mats with a premium finish along with an excellent build quality? If you are interested in upgrading your mats game for your KIA Sportage, we would highly suggest you go for KIA Sportage 9D Diamond Floor Mats available in Black Stitch with Black Grass.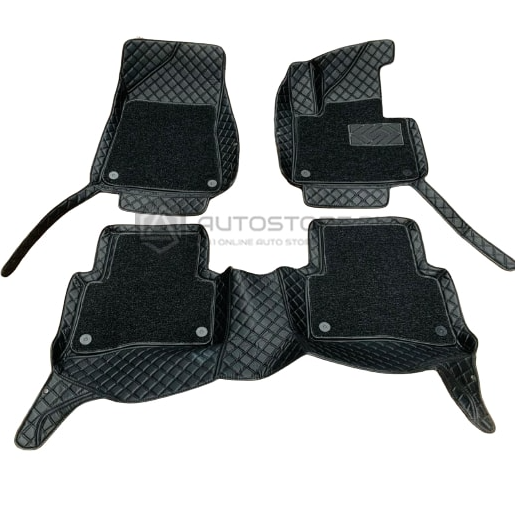 Made from the finest mat composition in the whole automotive industry, the 9D mats work like a charm by providing the highest quality material for your KIA Sportage. The mats have a distinctive 'Diamond cut' throughout the unit along with a fine composition of Black Grass in the middle. This combined set makes this set of 9D Diamond Floor Mats a compulsory choice for people who demand luxury beneath their feet in their new KIA Sportage. 
KIA Sportage ArmRest:
One of the main concerns in any vehicle, whether it is the crossover SUV, KIA Sportage or not, is the amount of storage it possesses and offers to you. It does not depend upon the amount of storage an automobile has to offer you, but it depends upon how much you require from your automobile. Therefore, in order not to let you get short of any type of storage, your KIA Sportage can be equipped with an additional Arm Rest Storage Box.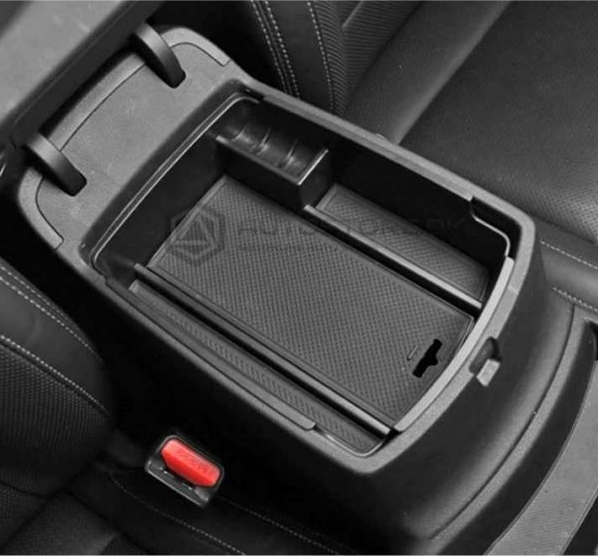 Not only this additional car accessory provides you with additional storage, but it provides you with great convenience and approach as well. With an enough offered size of around storing almost any important necessity, ranging from house keys to a mobile phone, this little partner can hold anything for you. 
KIA Sportage Inner Rear View Mirror Chrome Trim 2019-2020:
When we start to notice a few things we do inside our car whilst driving every day, noticing the rearview mirror after every 5-10 seconds is one of them. We ought to inspect the flow of traffic behind us when changing lanes or turning on either side. So if such an important accessory is meant to be used after every 5-10 seconds, it should be enhanced in terms of looks and styling. Therefore, it is highly recommended to consider installing the KIA Sportage Inner Rear View Mirror Chrome Trim on your rearview mirror.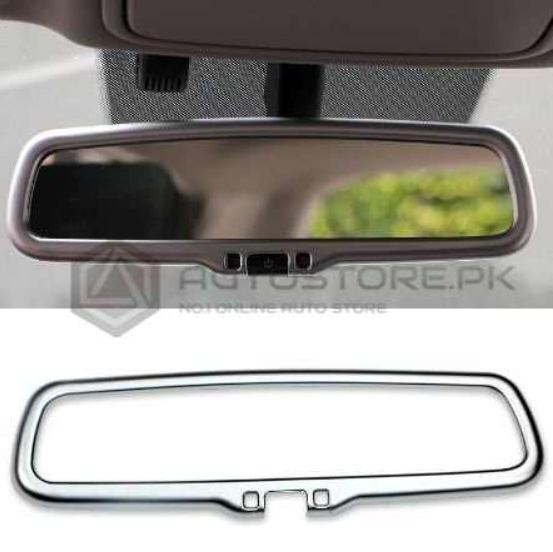 The composition of one of the most premium quality materials coated in a fine, chromium finish will make your everyday experience much better. With such a superior finish around your rearview mirror, you will be tempted to check your sides and rear again and again!
Conclusion:
Although there are an endless amount of accessories available for the KIA Sportage when it comes to modifying the interior, it is always a wise decision to choose the best accessories out there that will serve you the most. On the other hand, it is somewhat a challenging task to find the aftermarket accessories that comply both in terms of quality and reliability. The marketplace is full of fake products with low-quality materials and it's hard to find a genuine and authentic source for such car accessories. 
So, to get your hands on legitimate aftermarket accessories, we urge you to purchase from a legitimate source as well. For that, the auto store serves as a viable option that provides genuine and authentic products at the best price. Ranging from carbon fiber side mirrors to a fully customized body kit, autostore offers an immense amount of aftermarket accessories for almost all types of cars.