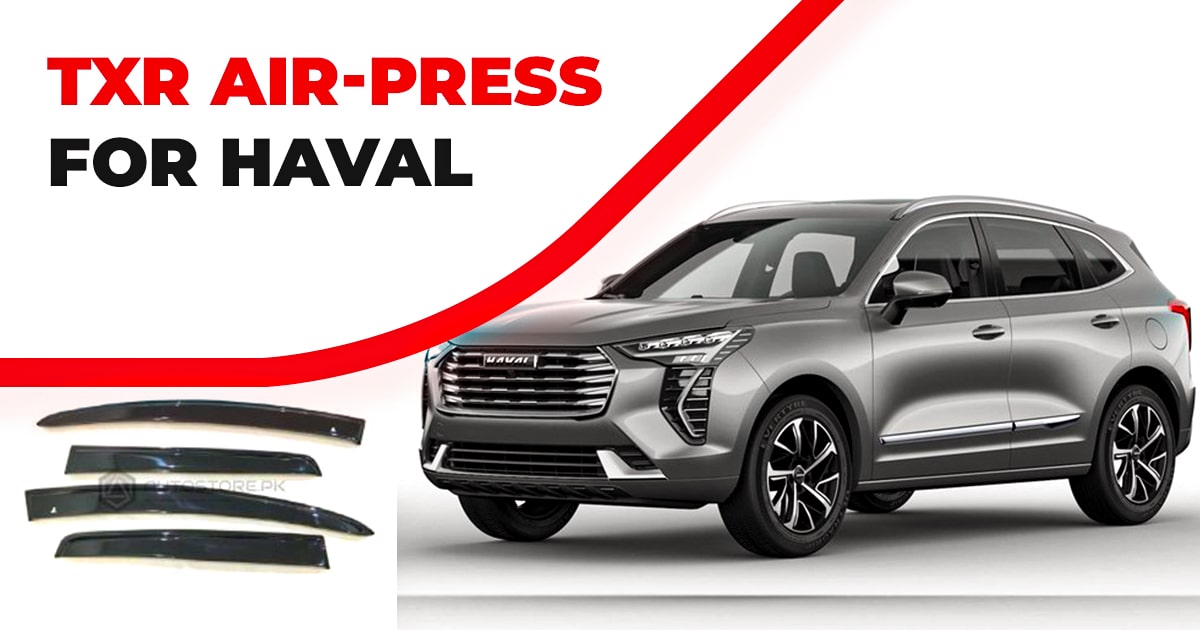 Haval TXR Airpress | Bring The Best out of Your Haval
Modification of your automobile by adding new accessories like TXR Airpress gives your car luxury and ensures the care you desire for your automobile.
So you might have heard about the manufacturing of one of the most popular (over 10 million units sold in 2020) and loved compact SUVs of China in Pakistan. Yes, you got it right. We're talking about the beauty and luxury icon itself, Haval H6 and Havel Jolyon.
The 2000cc H6 and 1500cc turbo variants of the Jolion give huge competition to the other most recognized options in this category, like the Kia Sportage, Hyundai Tucson, and MG HS.
The competition isn't just of price and some minor options but the claims and first look of the car make us believe that it's a whole new level of luxury, from the exterior look to all top of the line gadgets and accessories used in the interior the Havel talks for its hype.
The Missing Piece of Luxury
Because nothing is perfect, even with all of the options and luxury, there is always something missing. In this case, we'd like to showcase one of the most vital rainy-day cruise accessories: the Airpress.
Isn't that shocking? The sad truth is that, like many stock automobiles, the Havel lacks the luxury of airpress as a stock option.
So, at this point, you're probably wondering what to do and why you'd bother acquiring those. What function would they perform in your opulent Havel?
Let us provide you with an answer.
The Purpose of AirPress
Rain fascinates our consciousness, and the desire to take your ride out for a long drive in cool weather is a guilty pleasure we all have as drivers. However, what is the benefit of that pleasure if it ruins the interior of your ride as well as your clothes? It becomes more of a punishment than an enjoyment.
That's when air-pressors, also known as air deflectors, come into play; they keep rainwater out of the car and don't spoil the leather seats of your beloved Havel, and on a sunny day, they keep your sides covered because they're made of light-reflecting chrome.
Not only that, but by using the Air press, you can improve the aerodynamics of your vehicle but also the aesthetics of it.
Now that you know how to use this device, let us tell you about the finest option and online site to get your Airpress.
TXR Airpress
TXR is one of the top manufacturers of air presses. Many customers and businesses rely on it because of the amount of trust it has built through its great services. The TXR Air press on an automobile gives it a sporty and strong appearance. It, along with the thin lining of bright chrome, can improve the overall appearance of your vehicle. 
Many consumers believe it is superior to OEM in terms of quality and affordability.
TXR assures that all car exterior accessories, such as air press, are customized for all car models and have an excellent door-to-door fitting. Wind deflectors, on the other hand, reduce the loud sound of the wind and make the surroundings more serene and quiet. 
This is particularly beneficial when traveling at high speeds on a highway.
So what are you waiting for now? Buy your TXR airpress online from autostore.pk website and treat your car with a pair of best in the line.
Conclusion
We understand that the sky's the limit when it comes to car customization and spare parts of Havel but there are some minor details to consider that will ensure you have the greatest driving possible and will give your car a more elegant appearance. If I were you, I would give my new Haval the Airpress treatment right away.