Why Should Toyota Fortuner Be Your Dream Car?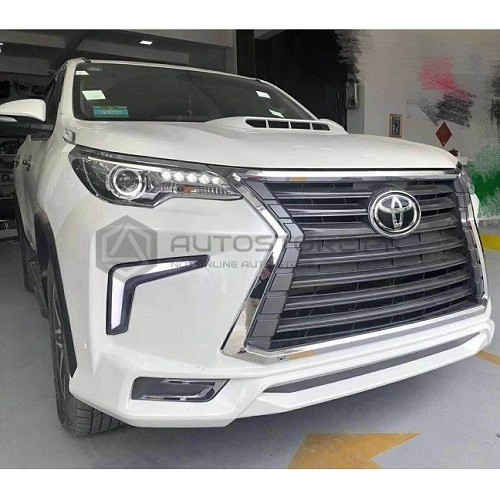 Many people have an ever-lasting crush on automobiles – same is the case with me. Some prefer Supercars, while the others go for a luxurious Sedan. However, I like my ride to be a giant, 4×4, rolling madman which can conquer the world, yet sport the façade of a family-friendly SUV. The car which fits my expectations and description perfectly is none other than… the renowned Toyota Fortuner!
Many of you might be able to relate to my obsession for such a decent yet wild car which can tackle all kinds of roads. Indeed, one should always pick a car which can blend in every type of situation, just like Fortuner. Whether it's a steep, mountainous climb or a smooth and straight motorway, it neither compromises on its performance nor the comfort of its occupants.
You must be wondering what else is so special about this car and why is everyone (mostly me) going crazy over the Fortuner Body Kit. Well, the reasons why I am about to ramble on about this car will soon become apparent to you. Read on and you might just become a "Fortunatic" like me.
Exterior Build:
Coming to one of its spectacular features: Exterior Build.  Toyota Fortuner flaunts the best SUV version of projector headlights at the front side. Its subtly-curved fog lamps uplift the entire look and make everyone fall in love with it. The enlarged and eye-catching Toyota logo on its front grille turns heads and leaves awe-struck expressions on the passerby's faces.
Its muscular cuts and lines come together and meet the curved roof. This combination gives off an athletic vibe and is bound to compliment your sporty streak. Paired together with a massive ground clearance and enormous wheels, it will give you that edge you've always wanted.
Interior Comfort:
Toyota never compromises on the comfort of its customers. This promise is fulfilled in the form of Toyota Fortuner. This gigantic SUV comes with a two-tone leather look, which elevates its interior just like its exterior. The touch of leather on the steering wheel makes the driving experience luxurious and comfortable. Along with some brilliant and eye-catching features, Toyota Fortuner comes with two glove boxes and a huge 8-inch touchscreen display along with a rear camera, voice command, and Bluetooth connectivity. These features are bound to melt even the toughest of people.
Highly Customizable: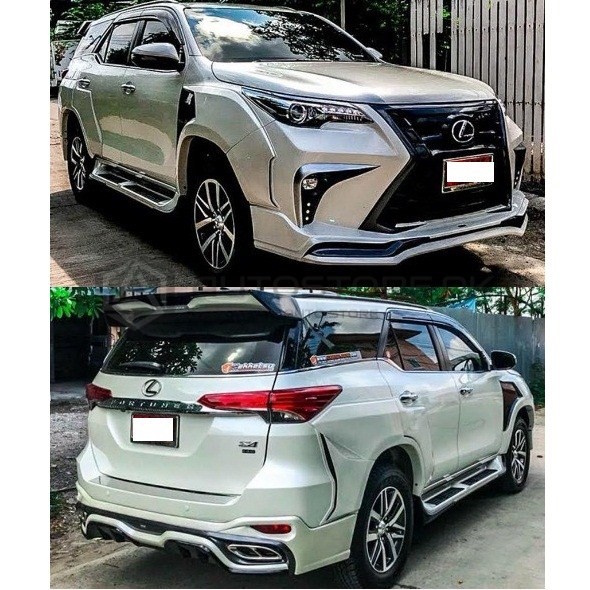 Apart from its ability to satisfy your practical and aesthetic needs, it can also handle customization and modifications effortlessly. You can easily facelift Fortuner and get that updated model you have had your eyes on. It is also perfect for those who prefer to install aftermarket parts on their SUVs and add a personal touch to their car.
One of my favorite customizable aesthetics includes its full-fledged LX570 Fortuner Body Kit – specifically a pair of angular Lexus Headlamps, which give a swoon-worthy look to the car. They give it a sharp and fiercer feel to it. You can access that kit here.
Along with a completely transformable Toyota Fortuner body kit, I would prefer to install a pair of Side Steps on my car. Not only would they make it easier for shorties like me to climb up the SUV, they would also give it a more aesthetic look. You can get a hold of these side steps here.
When I am not obsessing over the looks of the exterior, you may find me drooling over the new Multimedia system. When it comes to its touch screen display, I believe that it could be more prominent, accessible and sophisticated (just like the enormous ones installed in the Tesla models). The Multimedia System is, hence, an essential accessory if you wish to go all out. You can buy it here.
Conclusion:
To sum it up, Toyota Fortuner is a sight I can never get tired of. It is elegant, it is sporty and it is practical. This car is perfect for you too, no matter if you are a family man or a sports car enthusiast. I am sure (and hope) you have become a Fortunatic like me too, after reading this article!