Top 5 Accessories To Personalize Toyota Yaris
Imagine that you shift into a new home. You enter via two ancient and huge wooden doors and you are awestruck by its beauty. The endless, cream coloured walls meeting together in the middle and showcasing an elegant, forest brown staircase steel your heart. However, there is something missing: A personal touch.
Just like how any house needs your creativity to become a home, your Toyota Yaris needs your magical personal touch. Hence, in this article, we will advise you about the top 5 car accessories in Pakistan you should buy for Yaris to make it stand out from the crowd.
DRL Headlights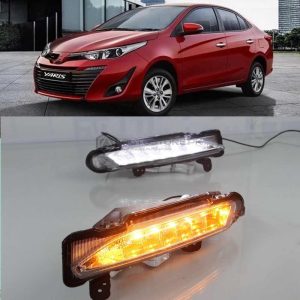 DRL (daytime running lights) are a great way to ensure a safe driving experience and add an aesthetic look to your car's exterior.
These lights can be installed at the front side of Toyota Yaris. They switch on the moment you start your engine. At nightime, we have our good ole headlights to keep us safe and, in daytime, we have DRLs. Especially on a rainy day or a foggy evening, it becomes difficult to see an approaching vehicle. For that, DRLs come to the rescue – they stay lit during the light.
Moreover, who does not love some extra lights on their car? By buying them for Yaris, you can make it look even more elegant (if that is even possible)!
Air press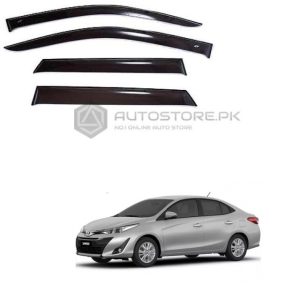 Air Press are one of the most convenient and sophisticated car accessories in Pakistan for your Toyota Yaris. They are most useful on rainy days. It really can be annoying when you want to take in the fresh, sweet-scented air and simultaneously keep your clothes and interior dry. If you install an airpress on your car, it will allow the winds to make their way inside and also keep the droplets out. This also keeps the interior of your car scented and free from odour.
Moreover, if you have tinted windows for security purposes but the scorching heat of Karachi keeps the car stuffy and smelly, you can roll down the windows a bit and let the air do its wonders. The air press will still block the vision from the slightly ajar window.
It also reduces the wind noise to a great extent, especially when you're driving at a high speed. The dark-coloured air press keeps the sun rays out, hence keeping your car cool while it is in parking mode.
Trunk Spoiler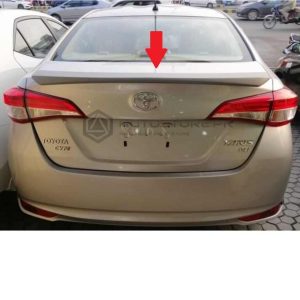 A Trunk Spoiler is an extended trim which is installed at the trunk (rear) of the car. Due to the flow of air being towards the back of the car's roof, it tends to make its way below the base. The air pressure lifts the car from the bottom. Hence, a spoiler then spoils the air force and prevents the lift. This allows the car to get a more firm grip at the road, whilst moving at a great speed.
Apart from making the driving experience smooth, flawless and stable, it also uses the power of lesser air resistance to decrease fuel usage.
The presence of a trunk spoiler will make Yaris look aesthetic. It will give a sharp, bold yet elegant look to the exterior.
Rear Bumper LED Light – Lamborghini Style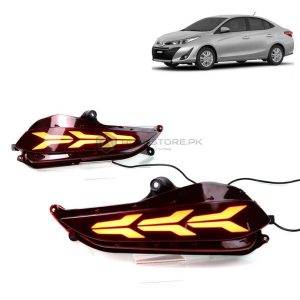 LED Bumper lights are an additional light source to illuminate the road. They also help in making your car visible, from the back, to other vehicles.
Apart from ensuring a safe drive, these lights can easily revamp and revive the look of Yaris. If you buy Rear Bumper LED Light – Lamborghini Style from AutoStore, they will give a spectacular and athletic look to your car, especially if you're a fan of Lamborghini (to be honest, who isn't). It will also become the envy of the onlookers.
7D Diamond Floor Mat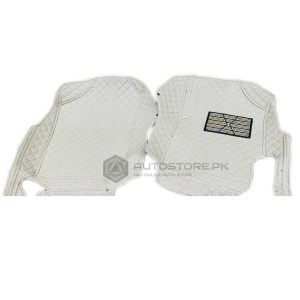 Mats definitely come under the hottest car accessories in Pakistan. The best kind of mat you should go for, for your Toyota Yaris is a 7D Diamond Floor Mat.
This mat provides full coverage for the interior. It prevents dirt or water from seeping into the flooring and ruining its surface. Since it does not allow filth to accumulate, the car smells just like how it did when you first bought it. By being waterproof and double-layered, it is a lot more durable and reliable.
What's more, the luxurious texture, colour and design gives your car an organized yet easy-on-the-eye look.
Conclusion:
In our opinion, these are the top 5 car accessories online. However, you can always choose to think out of the box and follow your heart. We are merely here to facilitate you. We truly hope that you have a clearer idea now on how to turn "a Toyota Yaris" to "your Toyota Yaris."