Why do you deserve an ISO certified disinfectant?
In times of a global pandemic, COVID-19, staying safe is the key to survival. This also raises the concern for the effectiveness of tools that will help us fight this war against microbial beings. "Am I using an ISO certified disinfectant or car cleaning? Are they as effective against viruses and bacteria as they are said to be? Am I doing a good job keeping myself and the people around me safe?" questions like these leave you sleepless at night, you're in luck! Because we're here to provide you with an answer — a super easy solution to your problems. Check for the ISO certification of the disinfectants and other sanitary products.
What does ISO certification mean?
What does an ISO certification have to do with my safety? And what is ISO anyways? You might be wondering. ISO, International Organization For Standardization, is a private organization which develops globally recognized standards, requirements and guidelines for quality assurance. It certifies that the business or service meets the quality management principles and that its products can be trusted to be high quality, safe and reliable. It is important to use a certified and approved disinfectant to minimize the risk of getting affected by pathogens. Level of effectiveness and efficiency and time required to kill pathogens varies for different products Iff there are numerous disinfecting products for the same pathogens in the market, which ones would be the most effective? It can be a hassle to choose but going for the ones with ISO certification seems like the right call to make.
Why use certified disinfectants?
Choosing a certified disinfectant, you won't have to worry about the product lacking effectiveness, safety and practicality of application. These products can be trusted to be effective in killing the microbes within a short period of time. According to ISO standards, the products are safe to use and won't cause damage. Most of the certified household disinfectants rank low in toxicity, and come with the required instructions and recommendations such as Simoniz Citrus Clean. You can easily find it online at a highly competitive price.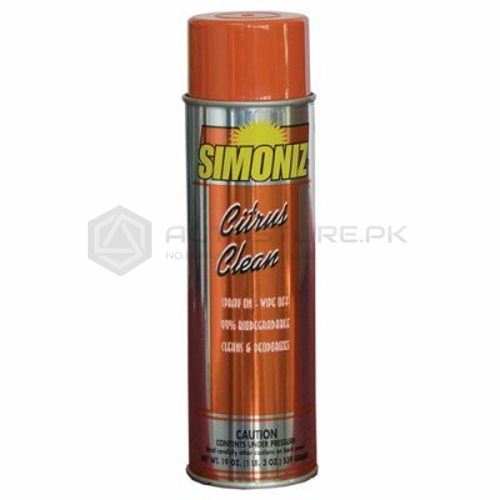 The disinfectants show strong results after careful step-by-step application. You should always be cautious when using chemical disinfectant; however, its toxicity, packaging and ease of use is kept in during production. You can checkout this product at this page
Step-by-step Guide to Use ISO Certified Disinfectant for Car Cleaning
You can bet on certified disinfectants to get the job done but to get maximum results, disinfection occurs in multiple steps:
Clean the surface using dusting cloth, broom, shovel etc.

Use water to soak and wash the area, removing most of the organic material so that the disinfectant can take effect.

Choose the disinfectant and apply it according to the instructions provided.

Dry the surface, allowing the moisture to leave.
Most of the disinfectants are effective to some degree but if you're looking for the best solution then get an ISO certified one. You no longer have to stress about keeping your environment safe and clean since the ISO certified product will take care of it.