Car Cleaner & Disinfectant Spray | Protect your car from Germs and Bacteria
In the situation of a pandemic, it is advised to stay away from crowded places. On the other hand, it is also instructed that you should clean your environment. Many disinfectants are also introduced, which are the best thing to remove bacteria or viruses from the environment.
According to scientist:
An experienced chemist named Ron Fausnight says that viruses can easily stay in your car. It is not sure how long these germs stay on the surface of the car.
Germs on different surfaces:
Iron and plastic are the best places for viruses. These can stay for days on the surfaces of plastic and iron. That is the reason car disinfectant sprays a very important role now.
The problem starts when passengers sit in a car full of a virus's car and touch every contaminated place. They afterward touch their face and get themselves infected from the virus.
According to Ron, disinfectant sprays are a good surface cleaner, but make sure that these sprays are specially designed for viruses.
Your car's handles, dashboards, buttons, floor mats, gear, and everything should disinfect properly with a spray, and that can be Spray Nine.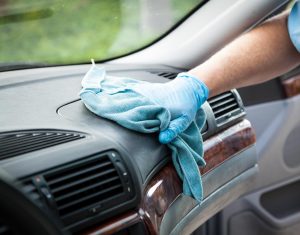 Ron says that every other car disinfectant spray never cleans all the viruses on the car's surface. So, make sure that the solution is tested and verified. Your disinfectant must have chlorine and bleach, which can clean your car comfortably.
Disinfectant containing bleach:
If your disinfectant has only chlorine, that is perfect because bleach and alcohol can fade the interior of the car like your dashboard can fade out. So keep avoiding the bleach-like material if you are choosing car disinfectant sprays.
Here are some recommendations which can keep your car virus-free:
Clean the surface of the car before disinfecting it. For this purpose, you need some car care products such as vinyl and other cleaners, which are soft. For the metallic other car cleaning products for metal are the best. Ammonia should be used to clean the glass for a clear vision.
Disinfectant spray for cars in the year 2020 for disinfectant
Try to clean the nobs, handles, multimedia screens, and other buttons more frequently. It will surely kill all the possible viruses making your car hygienic.
Use a microfiber towel to clean the car because these towels are very soft on the car's surface and make the car cleaner without giving any scratch to the car.
After doing car disinfectant sprays, wait for a while. It will dry the spray if it takes more time. You can use wipes to dry the area of the car.
If you are using the disinfectant spray that contains alcohol and bleach, it can fade the interior of the car. Try to avoid this practice.
Always wear gloves and a mask when you are cleaning the car or touching the car. It will surely keep you safe from all types of cold and fever viruses, including Covid-19. All the accessories are available at online auto stores. You can take help from there.