Tips for Protecting Your Car During Covid-19
Springs are around the corners, and your cars already need a deep cleaning and maintenance, which you cannot perform due to the lockdown and Covid-19.
Car service stations are also closed already, and now you are thinking about what you should protect your car in these trying times. 
Do not worry much, we have a lot of ideas to protect your car during the CoronaVirus pandemic, and you will be relaxed. 
The important thing is that you have to be very careful about the disinfection of your car. Car cleaning kits are the best which you can order online, and you can easily have them at your doorstep at a very reasonable price. 
It is a worthy topic because now I am going to tell you which parts of your car need extra care at home if you don't want to see a professional service which is not available right now. 
Bad Weather Protection:
Bad weather is one of the biggest enemies of our cars. We need to take extra care of our car when the weather is not good. 
Old cars need much care as you need parking or shelter to keep your car safe because bad weather can cause issues in the older car more quickly than new ones. 
You can cover the car with a decent car cover, which you can order from an online auto store. In case you don't have an excellent place to cover your car in the bad weather. 
Keep the interior clean: 
Nowadays, when you are disinfecting almost everything in use, you need to clean and disinfect the car. Please wash your hands or sanitize them after the drive. 
You should also notice which part of the interiors you touch a lot like steering, gear, door handles, and console screens. 
Take a clean cloth and dip into a disinfectant solution and clean those parts of the car you touch a lot. Disinfectant sprays can also help. It will not only save you from Corona Virus but also make your car hygienic. 
Tires hand brake and other parts: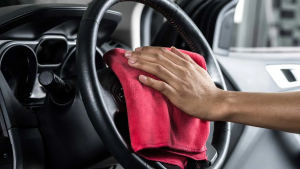 Small parts of the car create a big difference because these are the parts we are spending money on. Don't use your handbrake a lot to stop the car. It will save the wire of the hand brake from stretching. 
Long time stretching will affect the binding of the hand brake. Leave the car gear instead of a handbrake on. It will also save the wheels of the car. 
Check the air pressure of the tires often so that it never goes flat while standing for a longer time. New wheels are costly if the tires go damaged. 
Online auto stores can also provide you with the new tires of the car in case of any severe damage you can ask them to deliver at your home.
Floor mats germs are always present in the car if you are using the car. It is really important to clean and disinfect those mats for a hygienic environment inside the car.
Transmission fluid: 
If you are keeping your gas tank full, it will never aid the moisture to build. It is the best way to maintain the transmission fluid of the car. 
Moisture in the fuel tank for a long time increases the tank's rust, which is not suitable for your car. Take care of it always, or keep your fuel tank filled. It is the best idea because the fuel tank should be clean for a smooth drive. 
If you are planning for a long drive, you must check the car's oil to get rid of any trouble. 
It is the regular Underhood maintenance of the car, which will keep your car going in bad times. Fluids are available easily at online auto stores, and you don't need to make much effort to change the oil or re-fill the oil in your car. 
Start your car once or twice a week:
 In the time of the pandemic, lockdown is applicable everywhere no one is going to work. Cars are not even started for 4 to 5 months. 
It can surely damage the engine of the car. So, try to start your car once or twice a week. You should take your car with you when you are going to the grocery. It is the best way to keep your car moving. 
The car's engine needs extra care, which will make your car smooth after the CoronaVirus; you can use it. 
Cleaning the car before storing it:
A cleaning car job can increase the life of your car. If you are not cleaning the car after using it for sure, it will get damaged easily because of the weather. 
Clean tires work best for longer, and you don't need to spend a lot of money to purchase new ones. Tires have all the dirt of the road, that is why you need to clean them when you want to store the car for longer in your home. 
Cleaning the car can be time taking but, at this time, when you are not travelling a lot, cleaning of the car is not a big problem because they are not having too much dirt, which takes a lot of time. 
Charging of the battery:
A lot of models in the car are using batteries a lot more than an average car. Those car owners need to take extra care of the battery. If you are starting your car every day, you are charging the battery of the car. 
It is not necessary that you only start the car when you want to go somewhere. Charged batteries can keep the car moving. Dead batteries can get damaged fast, so you need to pay attention to this. 
A common failure of the car is that its battery gets damaged. If you have a battery charger, use that to charge the battery to its full capacity. 
Battery fluid is also essential, so never forget about it. Otherwise, your battery will get damaged, and there is nowhere to replace the battery.  
Charging your battery correctly overcharged or undercharged can create trouble in the future, so try to have a customarily charged battery. 
Cabin Protection: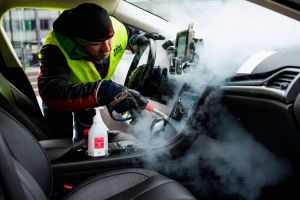 There is a lot of car disinfectant spray available at online auto stores, which will help you keep your car disinfected if the environment is damp. Try to open the windows of the car. 
The car's damp environment can create a lot of germs very quickly, and if you sit in that, you can also get infected. It is time to stay safe and keep your family safe so that this tip will be very helpful for you at this time. 
Basic service and car maintenance: 
If you are taking care of your car properly, it will increase the life of your car. You have to perform the maintenance of your car correctly. 
You can maintain your car at your home if you have the cleaning kits and disinfectant spray. Keep yourself and the car cleaner, and it will increase the worth of your car. It is also helping your family to stay safe in these times when everyone is getting infected. 
It will also increase your car's resale market, and you can quickly sell your car, and you can crack a better deal in the future. Online auto stores can facilitate you in providing car care products at your doorstep. 
They have a variety of products which are the best for your car cleaning and disinfection. They are offering the best prices with faster delivery services even in the time of the pandemic.