A Complete Guide To Disinfect Your Car
Social distancing, sanitizing, wearing masks and gloves, and washing your hands every five minutes are all crucial now that we're all living in lock down. But that doesn't mean you don't go out in your car every now and then without thinking twice about cleaning it.
If you're thinking; isn't my four-wheeled, closed car a lot safer though? We're here to tell you it isn't the safest vehicle. When you're driving through unsanitized areas and step outside our vehicle, your car easily traps germs and viruses. Plus, every time you or your family member opens or closes the door, window, or touches the steering wheel you might contaminate it. Why risk your health when you can spend a couple of minutes cleaning your car?
Now you're probably wondering how you can keep your car safe from any and all kinds of germs. Well worry no more! We're here to help you with that question. With our easy-to-follow guide we ensure your car looks as good as new by the time you reach the end of the article. Ready to make your car shine? Let's jump right in!
Exercise Safety First
Before you start cleaning or disinfecting your car, it's important that you make sure you're completely safe. Confused about what we're talking about? Allow us to elaborate.
Make sure you're wearing a pair of disposable gloves. Especially if you're worried about there being germs or viruses in your car, these gloves can easily be discarded after being used.
If you have a face mask, wear it. If you do wear it, make sure the mask covers both your mouth and your nose. Plus, remember to not touch it unless you've washed and sanitized your hands.
We recommend wearing a disposable apron. If you don't, wash all of your clothes once you're done sanitizing your car.
Keep a plastic carrier bag close to you. This way you can conveniently dispose of any rubbish that you discover from your car. Plus, you should get rid of your disposable protective equipment instantly.
Lastly, wash your hands with soap and water for at least twenty seconds. Or you can use a sanitizer to kill viruses.
Know Your Products
There's a slight chance you're standing in front of your car with a bucket of soapy water. Well, that might work for cleaning your car but disinfecting, not so much. In order to ensure your car is properly disinfected and free from all viruses, you need to know what products your car requires.
Isopropyl alcohol cleaners, sometimes called rubbing alcohol, is the most common kind of cleaning substance. Meaning this is the car disinfectant most people go for. To properly disinfect your car we recommend you find one with a purity rating of around 70-90%
Another thing you can use is Sodium Hypochlorite. Otherwise known as household bleach, these are just as effective as the one we mentioned above. One downside of this car disinfectant is that it can be a little harsh on your car's interior.
No matter whichever car disinfectant you decide to use, remember to read the label and wear the proper protective equipment. If you're not sure, you can always try the product on a small part of your car.
Clean Your Car
Before you go on a disinfecting spree, it's important you clean your car first. The words cleaning and disinfecting may sound like synonyms but these are two different things. Confused? Keep scrolling, we'll tell you what the difference is!
Cleaning means you're removing dirt, grime, and other debris with soap and detergent. This doesn't exactly kill the harmful germs and viruses. Disinfecting means you're using chemicals and disinfecting agents to remove those harmful viruses, bacteria, and germs.
First clean your car how you normally would. Get out some trusty soap water and a microfiber cloth and clean your car out properly. Pull out your mat and dust it thoroughly. Every once in a while it's good to vacuum your car's cabin area as well. Once vacuumed, dispose of the dirt in a bin bag instantly.
After that, pick up your soapy water bucket and add a detergent in. Then soak your carpet, floor mat, and any other removable fabric in this tub. Leave it there for half an hour and then dry them. Next make sure you scrub your car with the soapy water properly.
Disinfect High-Touch Surfaces
Moving onto the disinfecting part, it's time to get some good disinfecting agents. The hotspots like the steering wheel, gear shift, hand brakes, other knobs and buttons, and touch screen need to be disinfected properly as well.
If you don't have a car disinfectant at your disposal, you can make an ammonia-based solution. How? Just dilute a glass and window cleaner with water. Once you've made it in a 1:1 ratio, the high-touch surfaces in your car are ready to be cleaned out.
Don't Overlook Any Areas
People tend to overlook areas like the headliner, headrest, and window glass when disinfecting their cars.
These are one of the most crucial parts of your car, so make sure you clean them properly. Also make sure to use the car disinfectant on the door handles inside out as well.
Your HVAC Unit Should Be Disinfected Too!
Last but not least, your HVAC system needs to be disinfected as well. This unit circulates air inside the cabin and can carry germs. During this outbreak, that's the last thing you want.
So, to keep your car safe from germs, first clean the AC vents by using a specialized car disinfectant. Although, an ammonia-based solution works just fine as well. Next, remove the cabin filter and clean it. This way you can rest assured your car is safe from all germs and viruses.
Best Car Disinfectant Products
Now that you've read through our easy-to-understand guide, it means you're ready to get out there and clean your car. But without the right products at your service, disinfecting your car will be of no good.
To help you choose the right products we added a couple of our disinfectant sprays and agents. Want to know about these? Let's jump right in then!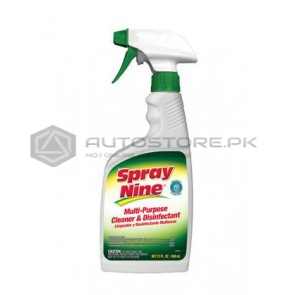 This versatile disinfectant spray is one of our top sprays. Wondering why? Well, it's because this amazing cleaner has been trusted to eliminate germs for more than 50 years.
Used by consumers all over this word, this multifaceted disinfectant makes getting rid of dirt, grime, stains, and germs a lot easier!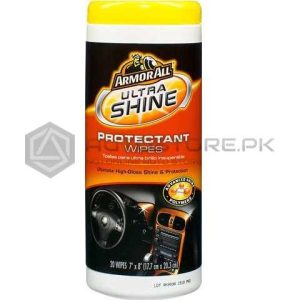 Keeping the interior of your car clean is essential. For this type of cleaning we recommend the Armor All Ultra Shine Protectant Wipes.
With these top-notch wipes you can rest assured your interior vinyl, plastic, and leather will be safe from all kinds of grime and discoloration. Keep your car clean and shining with these amazing wipes!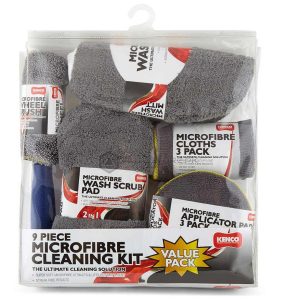 What's better than a high-quality microfiber cleaning cloth? An affordable all-in-one package!
That's right! The Kenco 9 Piece Microfiber Cleaning Kit comes with nine different cloths. Each of them tailored to help you with different tasks while being equally excellent. This microfiber cloth absorb water better than most clothes, making it easier for you to effectively rid your car of dirt and dust. Plus, this deal is a bang for the buck! So, what are you waiting for? It's time to get your hands on one of these environmental-friendly and cost-effective cleaning cloths.