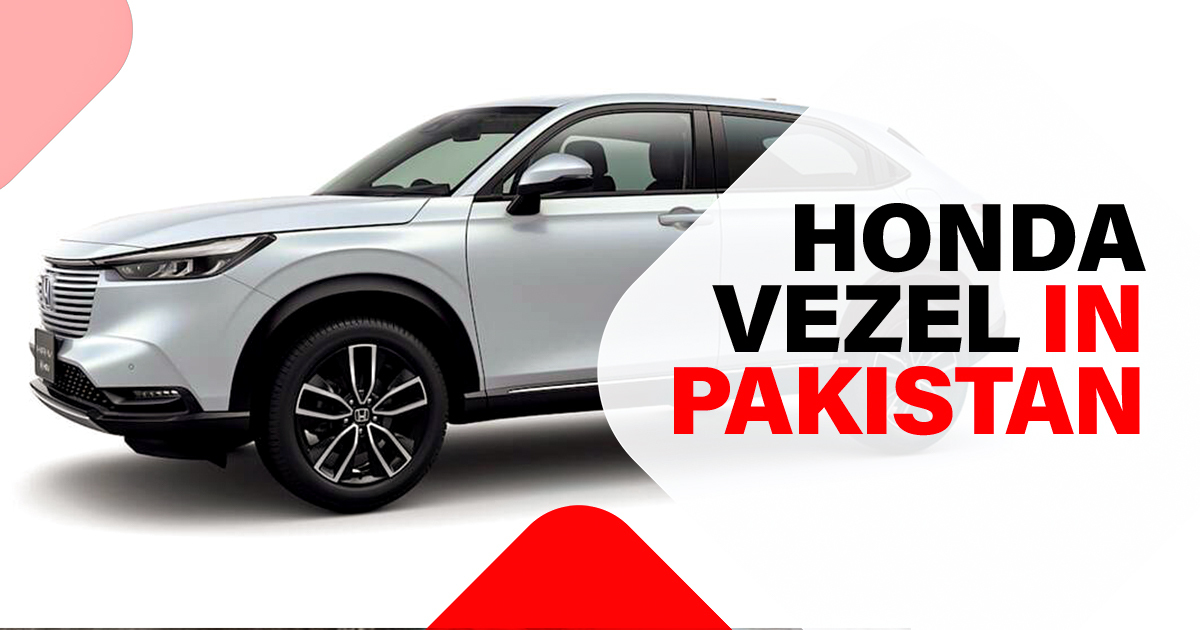 Things You Need To Know About Honda Vezel
The Japanese automobile manufacturer, Honda, keeps coming up with the most innovative vehicles for car lovers. Vezel Honda is a prime example of this. In Pakistan, it has been gaining a lot of fame ever since the company launched here. This SUV is a hybrid car called Honda Vezel in Pakistan, while in countries across the globe, its name is Honda HR-V. It comes in four variants, and each variant offers fantastic features for the driver and passengers.
Why is Honda Vezel popular?
There are several reasons why Honda Vezel is so popular amongst car enthusiasts in Pakistan, but the most prominent is its compact car. It is a very fuel-efficient vehicle, making it a perfect ride for anyone who doesn't want to spend a fortune on fuel every month! Also, if you live in a highly populated city where finding a suitable parking space is a huge hassle, this car will be very convenient for you. Its diminutive dimensions ensure that it requires significantly less area to be parked,
Honda Vezel Engine and Transmission
While buying a car, that one thing that you should be aware of is the engine and transmission features that it offers. This car has two engines, which helps it utilize the hybrid technology in the most efficient manner possible. Hence, the driver can ride the car in three driving modes. These modes are EV, hybrid, and engine. The EV mode requires the engine to generate electricity from the battery and run the motor. The hybrid mode leads to the electric power generation from the engine, which further drives the motor. Lastly, there is engine mode, where the car is solely dependent on energy generation from the engine.
Honda Vezel Exterior
The exterior of the Honda Vezel is imposing! It appears to be a compact car that exudes comfort vibes even for new drivers. The company introduced Honda Sensing, a new feature that helps the driver ride the car safely by continuously issuing alerts. It offers alerts related to lane keeping, low speed, road departure mitigating setup, and commendable signals. You can further enhance the exterior safety by adding a few more exterior accessories from any Autostore.
Apart from this, the LED daytime lights right in the front give an elegant look to the car. Finally, dual fog lights for the night's safety reduce all the chances of a mishap in blurry sights.
Honda Vezel Interior
This car's infotainment system for the riders is modern and modernized. It ensures that the passengers don't get bored even when the journey is quite long. Furthermore, this system easily connects with iOS and Android phones, ensuring that switching songs is effortless.
The manufacturer also uses well-trimmed leather of high quality while weaving its seats. As a result, even during super-hot weather conditions, the passengers can sit on the seats for long hours without feeling uncomfortable. Moreover, the climate control setup automatically keeps the car's environment welcoming and pleasant.
The car comes with sufficient cargo space, and you can even fold the seats to enhance the space furthermore.
Honda Vezel Specifications and Features
It is loaded with unique features and specifications, which you should be aware of while getting your hands on it.
Honda Vezel Safety Features
The seating capacity of this car is five persons, and each of them sits on the seat with the utmost level of comfort for extended periods. The vehicle comes with Tubeless, Radial tires, with each of these Alloy Wheels having the size of 17′. The power steering is also a great feature that makes long routes quite effortless. To further add to its features, get some car accessories online, and you are good to go!
How to Import Honda Vezel At a Reasonable Price
Importing Honda Vezel to Pakistan at a reasonable price is possible through the Ro-Ro meth. You can even opt for the container mode by going by the legitimate policy. However, you would have to wait for around five weeks for your vehicle to arrive at the Karachi port.
Other Specifications of Honda Vezel
Some other worth mentioning specifications of Honda Vezel are its automatic CVT, Gps setup, and Seven-speed dual-clutch. The engine displacement is 1496 cc, while the transmission is entirely automatic. The CVT gearbox also ensures that the driver can switch through the gears effortlessly. The fuel tank has a capacity of 40L, which gives it a mileage of 5-22 KM/L.
Dual Clutch
Vezel Honda comes with the dual-clutch feature, giving its multi-speed transmission system greater ease while strolling on the roads. However, it has two clutches, each separate for even and odd gears.
Suspension
The suspension of this car is also quite impressive. However, the ride may get a little stiff compared to the alternate SUVs available. The excellent point is that you can buy a suspension kit easily if yours doesn't work well after continuous usage.
Steering Assembly
As the car comes with power steering, riding the car doesn't require any extensive physical effort. You can replace the assembly with a new one or a used pallet quite quickly, as you would get them from an advanced auto store at a reasonable price.
Prices of Vezel Honda in Pakistan
In Pakistan, you would have to pay around 4,200,000 PKR to get your hands on this car. The only problem with this car is that its spare parts are a bit expensive and may lead to extensive cost issues.
Final Thoughts
Honda Vezel is one of the most in-demand automobiles in Pakistan currently. It's advanced sensing technology sets it apart and makes it a reliable option to opt for. If you are looking forward to buying it, get it imported directly from Japan, and you can always get its parts repaired or replaced in Pakistan.