Significance of DRLs For Kia Sportage
While buying a sporty car to complement your athletic streak, it is important to be aware regarding how one should equip it with different items. One of the most essential Kia Sportage accessories in Pakistan include DRLs.
Now, you may have observed people using the two terms "Headlights" and "DRL" interchangeably. Due to this, you may have formed an assumption that having both headlights and DRLs is a waste of money and an absurd idea. However, in this article, we will clarify all of your confusions. You will be enlightened regarding the significance of DRLs for your Kia Sportage, Pakistan interior.
Are DRLs and Headlights the same?

First of all, let's shed some light on how Daytime Running Lights differ from Headlights. Headlights are located on the front of your car. They serve the purpose of illuminating the road, especially at a place with poor lighting or night time. It also helps the other drivers to see an approaching car and steer clear from any possible accidents.
On the other hand, as the name suggests, Daytime Running Lights (DRL) aid driving during the daytime. It is synchronized with the engine: The lights turn on when the engine starts running. Like Headlights, they are also located at the front of the vehicle. The emitting light may be white (during driving mode) or yellow (while giving an indicator) in color. Headlights are fairly bright since they have to illuminate the upcoming route. However, DRLs are dimmer and do not compensate for a poorly-lit area.
What are the uses of DRLs?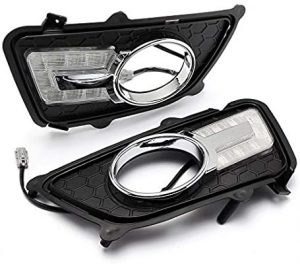 DRLs are one of the most prominent Kia Sportage accessories. Primarily, they can make your car easy to spot, even from a distance, during the daytime. Many-a-times, during a foggy or rainy day, the majority of the drivers forget to turn their headlights on. In a hazy atmosphere, the chances of catastrophic accidents rise exponentially. Other drivers face difficulty in seeing an approaching car. The dim lights, hence, increase the visibility of your car. This is why your close-to-your-heart car needs DRLs to stay in the sturdy and crisp condition it once came in.
To give you a more vivid view regarding the mechanics of DRLs, here are the conditions which automatically switch off the lights:
When you turn off the engine.
When you turn on the Front Fog Light.
When you apply the Parking Brake.
Apart from playing the role of your savior, Daytime Running Lights are a great way to flaunt your Kia Sportage interior in Pakistan. The sophisticated LED lights give an edge to your car and make it stand out from the crowd. During the daytime, it also gives a sporty and fashionable look. With a Kia Sportage already flaunting an athletic exterior, pairing it with DRLs completes the entire look of your car.
In a nutshell…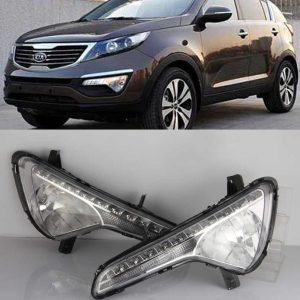 You may either be a first-time owner of this car or a novice when it comes to this topic, choosing to bring DRLs into your life will definitely upgrade your game. It will make your Kia Sportage Pakistan interior look sleek, elegant and a total eye-catcher. If you're confused regarding the kind of DRLs to buy for your car or have a hard time relying on lesser-known online sites, you can check out our shop.
Buy Kia Sportage LED Front Fog Lamp DRL now!
Happy driving!