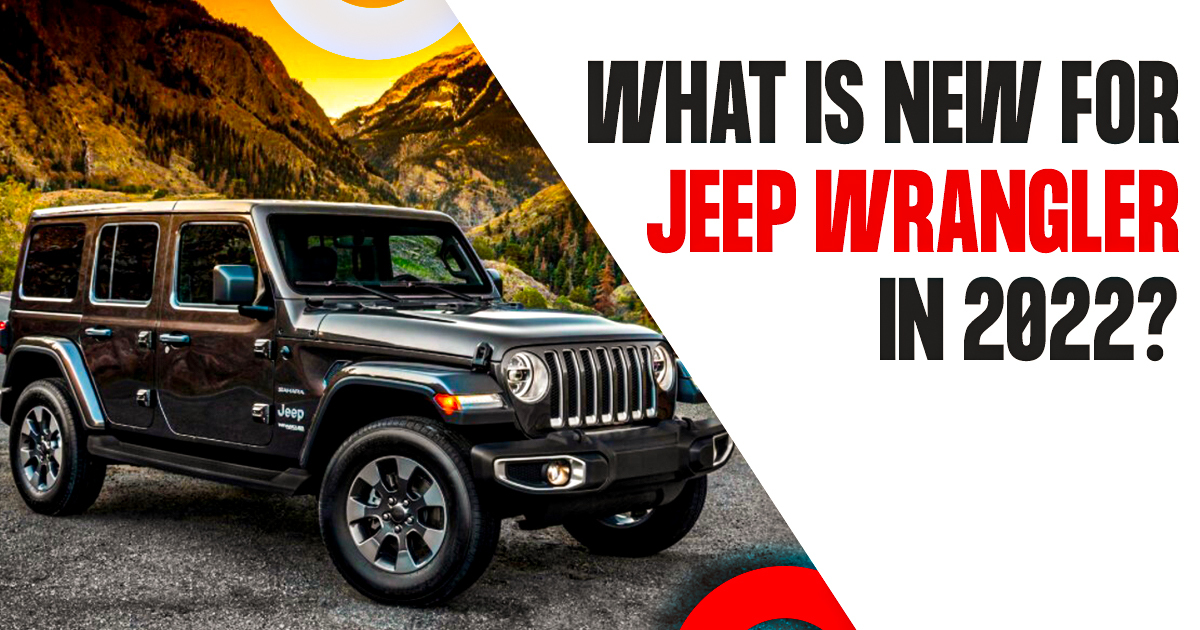 Jeep Wrangler: What Makes it More Luxurious in 2022
The jeep wrangler is hands-down the greatest, unsurpassed feat of the American motor industry. It's like an American knight fighting mercilessly off-road, in concrete jungles, and to the top of the world. Its powerful history as an ex-military four-wheel veteran vehicle echoes through the automotive world to date. Chewing up the trails, terrains, and competitors, the wrangler, has entered 2022 mightier than ever. What makes it more luxurious this year, you ask? We are here to satiate your curiosity through and through. Let's read on.
Jeep Wrangler: What's the deal in 2022?
The Jeep Wrangler line-up has upgraded Wrangler Willys with Xtreme Recon Package (drum roll, please) – which means topflight approach angle, departure angle, ground clearance, and water fording capability paired with the off-road prowess of the Rubicon models. The Willys Xtreme Recon model is ramparted with heavy-duty rollbars and rugged ridge soft tops (featuring an ultra-fine sailcloth fabric). In addition, straight-from-the-factory 35-inch tires on 17-inch bead-lock wheels, a 1.5-inch suspension lift, upgraded brakes make this road giant ruthless against all kinds of rugged terrains. The road monster's package offers classic retro styling with blacked-out exterior trim – including tinted windows, gloss black grille, a black dash, and Trail Rated® badges.
Jeep Wrangler Prices: Here's What You Need to Know
What we love about Wrangler in 2022 is its outstretched pricing system – starting at $31,320 and going up to $76,395. At the extreme low, we have two-door Wranglers available in two trim types (Sport and Sport S priced at $31,320 and $34,520, respectively). In contrast, on the higher end, we have the 4xe plug-in hybrid (Sahara or Rubicon trim only), the Rubicon 392, and Sahara High Altitude PHEV. Our absolute, new favorite, the Willys Xtreme Recon, lies somewhere between.
What About its Engine, Transmission, and Ultimate Performance?
JL 2022 is unrelentingly capable off-road generation to have ever entered the war of cars — credit goes to Jeep Wrangler's performance. Luckily for you, the standard 3.6-l V6 engine with 285 horsepower and 260 pound-feet of torque has crept into this generation intact.
Wrangler 2022 comes in a standard six-speed manual gearbox, but an eight-speed automatic is optional. Additionally, a turbocharged 4-cylinder engine can optionally be integrated and paired up with an electric motor into your JL.
Hold on – that's just not it. An optional 3.6-L V-6 with a four-cylinder hybrid can be installed in the new wrangler line-up. Other options include a 3.0-liter diesel V-6; a new 375-hp plug-in hybrid 4xe powertrain, and a 6.4-liter V-8
The transfer case transfers an equal torque split to the front and rear axles, inciting extraordinary off-road haulage. But, keep seated folks, there's more to it than that.
Despite coming with a lot of refinement, it seems like that Wrangler JL still needs to catch up with its rivals in some metrics, like its inconsistent braking distance.
Wrangler's Battery and Driving Modes — Enjoy Off-Roading in an Environment-Friendly Manner
If you are a conservationist like us, the Jeep Wrangler's first-ever electrified open-air SUV 4xe will significantly appeal to you in 2022. 4xe offers three driving modes. When your ride is on Electric Mode, it uses only battery power – a promising feature in low-emission zones. With this mode— thanks to its 17.o-kWh electric battery pack— you can enjoy a few peaceful hours of low-speed off-roading (up to 25 miles of driving). Using the eSave mode, you can save up the battery power to use later. With the default hybrid mode, 4xe combines the 2.0-L turbocharged engine with electric power to gain up to 375 horsepower and 470 pound-feet torque. The regenerating braking feature allows the battery to charge upon deceleration and braking. The battery can be fully recharged in under 2 hours – say hello to an electric daily commute!
Can New Wrangler's Rivals Beat Its EPA Fuel-Economy?
The U.S. Environmental Protection Agency's fuel-economy estimates of the new Wrangler are incredible. The estimates have easily beaten the Chevrolet Colorado ZR2 and the Toyota 4Runner (can you imagine?). The most fuel-efficient JL gets 22 miles per gallon around the city and 29 miles per gallon on the highway, to give you a rough idea.
Wrangler's Interior and Comfortability
The vintage-meets-modern interior of Wrangler is refreshingly intuitive. The gigantic fold-down windscreen offers an unbridled view of the road/trail. The square windows fixed into its body significantly reduce blind spots – but to our dismay, the rearview is hurdled by thick roof pillars, roll bars, and unthoughtfully placed grab handles. However, you can remove the top, doors, and quarter panels to remedy this. The sleek, narrow dashboard features air vents and solid switchgear to operate the climate-control system, windows, and infotainment. A few of the top Jeep Wrangler interior features are its dual-zone automatic climate control system, available heated front seats, and heated exterior mirrors – the ultimate deal on your cold-night ventures.
To our disappointment, the Wrangler comes with a shoulder and legroom that is lesser in diameter than its rivals. However, on the positive side, wrangler offers enough storage facilities to fit your groceries and gear.
You can always customize how your Wrangler looks and feels with the many customization options available and by browsing the right SUV Exterior/interior Accessories online .