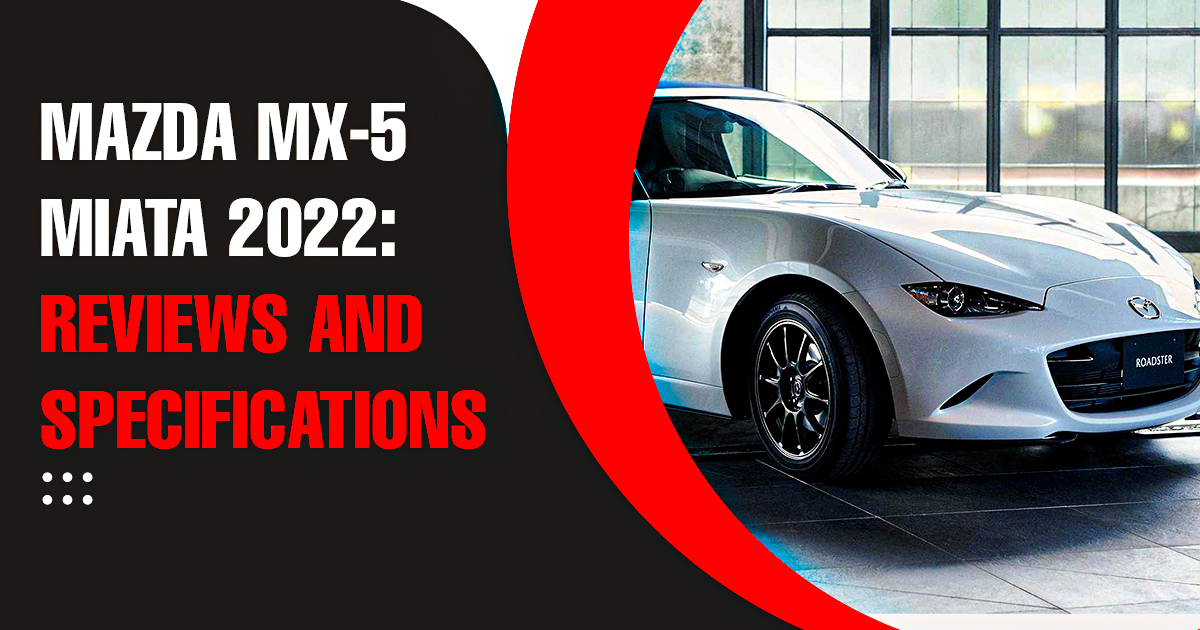 Mazda MX-5 Miata: Reviews and Specifications for 2022
The simple, compact, and lithe Japanese thoroughbred Mazda MX-5 Miata 2022 is the most affordable, iconic sports marque with a convertible top. The hassle-free modern roadster is powered by a 2.0-liter 4-cylinder engine coupled with a manual or an optional six-speed automatic transmission. Well-paved roads or natural, mazy terrains – with its three trim levels, the power-packed car has enough to take you through thrillingly. So, let's see how Mazda will add to an unforgettable, white-knuckle, electrifying passenger experience in 2022.
Mazda MX-5 Miata in 2022: What's New?
Cutting down on Automatic Transmission?
Six-speed automatic transmission with paddle shifters is now exclusive to the (both, Convertible and RF) Grand Touring trim – whereas MX-5 Miata Sport and Club trims are offered with a six-speed manual transmission only.
Kinematic Posture Control (KPC) For a Better Driver-To-Car Connection
Mazda MX-5 Miata 2022 has kept up with its tradition of improving the thought transfer process between the driver and the car by introducing a new technology called Kinematic Posture Control (KPC). As a result, drivers can now master precision cornering by applying slight brake pressure on the inner rear wheel – which means minimum body roll through challenging corners.
Color Options Evoking Professionalism, Neutrality, and Simplicity
For those looking for improved styling, this one's for you. This year, the color options now have a newly added Platinum Quartz Metallic paint option. What's more, the doors of Grand Touring trim open to a luxury grade, magnificent Terracotta Nappa leather upholstery, which has terrific hold and little lending.
Appreciatable, But Also Affordable: Mazda MX-5 Miata Pricing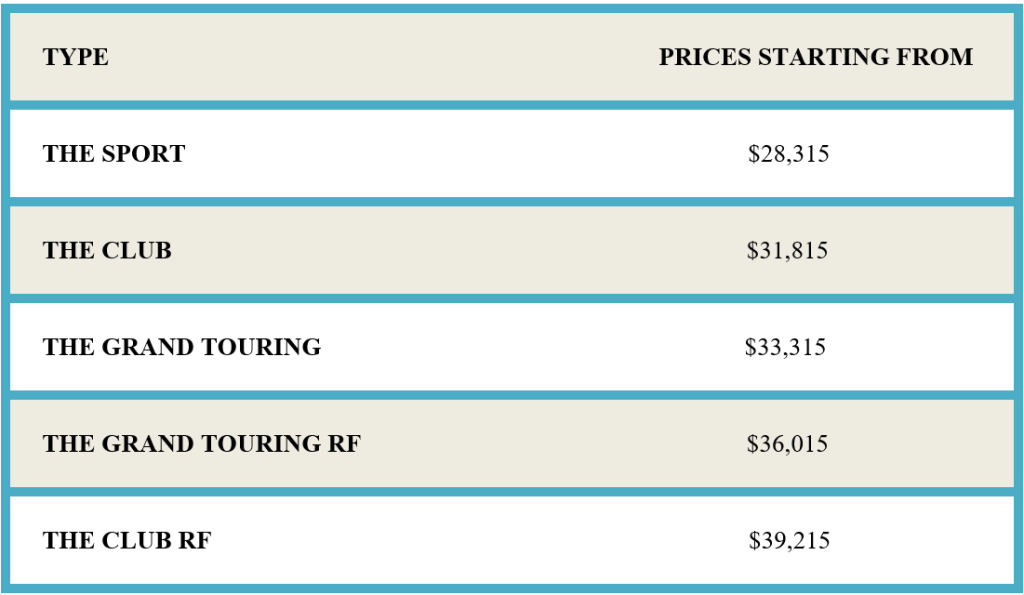 Our pick is MX-5 Miata Club which has a lower sticker price than Grand Touring. Its sport-tuned suspension with Bilstein dampers, a front shock tower brace, and a limited-slip differential set it apart from other models. In addition, MX-5 Miata Club has incorporated wireless Apple CarPlay, enabling an effortless iPhone connection inside your roadster. The model also has SiriusXM satellite radio with a few months of free trial subscription and Bose 9-speaker premium audio. For 2022, driving connoisseurs are specially talking about the Bremo BBS Recaro package that includes Brembo brakes, dark gunmetal BBS forged wheels, and heated Recaro seats – which can be automatically availed if you opt for club trim.
What About its Engine, Transmission, and Ultimate Performance?
Miata's engine is a pleasant surprise capable of significant outputs. All MX-5 Miata variants are powered by a Skyactiv-G 2.0-liter engine with DOHC 16-valve inline-4, aluminum block, and head that produces an enthusiastic 181 horsepower at 7,000 rpm and 151 pound-feet of torque. The slick manual transmission adds to its high-revving personality, and the optional, extra-cost automatic is also reasonably responsive. Miata's handling is its unique proposition – the steering response is immediate, and the roadster changes direction nimbly and efficiently with a light-footed sensation.
Can Mazda MX-5 Miata 2022 Rivals Beat Its EPA Fuel-Economy?
With Mazda MX-Miata, forget about sacrificing fuel economy for higher performance. It's lightweight 50/50 front-to-rear weight distribution allows for quite a practical fuel efficiency which can be viewed in its EPA scores of 26 mpg city and 35 highway 30 combined mpg with the automatic transmission. These numbers beat Subaru BRZ, the alleged competitor of Miata.
Interior and Comfortability
Miata preserves and enhances its well-crafted interior and ergonomic design with every generation of up-gradation and improvement. The cabin is a simplistic, minimalistic space for two adorned with bare essentials for the drive. Mazda MX-5 Miata features a multi-function commander knob to control its seven-inch colored touchscreen. Also integrated are Apple CarPlay and Android Auto. The tilt and telescoping functions of the leather-wrapped steering wheel with audio and cruise control buttons scream class, luxury and allow for an ideal seating position.
As already discussed, Terracotta Nappa leather upholstery is an upgradable option for Grand Touring in 2022. Furthermore, we now have bright silver finishes in place of dark interior accents. Miata club has SiriusXM satellite radio with three months of free trial subscription and Bose 9-speaker premium audio. Unfortunately, Mazda does not regard your storage and cargo needs (the dismal side of Miata, we say) and has very few storage cubbies and a little trunk.
You can always buy SUV interior Accessories online to make your driving experience more comfortable.
Safety System and Driver's Assistance
The recent models of MX-5 Miata have not been crash-tested by National Highway Traffic Safety Administration or National Highway Traffic Safety Administration. Still, a few safety systems are in place to make your driving experience secure and stress-free. For example, Miata comes with a rear cross-traffic alert that allows for blind-spot monitoring, lane departure warning, dual front airbags, side-impact airbags, and three-point safety belts.
Warranty Repair and Maintenance
Every new Mazda Miata comes with a basic warranty, providing coverage if a repair is needed in the first year of ownership. New-Vehicle Limited Warranty for defects in materials and workmanship covers three years or 36,000 miles (whichever comes first). The Powertrain Limited Warranty period for defects in materials and workmanship covers five years or 60,000 miles (whichever comes first). Mazda provides 24/7 emergency roadside assistance (including towing services to the nearest Mazda dealer) in case of a warranted part failure during the coverage period. And that's about it.
With these super hot Mazda MX-5 Miata features, we are expecting a simple yet powerful journey through 2022.