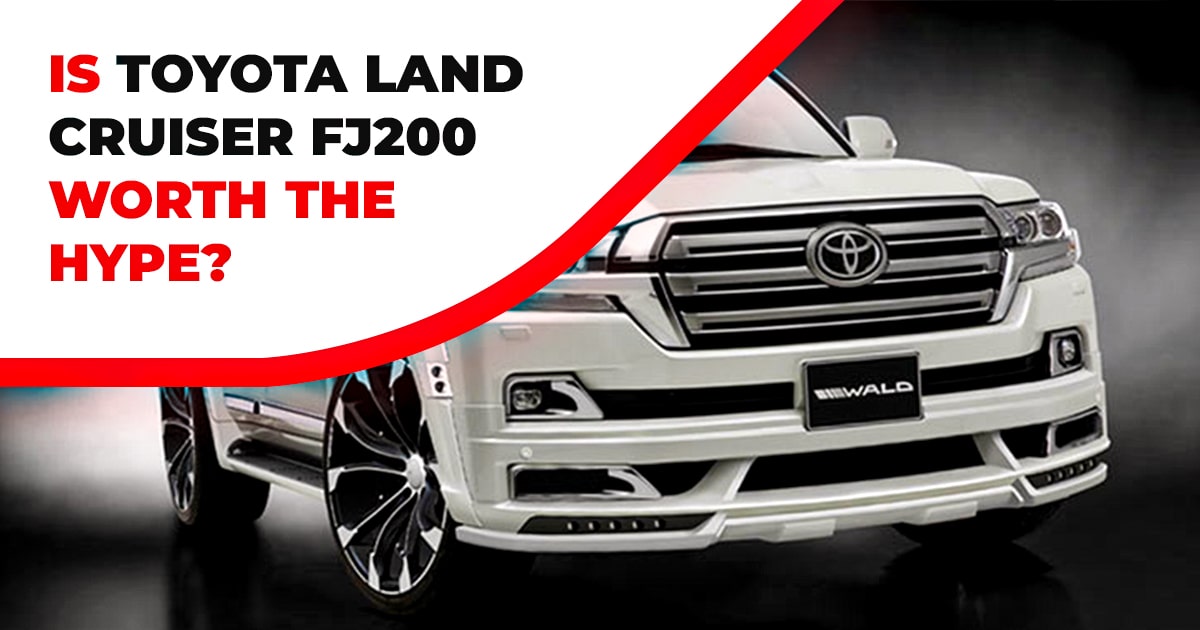 Is Toyota Land Cruiser FJ200 Worth The Hype?
Every TV show or movie is incomplete without a ruggedly handsome protagonist. He is witty, he is smart, he is invincible. He solves all of your problems and has a heart of gold.
Similarly, in the Auto World, Toyota Land Cruiser FJ200 takes the form of that lovable handsome hero. It has an aggressive and handsome exterior and can easily put on the disguise of either a decent family car or a sporty one-man car.
Being an SUV, it comes with certain universal benefits for the drivers. Firstly, it is spacious and can fit in a big family or group of friends. Secondly, it is the best ride to take on a rugged terrain. Lastly, it can survive any and every obstacle which comes its way.
Apart from the generic advantages that accompany this model, there are many other features which are bound to steal your heart. Let's discuss some of its major specifications, along with the kind of car accessories you can personalize your Cruiser with.
Toyota Land Cruiser FJ200
Toyota has introduced the last model in the 200-series in the form of Land Cruiser FJ200. It may have the signature shape of the other Toyota SUVs but the design and additional features are innovative and spectacular.
It comes with an all-new upgrade in its performance and efficiency, along with a contemporary gearbox and better quality engines. This model has 3 different variants, namely VX 4.6, GX-R and VX 4.5D.
Interior
Toyota FJ Cruiser interior is, like always, plush, luxurious and an epitome of comfort. The seating arrangement is such that it can accommodate 7 (or more, depending on your motivation level) individuals easily and comfortably. The distance between the front and the back seats is enough to let you stretch your legs and prevent them from becoming numb on a long drive. You can choose the colour theme to be either black or beige to suit your personality.
The GX-R variant's interior sports:
7 airbags
Active Transaction Control
Power Windows
Heated front electric seats
2″ multi-information display.
This variant has lesser advanced features. Nonetheless, it ensures that your ride is relaxing and enjoyable and every option is just a click away.
On the other hand, the other top-tier variants flaunt:
A whopping 9″ multi-information display + satellite navigation
Parking Sensors
Wireless Phone Charger
Dual 10″ rear seat entertainment system with wireless headphones
Heated electric side mirrors
Multi-terrain monitor
Dual-zone front climate control air-conditioning
Reversing camera
Privacy glass
14 speaker 605 watts JBL premium stereo speaker system with aux and USB input
Separate Rear Audio Input
Remote Engine Starter
These variants have a lot more features which go the extra mile to make your driving experience dreamy and peaceful. The advanced specifications in Toyota FJ Cruiser interior like a bigger multi-information display, satellite navigation, privacy glass and remote engine starter distinguish this model from all the other SUVs.
All three of the variants provide a clearer view of the road ahead and immerse all the occupants in the scenery as the ride continues. No doubt, people describe Toyota FJ Cruiser interior as one-of-a-kind.
Exterior
This model displays a distinct exterior, in comparison to the previous models of Land Cruiser. The front grille stands out from the car and brings a sporty feel to it. The logo of Toyota rests like a king on a bed of three horizontal Chrome bars. The grille is supported by a pair of sleek, angular headlights which add to the athletic appeal of the exterior. The thinner and more subtle fog lamps take down the boldness by a notch to prevent them from overpowering the look.
The rear side displays a relatively smaller bumper embellished with side-swept LED tail lights. All in all, all three variants have more or less similar exteriors. The layout and the design of this protagonist is competitive and sets it apart from all the other antagonists.
Price:
Surprisingly, the price range of this model is from Rs. 41,690,000 to Rs. 52,650,000. This is pretty reasonable, compared to the other vehicles which come under the same category.
Trending modifications for Land Cruiser FJ200 in market are:
Lexus Style sequential head lamps for models 2016 – 2020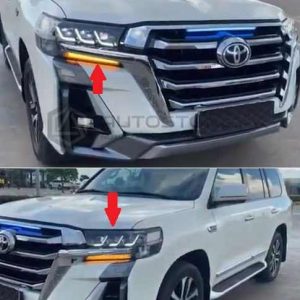 Luxury Grade Air Press for model 2009 – 2020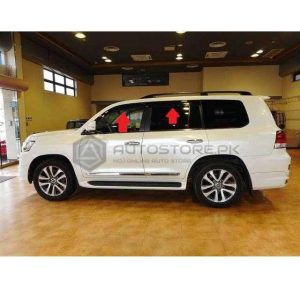 9D Diamond Floor Mats for model 2010 – 2019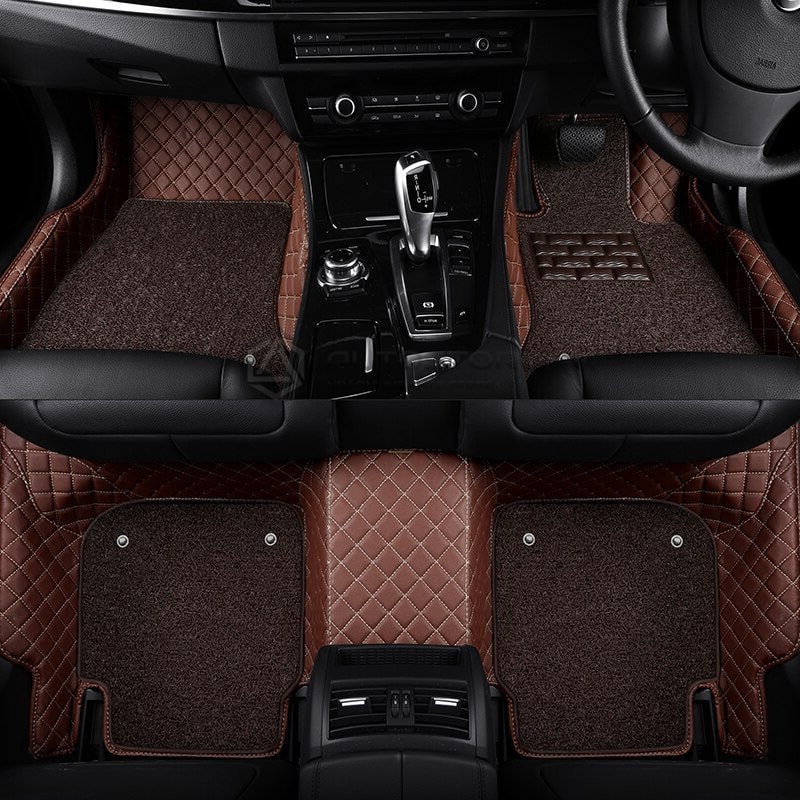 Mid Spoiler for model 2015 – 2019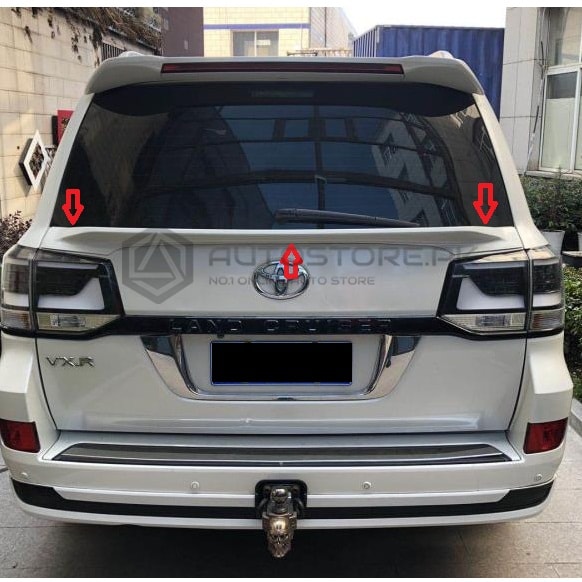 Conclusion:
To conclude, all we can say is that Toyota Land Cruiser FJ200 rightly deserves to have a huge fan following. With its multi-functional interior, bold exterior and competitive price, it deserves all the hype it gets!