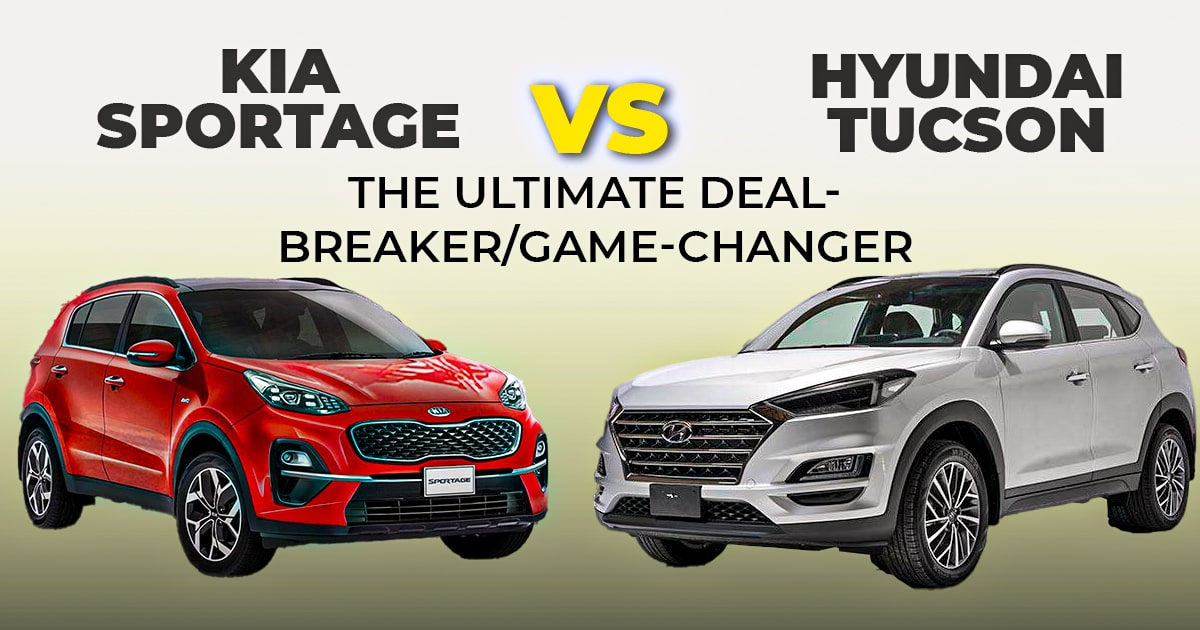 Hyundai Tucson vs Kia Sportage: A Comparison
In every great story, there are two handsome protagonists who steal the entire show. Half of the viewers side with the first one, while the other half sides with the second one. Similarly, in real life, the two handsome protagonists in the auto industry are namely "Hyundai Tucson" vs "Kia Sportage".
Both of these characters come from the same family, that is, Hyundai. Hence, you may call the competition between them a "sibling rivalry". They both are Korean, have been a hot topic for every car enthusiast and have similar specifications. Nevertheless, in this article, we will discuss how a Tucson differs from a Kia and which one is the ultimate game-changer.
Exterior Design
If you have a bold streak and tend to be attracted more towards outstanding designs, then Kia Sportage is the car for you. The incorporation of an eye-catching headlight located at a slightly higher position is definitely a head-turner. It also has a sporty appeal to it with its huge grille and bumper. The entire look is enhanced by the LED daytime running lights and fog lights in the front: They definitely come on the top for Kia Sportage accessories.
However, if we come to Hyundai Tucson, its look will appeal more towards the practical side of you. Tucson manages to pull off the gigantic hexagon-shaped front grille effortlessly, without overpowering the other features. The soft, round shape tones down the look and makes it perfect for someone who wishes to keep their wild side contained. It also reflects a 3D lightning effect on its rear sides via the LED combination lamps.
Interior Design
These competitors not only differ on the outside, their looks are worlds apart on the inside too. Kia Sportage Pakistan interior flaunts a double-toned colour combination, which gives off a sophisticated vibe. It also has a dual-zone climate control air-conditioning system which will make your driving experience all the more delightful. With Kia Sportage accessories in Pakistan like Dash Mats and 9D mats, you can upgrade its interior to the next level. Its traditional design, telescopic adjustment feature, simple dash and a smart key with a push-start system can win anyone's heart over.
Tucson, on the other hand, adopts a relatively modern layout. It comes in either a black-tone, 2-tone grey or 2-tone beige colour combination. This contributes to the rejuvenating look of the car's interior. The dashboard, unlike Kia's, has a more angular cut, which would go great with your artistic personality. It also comes with power windows, power steering and a start/stop engine button. The differences in Tucson's interior and exterior complements the saying "Don't judge a book by its cover."
Safety Features
In this category, both of the cars have excellent systems in place. Both Tucson and Kia Sportage Pakistan interiors come with electronic parking brake (EPB), electronic stability control (ESC), blind-spot detection and airbags. This is the evidence of how Hyundai never compromises on its safety regulations for any of its models.
Cost
If you wish to single out your dream car on the basis of its price, then Kia Sportage is your guy. Its top variant costs a lot less than the top variant of Tucson. For a better idea, you may take a look at their prices below:
Hyundai Tucson
GLS Sport (FWD) – PKR 5,099,000/-
Ultimate (AWD) – PKR 5,599,000/-
Kia Sportage
Alpha – PKR 4,399,000/-
FWD – PKR 4,899,000/-
AWD – PKR 5,399,000/-
Conclusion
To sum it up, if you like bold exteriors over subtler ones, you should go for Kia Sportage. However, considering the conventional look of Kia Sportage interior in Pakistan, Tucson would be perfect for you if you like to have a modern outlook on your car's interior. Under the category of pricing, Kia slightly tops the race by being cheaper as compared to Tucson.
However, it would be unfair to completely negate the other car on small differences in the features. Both of the cars flaunt fantastic features, specifications and accessories. Ultimately, it all comes down to the kind of look you like in your car. Just remember, if you sit inside any car, inhale the fresh, crisp scent and feel at ease, follow your instinct and buy that car instantly!