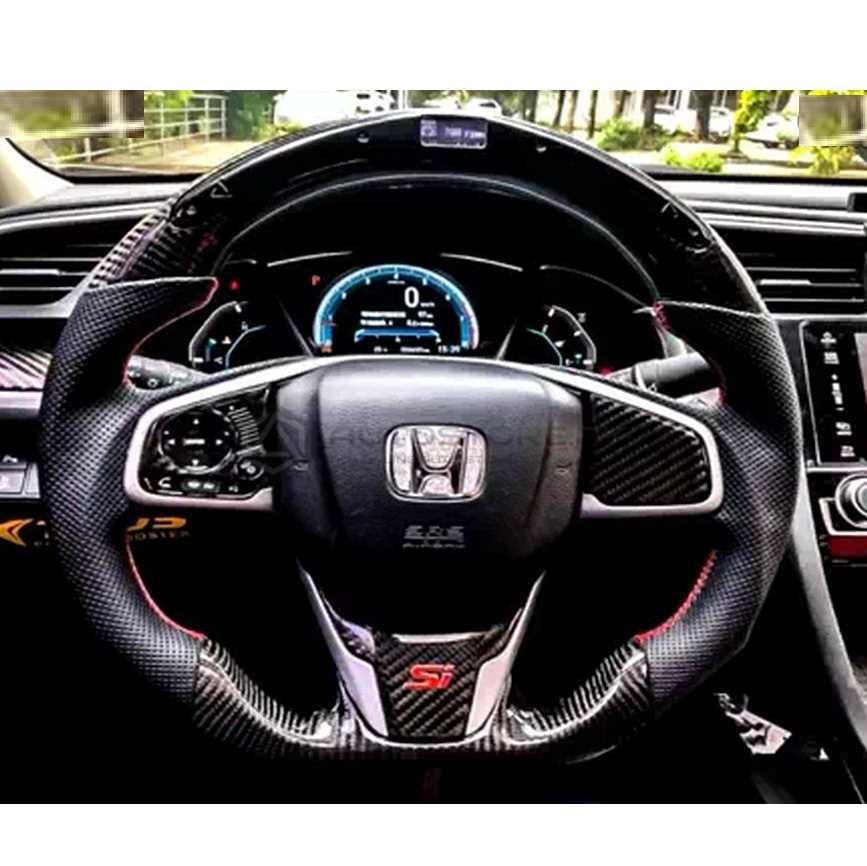 Feel The Speed and Grip in your Hands – Civic LED Carbon Fiber Steering wheel
Introduction:
Simplicity was never an option that modern car enthusiasts considered while owning a ferocious 4-door hatchback. In this specific case, I am talking about the owners of the all-new Honda Civic (10th generation) Hatchback. This car establishes its modern yet formal looks on the streets but in reality, it is all jam-packed with power and performance. That is the reason why people prefer modifying their Honda Civic to display its full potential on the exterior as well. 
Along with working on the exterior, a true Civic Enthusiast will never compromise on the looks and feels he can get from his civic as well. The driver of such a speed machine can only feel its power and potential from the inside, from its cockpit. Along with a lot of customizable modifications that can be done from the inside, a major portion can be spared for the display of power in front of the eyes aka the steering wheel. A steering wheel plays one of the most vital roles in making the driver feel about what he/she is actually driving. The power of a drivetrain that focuses its potential on the wheels can be felt via steering wheel. 
If a steering wheel plays such an important part in delivering the maximum calibration to the driver of the Civic, when why not optimize it for the maximum comfort and satisfaction? If you think likewise then we are proud to present you the brand-new Civic LED Carbon Fibre Steering Wheel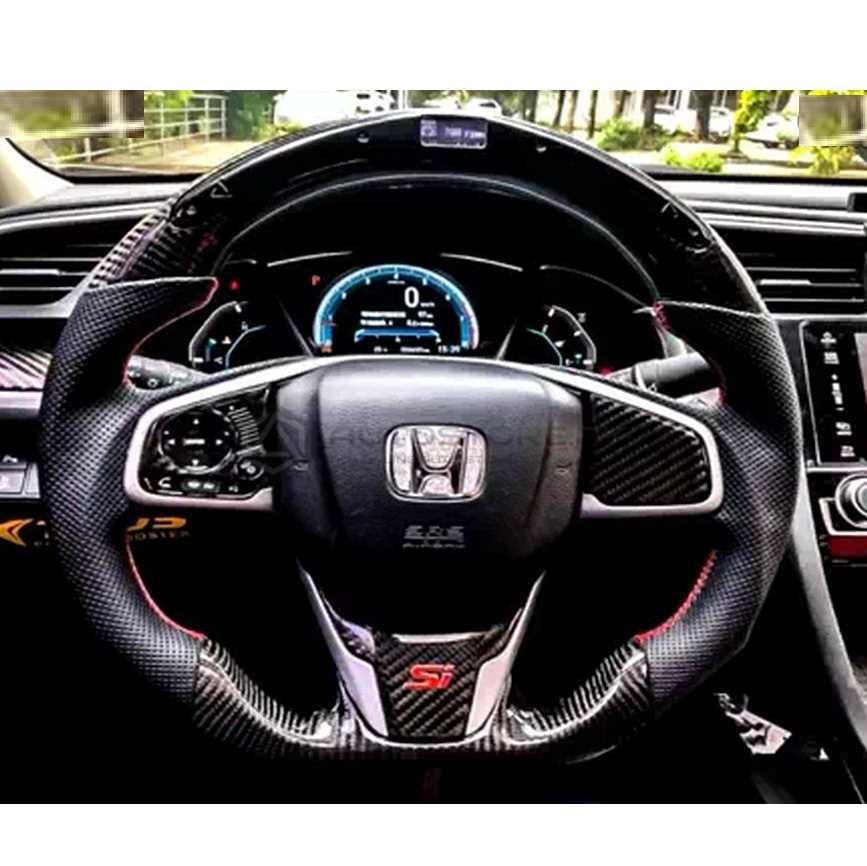 Carbon Fiber At Last!
Being one of the lightest, toughest, and most durable synthetic materials in the earth, carbon fiber plays its vital role in the manufacturing of different parts of automobiles. Ranging from external hood, spoiler, and diffusers till the internal dashboard and door handles, carbon fiber provides better strength and durability as compared to steel! 
Keeping this fact in mind, we whole-heartedly present you the civic LED carbon fiber steering wheel. Its lightweight and durable polymer composition provides maximum grip and strength along with its lightest weight that eventually helps in civic's maneuverability, especially  in tight corners.
Everything in Front of the Eyes!
The show does not stop after mentioning just the carbon fiber-ness of the steering wheel. In order to make it more sportier and convenient for the driver, the civic LED carbon fiber steering wheel comes with a pre-installed LED display that shows the revs and rpms of the car at that exact moment. Push the accelerator and watch those revs going red right in front of your eyes. This overall sensation is no less than a dream come true. It never feels less like driving the ultimate modern-day supercar in the form of a luxurious 4-door latest hatchback.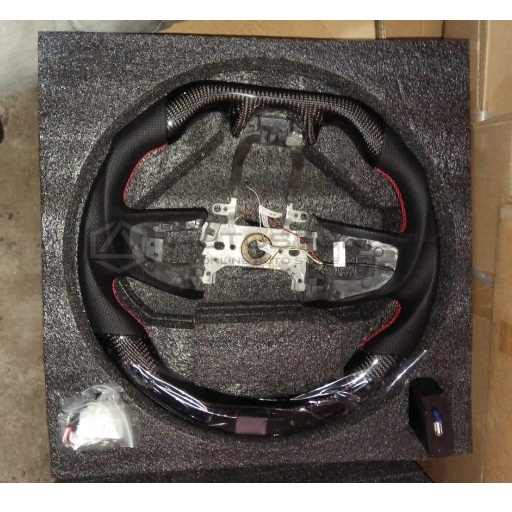 Are you Ready to Feel the Grip?
With a highly-sophisticated and well-engineered craftsmanship, this ultimate power grip provides all the comfort and relaxation and makes you experience the passion flowing through your own hands. Its sportier structure along with high-grade grippy texture makes it easier to move around in sharp turns, heavy traffic, and tight alleys.
Perfect Vibes of a Sports Car:
This major component of internal modification can undoubtedly be considered as one of the best additions one can go for their car. It not only facilitates the overall control of the car, but also gives your civic a more sportier, classier look. You will ultimately be able to experience the maximum performance of your civic in your hands.
Perfectly Manufactured from Inside Out:
If you try to observe this masterpiece closely, you will eventually notice that the manufacturing of this Carbon Fiber steering wheel is beyond exceptional. The decent curvy edges along with the grippier finish on the sides gives an improved sportier look. This careful production makes you stare only at your Carbon Fiber steering wheel for hours. Hence, declaring itself as a wonderful piece of art.
Conclusion:
Carbon Fiber modifications have always been considered as one of those that enhances the overall structure, aesthetics, and performance of the car. Its looks not only drives one crazy but also enhances the overall durability and toughness amongst other regular customizations. 
Not talking only about the performance and durability, the carbon fiber modifications increase the vibes you get from your cool modern car. Its texture finish and sportier looks makes you feel like you are inside of a supercar. Therefore, one should always consider carbon fiber modifications when he/she wants to step the game up a notch, starting from basic accessories i.e. the steering wheel
Verdict:
So, I would like to ask you this one more time. Are you willing to witness the amount of force that is pushed by your engine to the wheels on a screen like never before? Are you willing to give your Honda Civic the ultimate looks it deserves?  If so, then do not wait a single minute to grab this ultimate Civic LED carbon fiber steering wheel today!