Give Your Civic's Side Mirrors A Touch Of Sportiness
Introduction:
Honda Civic, no doubt, is one of the most sophisticated and elegant automobiles of this modern era in Pakistan. Its astonishing looks, verbal stance, and excellent exterior shape stand it out as one of the most anticipated cars of Pakistan. With its beautiful looks and attractive numbers in performance, the Honda Civic has been the star of the show for many years.
Speaking of looks, one of the best benefits of owning a Honda Civic is the amount of customization it supports within. Starting from the spoiler, the Honda Civic has an endless variety of aftermarket car accessories that enhances its look to a certain extent. Everything is deemed to be customizable in Honda Civic and you can get a complete uplift from your regular Honda Civic Model to the one that will draw the attention wherever it will go. 
There are a lot of customizable options for the Honda Civic. When you get your hands on the latest Honda Civic, you know that there are a lot of car accessories you can put on that will make your Honda Civic stand out from the rest or even from the ones that are very basic and non-customized. 
One of the most major and important car accessories on your Honda Civic is the car side mirrors. You get to see this as the very first thing whenever you sit inside your Honda Civic. And speaking of car customization, you can even customize your side mirrors with the latest aftermarket parts as well.
There is a lot of variety in aftermarket accessories for you for the side mirrors of your Honda Civic. Although it may seem difficult to you to browse through every single category for this special aftermarket accessory, we have compiled a list of car mirror aftermarkets for your ease and convenience.
Honda Civic side view mirror indicator LED 2016-2020:
Most of us are, undoubtedly, huge fans of Audi craftsmanship. From the exterior looks to the interior performance, we all admire Audi automobiles. But one of the most attractive features that make us droll and crave Audi technology is its sequential indicators. The Audi manufacturing company first pioneered this type of sequential indicator which gained immense popularity among a lot of consumers and diverted many customers towards Audi models.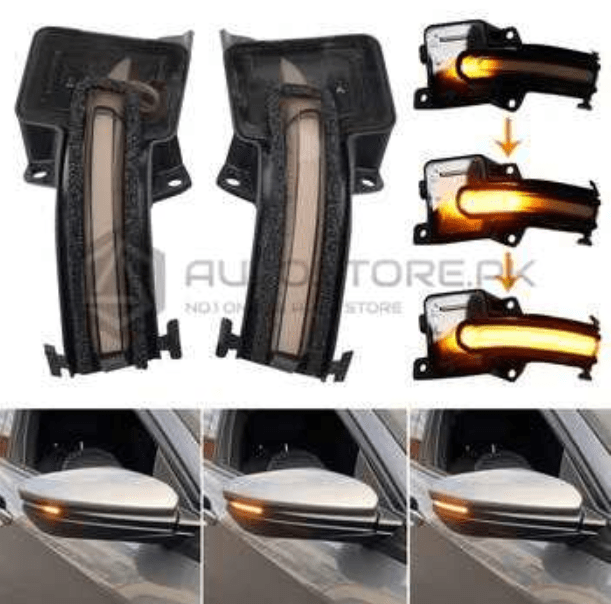 With that said, a lot of automakers have tried to duplicate these sequential indicators in their brands. not only the automakers but the aftermarket accessories manufacturers also introduced sequential indicators for several manufacturers. 
So without being behind the race and keeping up with the trend of the market, auto store.pk, this side view mirror sequential indicator LED for the Honda Civic. These sequential indicators have been designed uniquely and subtly that enhances the grace of the sedan despite being smaller in size. With efficient performance and long-lasting durability, these are some of the most popular Honda Civic accessories in Pakistan.
Honda Civic side mirror Chrome trim V2 2016 – 2020
Are you a big fan of Chrome accessories and like to keep your car wrapped up with the latest chromium plated accessories? If that is the case, then this amazing car accessory is specifically designed for you. the only major aspect that differentiates a regular Honda Civic Side Mirror from the latest Honda Civic side mirror Chrome trim V2 is its prominent, bulky, and extensive piece of Chrome trim that originates from the body and extends up till where the side indicator is present.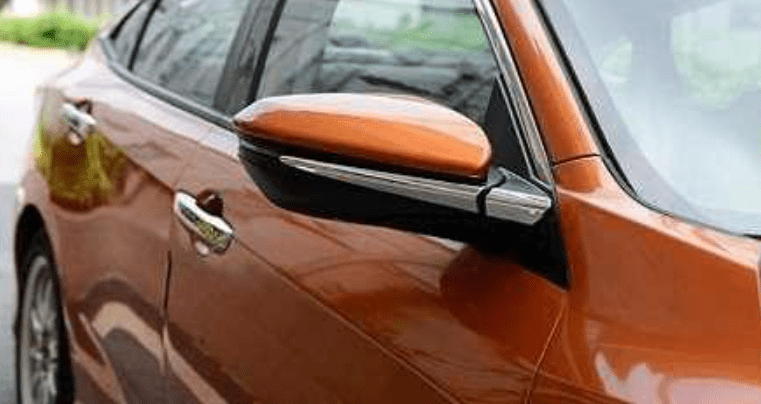 This chromium-plated side mirror accessory gives a notable and distinguished look to your Honda Civic and makes it prominent on the streets. This particular side mirror accessory matches with your other Chrome trims that you apply around your Honda Civic that resonates with your car.
Honda Civic Carbon fiber side mirror covers 2016 – 2019:
Why let a great customization opportunity go to waste when you can convert your Honda Civic to as much sportiness as you can? to let you step up the game of customization for your Honda Civic, auto store.pk proudly presents you the unique and one of its kind car accessories for the side Mirrors of your Honda Civic. Be ready to equip the side Mirrors of your luxurious Sedan with the Honda Civic Carbon fiber side mirror cover.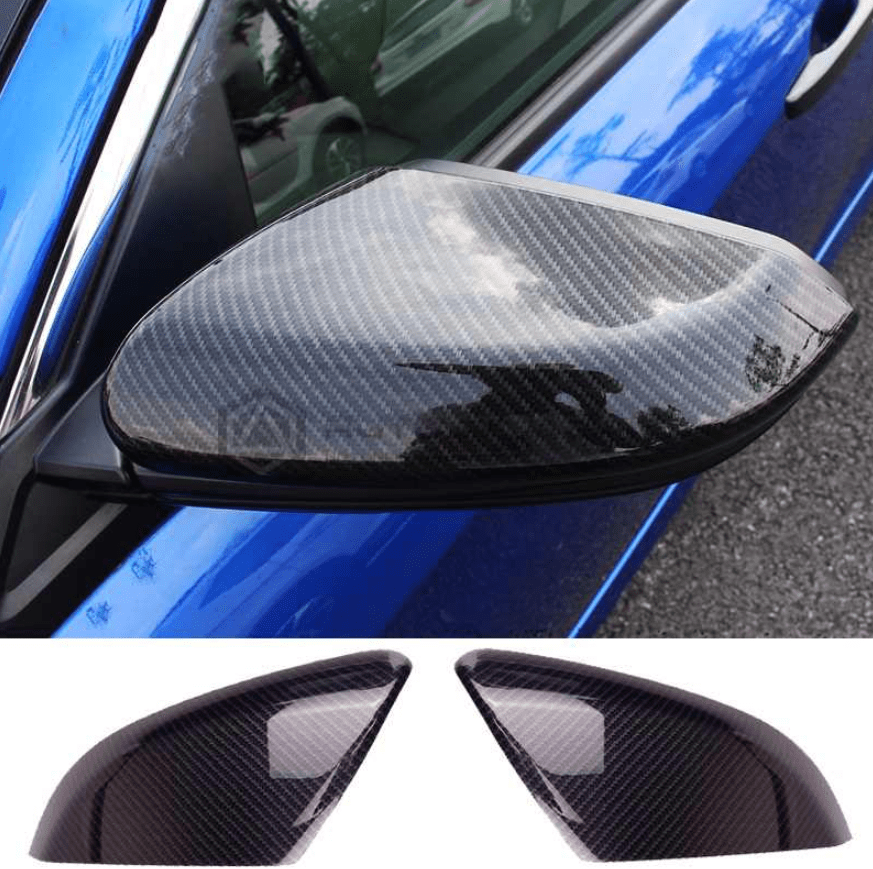 This side mirror Carbon fiber cover covers The whole noticeable face and delivers exceptional quality and vision to its audience. composed with one of the most expensive materials around the planet automobiles, the Honda Civic Carbon fiber side mirror cover enhances the overall shape and aesthetics of your Sedan and makes it stand out from the rest. 
Honda Civic Carbon fiber side mirror cover Batman-style 2016 – 2019
You may agree that most of us have been huge fans of our childhood iconic superhero, the Batman. With his muscular body and a stealth approach to his enemies along with a number of the latest technology and modern vehicles, we all idolized him as one of the best superheroes of the time.
As for the passion of us car enthusiasts relates with the Batman, we are more inclined towards the style of the Batman's vehicle aka the Batmobile. The sharp edges, wrapped in a unique, matt / metallic finish that reflects all the stealthiness and concealment on the roads, really make it stand out.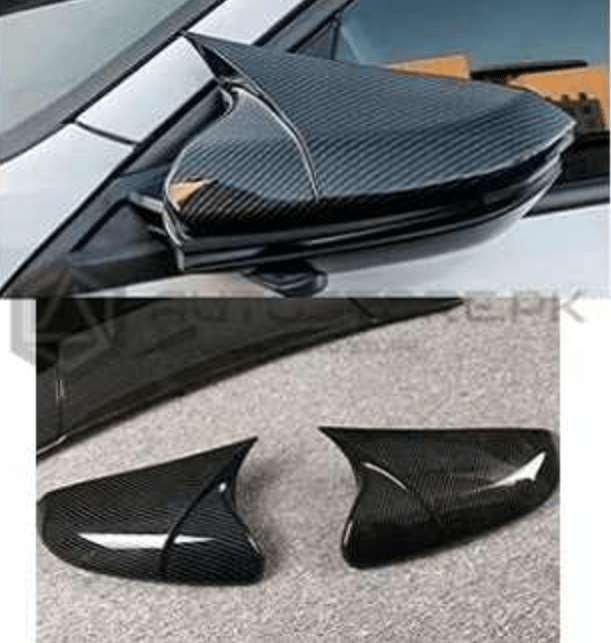 So in order to get all those stealthy vibes on your Honda Civic as well, we introduce you to the latest Batman Style Carbon Fiber Side Mirror Cover. With an amazing and 'edgy' overall structure, this carbon fiber side mirror cover resonates a lot more with the original Batmobile side mirrors. The manufacturing of these mirrors mainly consists of the carbon fiber material that drags more of the 'sportiness' factor towards your Honda Civic. 
Honda Civic rain visor side mirror Carbon fiber trim 2016 – 2019:
There is no particular limit when it comes to discussing side mirror accessories of the Honda Civic. There are a lot of side accessories for your side mirror that you can equip and make your sedan more stylish and practical.
Speaking of practicality, you can equip your Honda Civic with the latest rain visor side mirror Carbon fiber trim. along with contributing to the beauty of the car, IT services it in a lot of different ways as well. One of its major purposes is to protect your side mirror from numerous raindrops in the rainy season.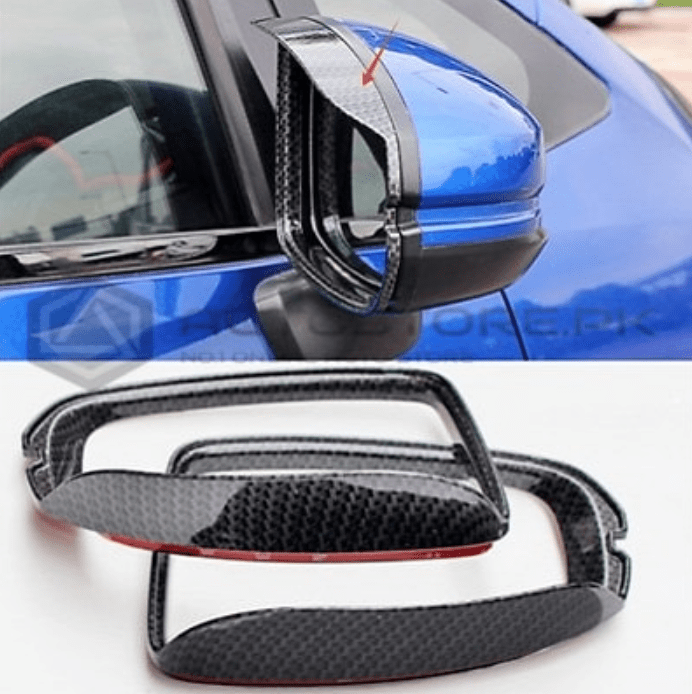 You see, when it rains, most of the rain droplets land on the side mirror's surface, making the view unclear and much distorted. Although you can clear off the raindrops from the front and the rear windshield with the help of the windshield wipers, the raindrops present on the side mirrors are somewhat hard to remove, especially when your glass panel is all rolled up to the top. Therefore, to protect your side mirror's visibility even in rainy conditions, the Honda Civic Rain Visor Carbon Fibre Side Mirror is the ultimate car accessory to go!
Conclusion: 
There are numerous car accessories for your Honda Civic that can go well along with your sedan. However, the main factor that arises is related to the parts' quality and availability. There are a lot of aftermarket accessories sellers that make these car attachments readily available but either they are of low quality or they are higher in the price range. 
So to save yourself from all this worrying hustle, we always recommend you to buy your car accessories from autostore.pk. Autstore.pk serves as a liable and authentic source of genuine aftermarket parts within the best price range.