Best KIA Sportage Accessories to Give it an Exotic Look
Introduction:
KIA Sportage is considered the pioneer compact SUV that carries modern aesthetics of both luxury and versatility. With its availability in both FWD and AWD variants, Kia Sportage has made a prominent name in the field of compact SUVs that offers both types of drivetrains.
As being Immensely popular among Pakistanis, a lot of aftermarket industries are running hot in producing its aftermarket accessories that are overwhelmingly appreciated by the enthusiasts of KIA Sportage. In order to notify you of all the great and hot accessories in the market, we have compiled a list of amazing add-ons that you can consider for your compact SUV.
KIA Sportage Rear Bumper Diffuser Carbon Fiber: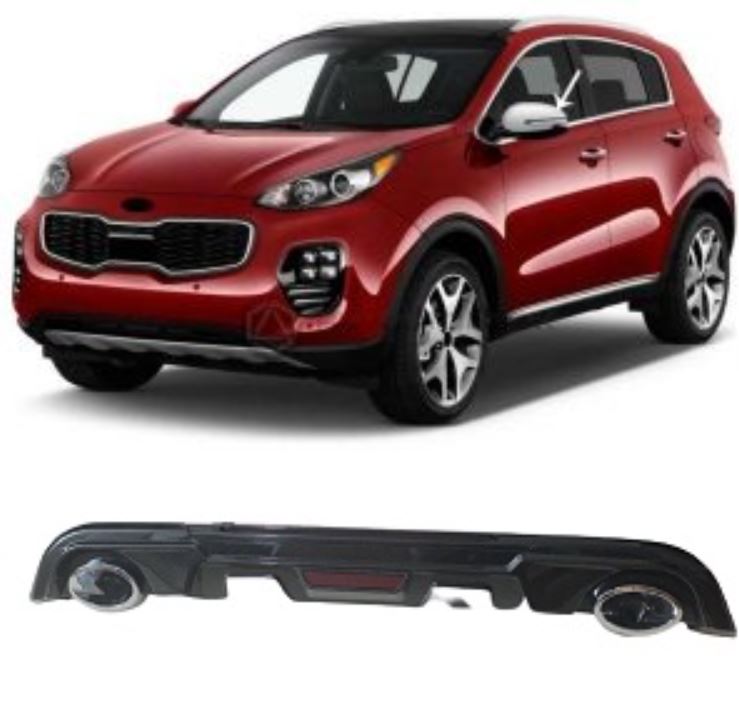 The first on our list starts from the rear modification for your KIA Sportage. Who does not want to make their car look sportier with two exhibitive exhaust frames with an additional reflector? If you are someone who thinks like that, we would like you to reconsider your decision.
This sporty, racy Rear Bumper Carbon Fibre Diffuser gives a lot better look to your Compact SUV. With all blacked-out colour, it gives a huge and appealing contrast with respect to the actual colour of the Sportage. There are two distinctive exhaust lids that improve the overall visibility and aggressiveness of the car. There is also a reflector present in the centre that provides an additional warning indication at nighttime. 
Its composition is mainly textured with a carbon fibre material that gives a premium finish to it. Therefore, if you are looking for something that can cover all the sportiness of your KIA Sportage, a rear bumper diffuser is definitely something you should go for.
KIA Sportage New Trunk Spoiler: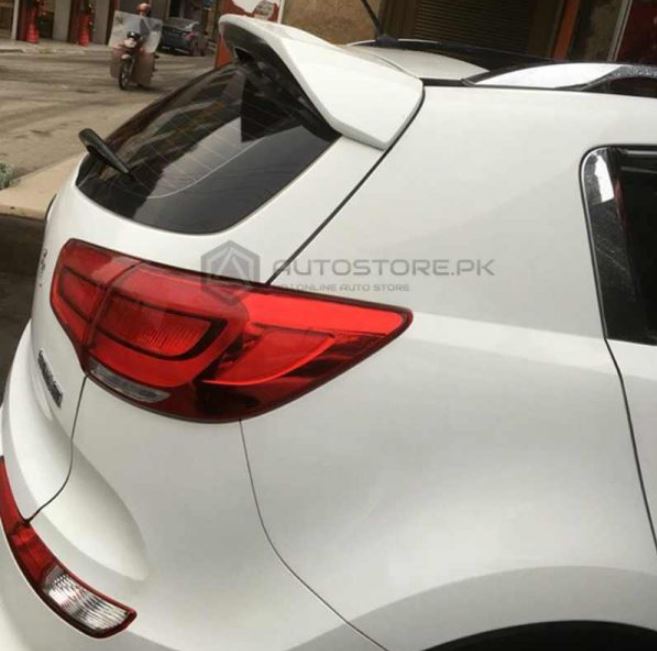 Having a spoiler on the back of your car improves the looks of your car in certain ways. This privilege has been offered to KIA Sportage to a great extent as the rear spoiler that is being offered for this compact SUV elevates its aesthetics to a whole new level. The New Trunk Spoiler is located on top of the trunk and extended a bit further. The spoiler is available in body colours to match the same tone of your Sportage.
Not only a spoiler provides visual attractiveness to the vehicle, it certainly increases the downforce of the car when going at high speeds. Therefore, it is also an essential aerodynamic aftermarket accessory you should consider applying to your KIA Sportage.
KIA Sportage LED Rear Garnish: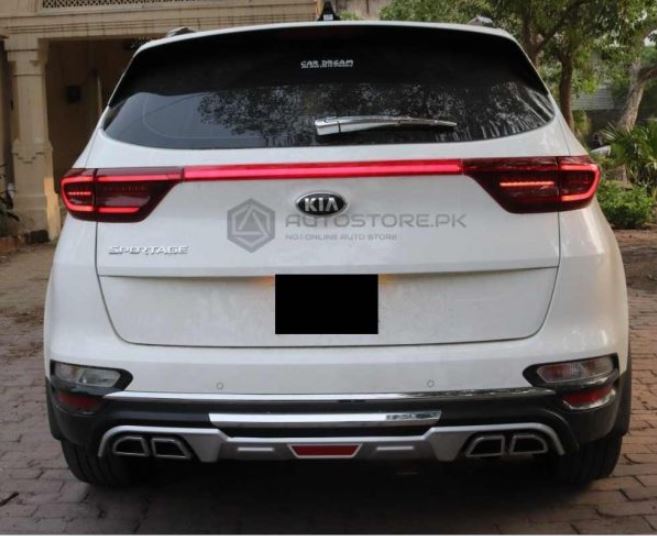 Ever felt to utilize the bar that links both of the taillights on the rear of your Sportage? If so, the Rear LED garnish for KIA Sportage is just what you are looking for. This trim replaces the non-functional, factory-installed trim in the middle of both tail lights and provides a fully functional brake indicator for better intimation or signal.
It is perhaps one of the most important aftermarket accessories if you own a car as big as the KIA Sportage. Bringing night visibility to the streets after dusk hours is quite a challenge, hence, the better the visibility of the car on the road, the safer it will be from various external hazards.
KIA Sportage Side Mirror Cover Chrome: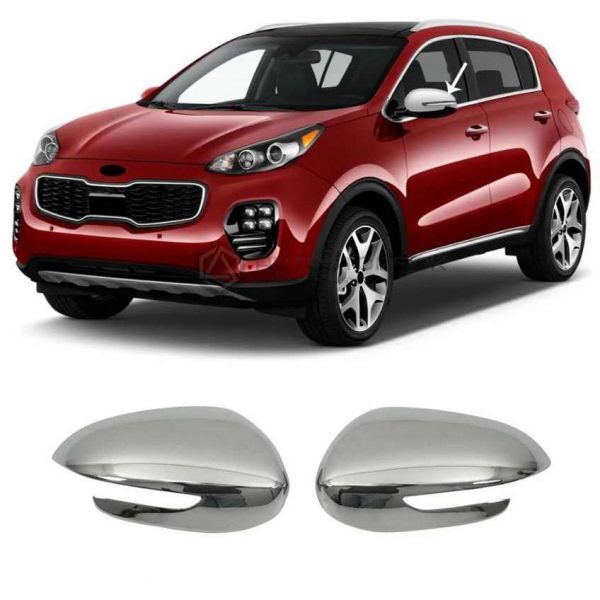 Some KIA Sportage's enthusiasts love to match the aesthetics of the external accessories with the colour of their chassis while the others, like you, consider going for contrast. With a contrasting property, the external parts gain their own prominence and distinction to stand out of the rest of the chassis. Also, it is certainly a good aspect to adopt a change and switch the traditional parts with the ones available as an aftermarket accessory. 
Therefore, speaking of the major aspect, it is advisable to replace the traditional side mirror covers with the aftermarket Side Mirror Chrome Mirror Cover ones. These 'new' ones are extremely attractive and eye-catching as they are coated with chrome from the outside. These not only give a prominent look but also give a distinguishable aspect for your KIA Sportage.
KIA Sportage Seat Buttons Trims Silver: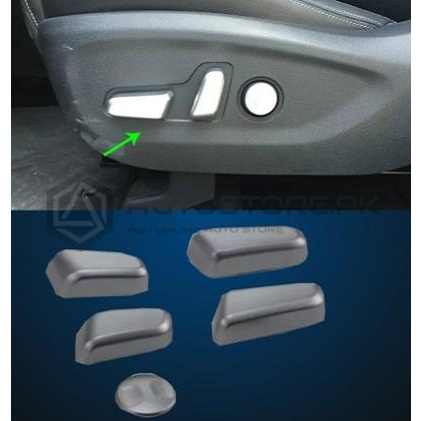 The only thing that frustrates a user is the lack of contrast the car offers in terms of opera table keys. The same case goes around about the seat adjustments. The seat adjustment buttons are not highlighted in any way in order to let the user know of their presence. The only thing that makes these buttons prominent is that they are 'bumped out of their places for easy grip and operation.
Therefore, in order to make your difficulties easier, we recommend you install a set of Silver seat adjustment buttons inside your KIA Sportage. These silver-coloured seat adjustment buttons not only improves their visual presence for the driver but also gives a prominent and outstanding look that marks it as a valuable accessory as well.
KIA Sportage TXR Luxury Grade Air Press: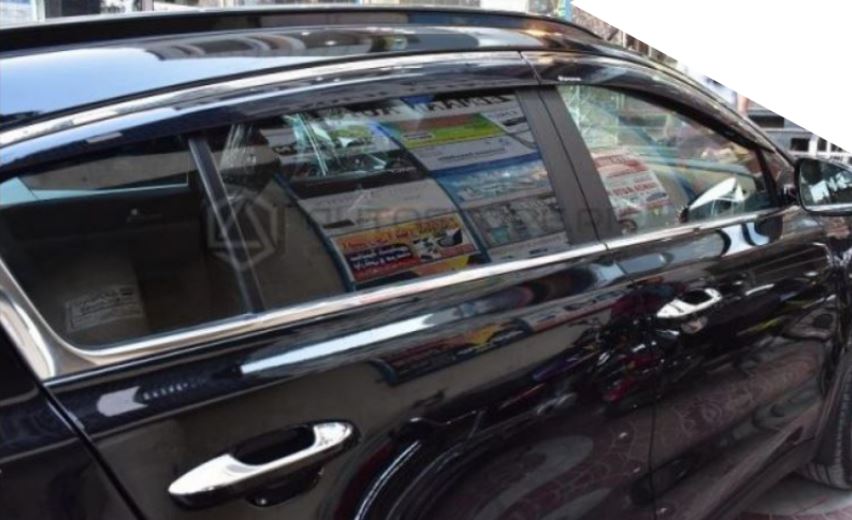 When talking about installing an air press on your car or not, we can debate on this by considering the fact that how good you want to protect the side window panels of your car. 
KIA Sportage TXR Luxury Grade Air Press with Chrome touch not only gives the best consciousness from the exterior of your compact SUV but will also provide additional protection to your side door panels. The most important perk you get by installing the air press is that it will prevent water from dripping down inside your KIA Sportage. Secondly, it will minimize the chances of theft if the windows remain a little open if you park your car somewhere. The Air press extends itself downwards up to a certain level that provides an additional layer of protection. 
KIA Sportage RS Style Side Step: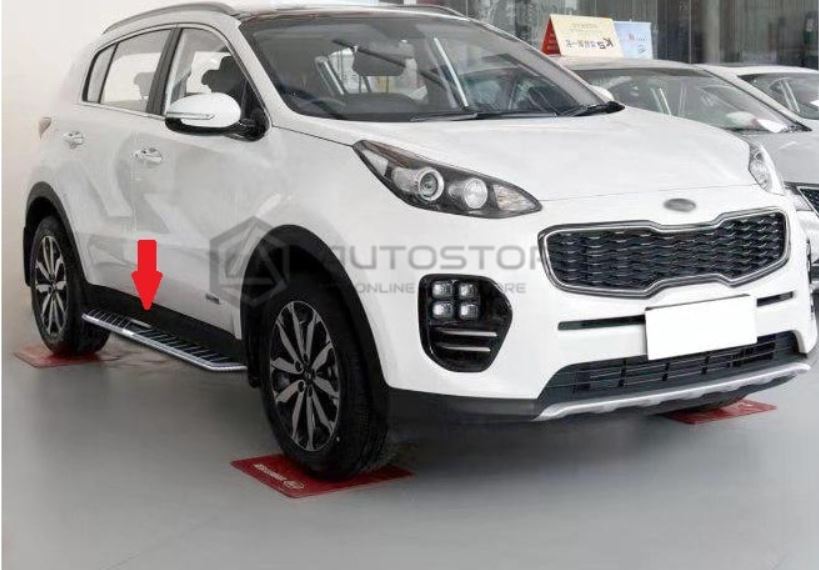 When owning a compact SUV of this much height, there is always a problem of climbing inside it, especially for young children and elder people. KIA Sportage offers a substantial amount of ground clearance that allows it to perform various off-road activities, thus making it versatile. But this amount of flexibility comes with a price. The price is that the car has been lifted off to a certain height which makes it challenging to access for different people.
Therefore, in order to overcome this obvious flaw, we would recommend you install the KIA Sportage RS Style Side Step on your Sportage. The side step is somewhat of an essential aftermarket accessory that aids in the practicality of the car. Other than serving its purpose, the RS Style Side Step is designed in such a way that they improve the outlook of the car to a certain aspect. The blacked-out hard step with chrome lining on the edges gives a sportier look to the overall KIA Sportage, and hence enhancing the visuals even more.
The aftermarket accessories compiled above are our top favourite options that you should consider after owning a remarkable SUV like KIA Sportage. These parts not only serve their respective functions but also provide all the exotic looks you demand from your compact SUV. Therefore, in order to let you get your hands on them, we would gladly suggest you visit autostore.pk. Autostore.pk serves as a viable option as the number 1 authentic and genuine online aftermarket parts dealership that provides top-notch products at the best prices.