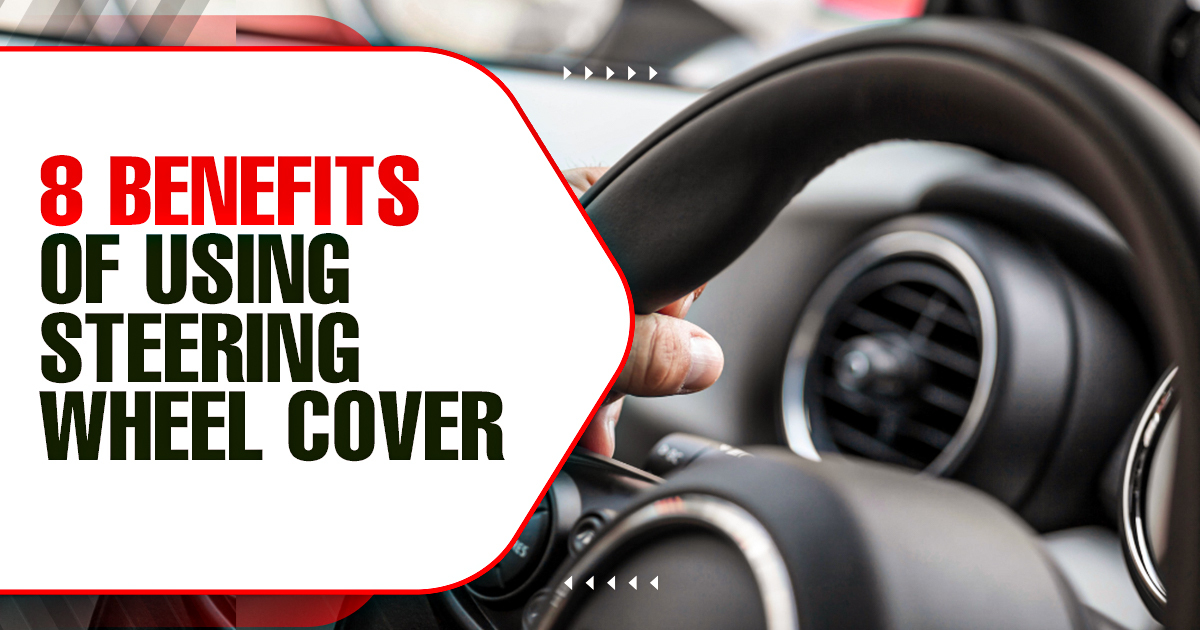 8 Benefits of Using Car Steering Wheel Covers
The steering wheel is the first thing we see when we enter a vehicle as a driver. It is an essential part of the vehicle. First, it was used to handle the direction of your car. But now we control everything in the car from the steering wheel like horn, multimedia, cruise control, information cluster, etc. The steering wheel is one of the most used part of the vehicle. By use, it gets damaged. Excessive use damages the body surface of the steering wheel and makes it difficult to use. Not only are you tired while driving, but it also causes accidents. For its maintenance, we can use steering covers. They also give better looks to your vehicle's interior. Autostore.pk brings a lot of designs and varieties of steering wheel covers for you.
1. Improves Grip
With time, without cover, regular use starts to damage the surface of the steering wheel, and it creates difficulty in gripping your steering wheel. It could be tough to hold the steering wheel during an emergency, and it can cause an accident. Steering wheel repair isn't easy. First, you have to change the steering, which is very expensive. You can use patterned or resistant surface steering wheel covers to improve grip on steering for a safe drive. It's better to use the steering wheel timely to prevent damage.
2. Enhances the Style and Glamour of Your Car's Interior
In the looks of the interior of a vehicle, the steering wheel plays a significant role because when seeing your dashboard, the first thing you notice is your steering wheel, so you can use custom designs for your steering wheel to enhance the luxury of your car. You can also use sports style covers for a sporty touch.
3. Makes Driving Comfortable
Your hands continue using the Steering wheel while driving, and if your hand is tired, automatically, your body feels uncomfortable. The steering wheel covers give a comfier, thicker, and improved grip, so you can drive more comfortably without a tight hold on the steering wheel.
4. Greatly Reduces Hand Fatigue
A steering wheel cover with a textured fabric such as memory foam can help reduce driving fatigue for those long drives that aren't too comfortable.
Steering cover make wheel ring thicker that's why you couldn't hold so hard so your hand will be easy while long and tiring drives
5. Protects the Original Steering
The steering wheel is the most used part of your vehicle. Constant use starts down the wear and tear of the steering wheel surface. The steering wheel cover works as a protector of your original steering wheel.
6. It is Cooler in Summers and Warmer in Winters 
When you enter your vehicle on a boiling summer day, You realize it takes a few minutes for your steering wheel to chill off enough to hold. Also, your steering wheel sometimes feels like ice in the cold weather.
But if you use a fabric steering wheel cover, you can feel a significant difference because the fabric doesn't absorb heat and colds like other leather or plastic steering wheel covers.
7. Better Control Over the Car
When your steering wheel has a more resistant and thicker surface, it gives you a perfect grip to handle/control your vehicle much better without Hand Fatigue.
8. Completely Customizable
The steering wheel covers are available in different designs/patterns, colors, and materials. You can use them on your steering wheel for style, comfort, enhanced grip, protection, and modification. There are many options like sports car logos, simple stitching, wooden type, cartoon printings, and any art. also. You can customize your steering covers.