7d and 9d Mats For Your New Civic
If there was a way for you to protect your car's interior from those dreadful stains, gritty dust and fetid odor, wouldn't you opt for it. These car interior accessories will also add luxury to your while making car cleaning a whole lot easier. Does this sound like a dream to you? But it shouldn't as the 7d and 9d civic mats are the ultimate protection and style for your car.
What are 7D and 9D mats?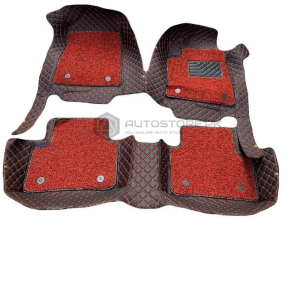 Want to up your game by adding luxury to your car's interior? Well 7D mats are your wish come true!
These mats are extremely durable and surpass almost all the other floor mats in terms of quality and durability. Your car would most definitely stay new forever as these super tough mats protect your car from all the clutter and gunk. It also squeal luxury, comfort and elegance that you would experience as soon as you slide in the car. The seven layers of these mats contain:
GrassMat
Heavy duty Vinyl backing
Easy to clean PVC
Non-woven felt
XPE
Anti-slip backing
7D civic mats are ousted by none other than 9D mats, the ultimate luxury mats. 9D mats are resilient and super-protective layer for your car car flooring. Like their predecessor, they're non-toxic and protect the car from stains and odors. These thick, plush coiled also provide maximum comfort and magnificence.
The question isn't why should you get these mats? Here are the top 6 reasons:
1. You get a thick protective gear! We're talking about 7-9 layers of protection- The grass mat on top provides with extra protection, they're temperature resistant and also flexible.
2. Elegance at its peak! These are custom-made mats with unique patterns and colors to give your car a bold new look.
3. Wait, Low maintenance too? Yes, they're very easy to clean. Although simple vacuuming would be enough but the grass mat is detachable which means it can easily be taken out and cleaned.
4. Drive safe! The double protection prevents water from soaking in the car and the anti-skid backing helps the foot to fit right without slipping.
5. Great for the resale value! These lavish mats, while keeping the interior nice and clean and complimenting the car's look, would help you get a better price for your car!
6. Great Investment: These car interior accessories are a durable investment to protect your car and enhance its appeal. Since they are luxurious mats, they could be slight pricey, which makes it highly important to carefully choose the car floor mats. As these car flooring vary as per your car make and model. You also get to choose distinct color mats that compliments your car interior best.