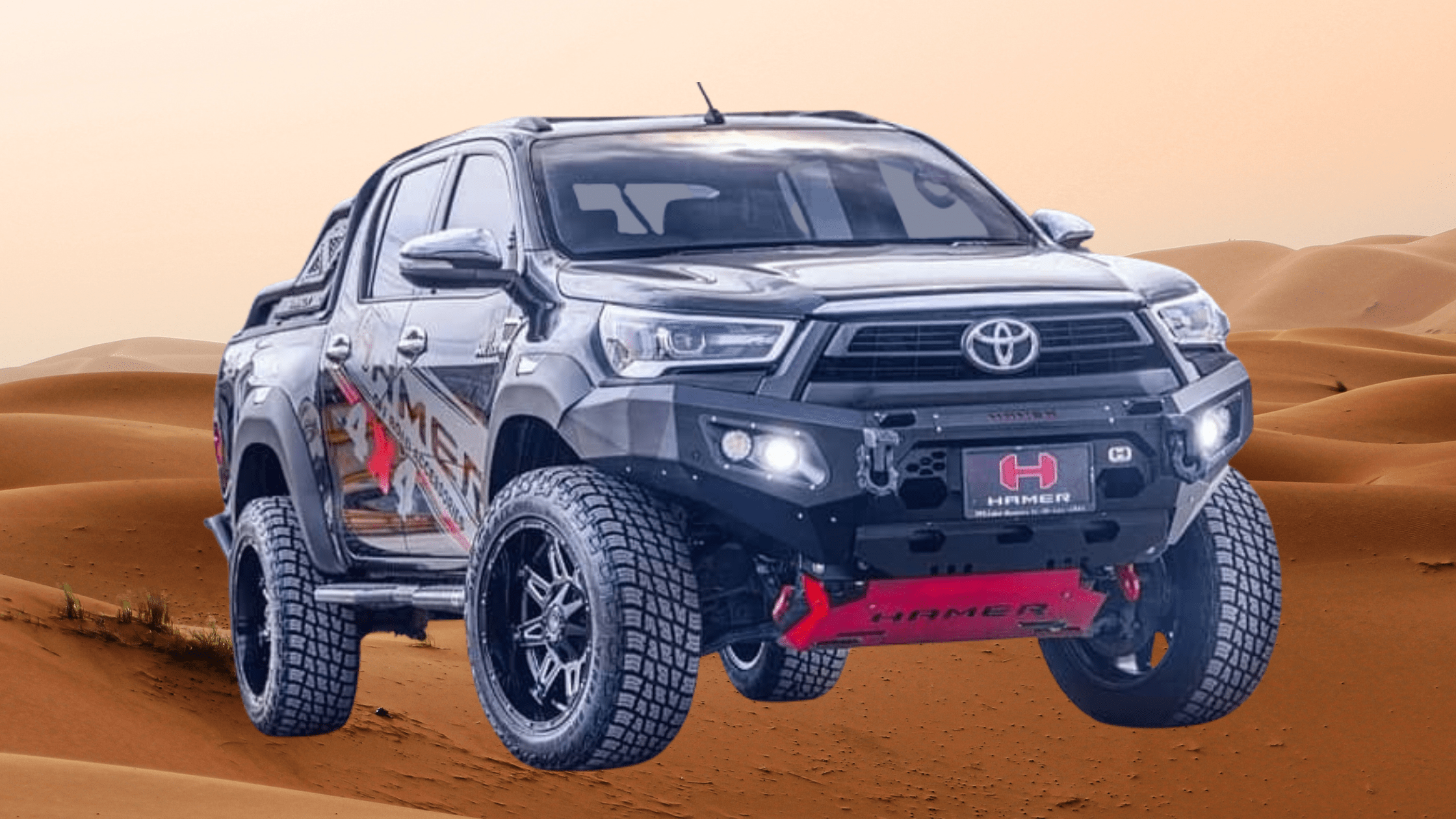 5 Best Toyota Hilux Armored Bumpers in Pakistan
If you're looking to purchase Toyota Hilux armored bumpers, it can be tricky due to the wide range of options, various brands and types available. However, if you're looking for one to go off-roading or generally want to protect the vital components of your car, it is crucial to choose the best bumper for your requirements. Following are the top five bumpers you can buy in Pakistan.
Toyota Hilux Revo Armored Bumper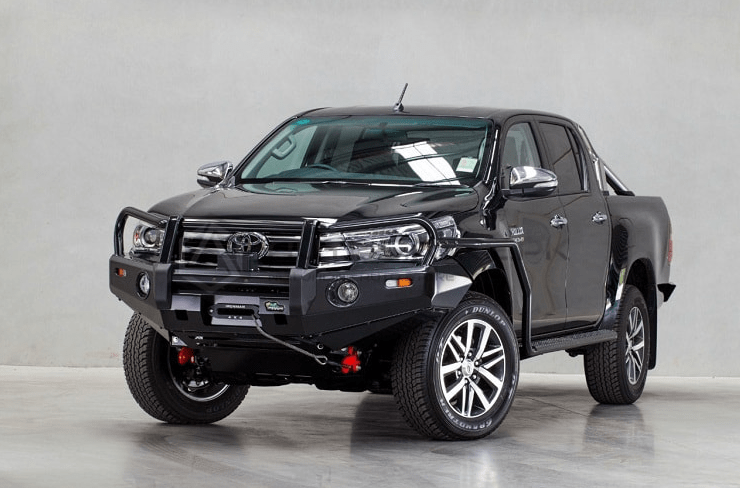 The Toyota Hilux armored bumper is considered one of the preferred bumpers as it protects and gives your car a beastly look.
It absorbs the shock and prevents injury on the rear of your vehicle. This way, the longevity of your car will improve with an excellent armored bumper.
Furthermore, it is made to meet passionate off-roaders' needs and has been personalized and designed by Australian ADR standards. This increases the confidence of the users of the product that users will receive the highest level of security from installing these armored bumpers.
Features
Absorb shock

Increase durability

Enhance the look of your car

3 In 1 Led fog Lights

Daytime running lights
Toyota Hilux Revo Hamer Style Armored Bumper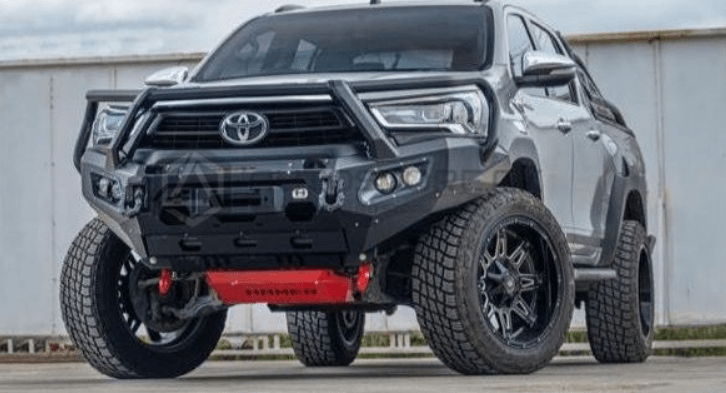 The Toyota Hilux Revo Hammer style armored bumper shields your Hilux from front-end damages while giving it a rugged off-road style. The sturdy metal construction can endure a lot of abuse, and the built-in LED fog lights up the path ahead. 
Moreover, the installation process of the Hammer armored bumper is straightforward, and all the necessary equipment is included. So do not let your thinking improve, and get the Hammer-style bumper for your Toyota.
Features
Rugged style

LED fog lights

Sturdy material
Toyota Hilux Revo Hamer Style Armored Bumper V2.0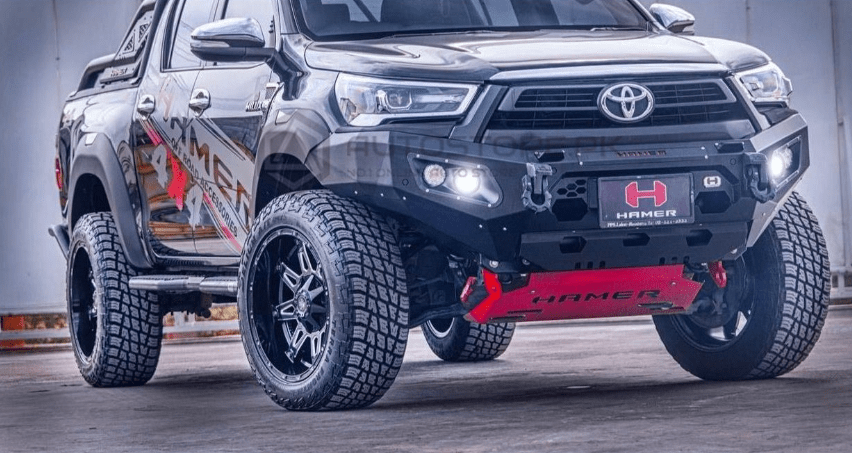 This is another Hilux armored bumper you can get for your Toyota Hilux. The Hamer Style Armored Bumper V2.0 is made from a durable steel material that takes care of your vehicle and lasts for a long time.
The bumper is water and heat-resistant, which adds to the product's durability. Another key feature why this bumper is considered one of the best is it comes with factory sensor support. This support helps in detecting an object in front of the car.
Features
Durable Steel Material

Heat resistance

Water resistance

Factory sensor support
Toyota Hilux Rocco Armored Bumper Option 4WD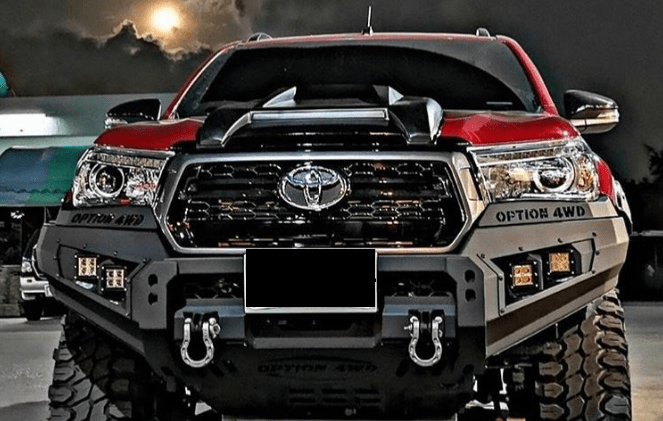 The Hilux Rocco Armored Bumper Option 4WD is produced from heavy-duty, top-quality steel. The bumpers have dual LED lights that help you look clearly at night.
Moreover, it also supports winch mounting points on the front to allow you to mount the winch system easily. The bumper is also airbag crash compliant and has SRS sensors. Overall, it makes the design solid and sporty with a luxury black powder coat finish with a premium black color to ensure long-lasting endurance.
Features
High-end robust and safe design 

Comes With Dual LEDs.  

High-Quality Steel Plates

Front Winch Mounting Points
Toyota Hilux Rocco Hamer 4×4 Armored Bumper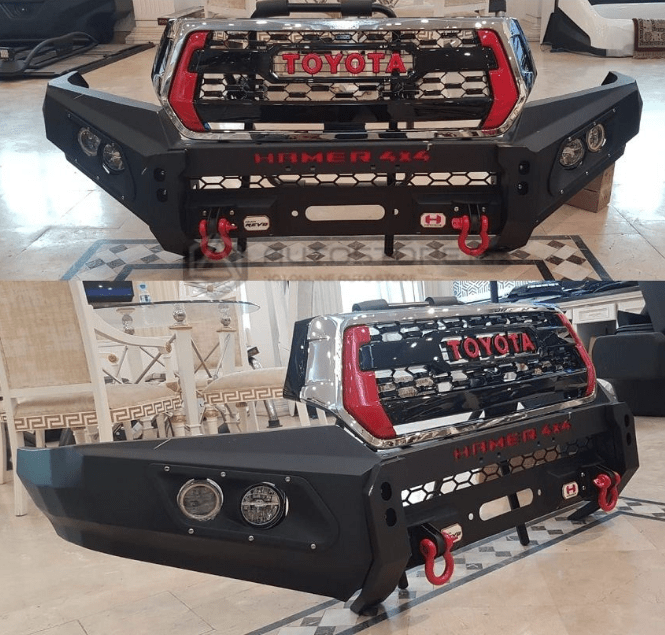 The Hilux Rocco Hamer armored bumper is designed to match every vehicle precisely. In addition to adding a fierce/rugged look to your car. You will get daytime LED lights with indicators.
Moreover, the bumper is Winch compliant, and it considers the safety of its passengers by being airbag compliant. So buy these Rocco Hamer 4×4 bumpers and stay confident in every trip you make.
Features
Winch compliant

Rugged Design

LED fog lights

Weather Resistant