3 Best Car Backseat Organizers for Your Vehicle
Do you have trouble finding your things in your car? Are you always struggling to organize your car? Well, don't worry because some of the best car backseat organizers out there can help you keep everything in its place.
Fortunately, a wide variety of online car organizers in Pakistan is now available to accommodate various car sizes and kinds. These solutions separate the storage space in vehicles into several distinct bins or cubby holes. So that objects remain put and are simple to discover at the time of need.
You can store mobile phones, water bottles, pencils, and laptops in this adaptable backseat car organizer. You can also carry larger objects for quick access and seamless organizing. This article we will discuss some of the best car backseat organizers and how they can help you keep your car organized.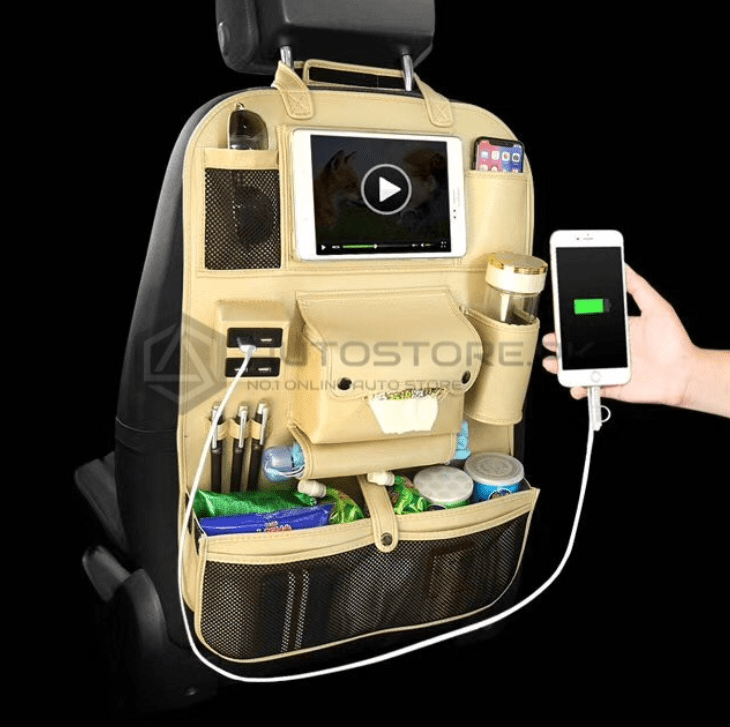 This High Grade PU Leather Backseat Organizer comes with premium-quality and fits most automobiles without modification. Both are simple to install and convenient to use. It maintains the inside of your car in order. So there may be plenty of space for you to keep things like beverages, phones, notepads, pens, periodicals, and glasses. Fixation on top and bottom, excellent fit with 95% of available car seats. It is made of PU leather—enduring, stain-repellent, and washable.
Features
USB sockets 4

Cable length 175cm

Color beige, brown, carbon fiber

Input 5V 2A

USB output 5V 2A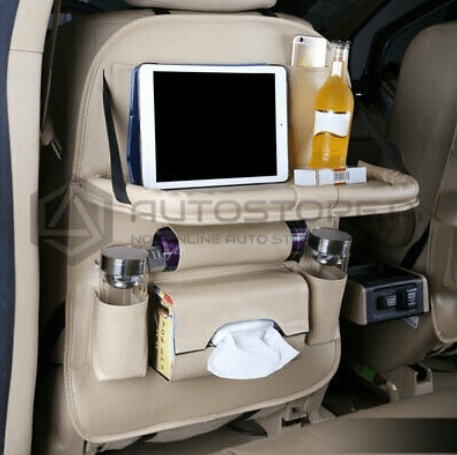 The Leather car back seat organizer is lightweight. Extensive storage in a small sized organizer makes it a good choice for the car. It holds your trip comfort & moving troubles. But, the accurate size makes the organizing process a lot of trouble.
Features
Multi Pocket Organizer for Car Seat Multi-use to hold iPad, bottle,

tissue, toys – Single Piece

It is robust and simple to clean.

It is made of a soft, lightweight material.

The square pockets are medium-sized, so you can pack things in different places

The zipper is easy to use, flexible and soft

Beige color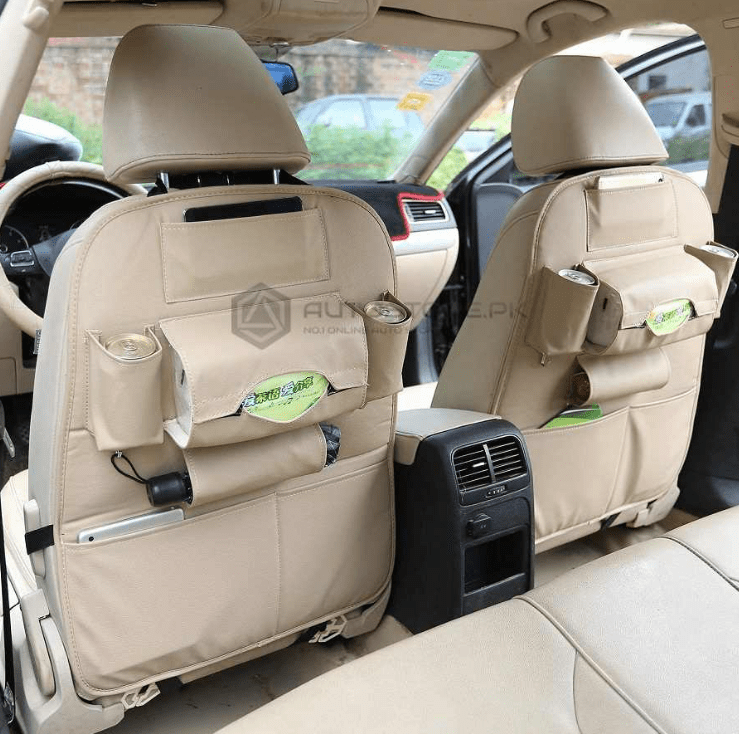 This Leather Backseat Organizer in Beige is waterproof and simple to clean; just wash it off with a moist towel. It features several pockets and holders of all sizes to keep everything in its place. Fits the back of any automobile seat and is simple to install. Pu leather of the highest quality is made to last for many years.
Features
Pockets for a variety of items

Keeps your car clean

Stable and lasting

The best accessory for travel

Simple installation and universal fit
Wrap Up
Once you have the things with the finest car backseat organizer for your car, you won't have to worry about any of the items that could be left at home or jammed under the back seat. The toughest part of getting these things later from between cushions and beneath the seats is packing them. The entire process takes a lot of time. Fortunately, with a relatively minor expenditure, you can put this situation behind you altogether.
You don't have to worry about anything getting spilled, tipped over, or soiled in the car while you keep your food and beverages, personal care items, novels, tablets, and anything else you might need. With our assessments of backseat organizers, we hope this article can assist you in finding the best car backseat organizer—- just what you require.