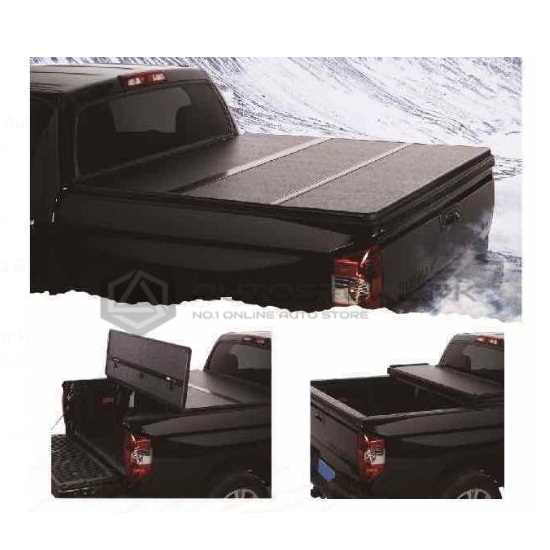 Toyota Hilux Revo Hard Top Tri Fold Lid Cover 2016-2019
Introduction:
Toyota Hilux Revo has always been considered as a name of luxury off-road cruise vehicle with bouncy suspension and a huge ground clearance. This 4×4 off-road pickup truck blends a mixture of style, rigidity, and comfort; all under a single vehicle. As the name 'Hilux' implies, this off-roading machine, combining 'high' and 'luxury',  is never to be seen compromising on steep areas throughout Pakistan. Whether its a hilly safari or a Cholistan rally, Hilux can be stated as one of the favourite off-road vehicles of all time.
Being so successful in the pakistani market. A lot of brands primarily focused on making its aftermarket parts. With such rough usage, its original parts can easily be ripped off and can eventually affect its resale value. Therefore, strong and durable aftermarket accessories are always recommended for Toyota Hilux Revo
Hard Top Tri Fold Lid Cover:
As mentioned before, the aftermarket accessories for Toyota Hilux Revo are very beneficial for your Toyota pickup truck. Along with the other aftermarket modifications and accessories for the Toyota Hilux Revo, the Hard Top Tri Fold Lid Cover can be declared as one of the most important aftermarket accessories present in the market.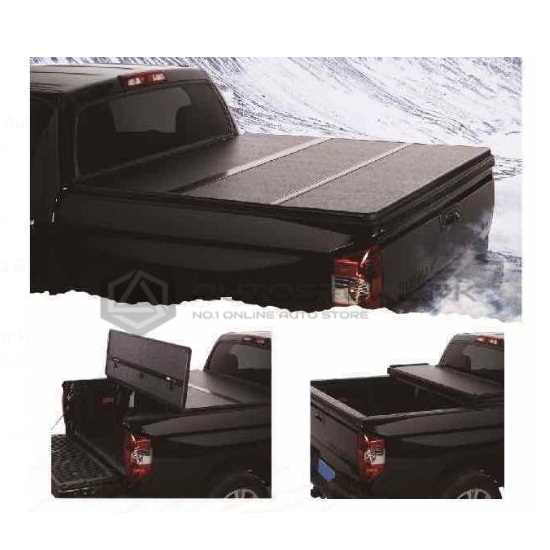 This Tri Fold Lid Cover can be seen throughout the backspace of your pickup truck, covering all the exposed loading compartment and thus, protecting it from various environmental hazards.
'Tri' Fold:
The term Tri Fold means that it can be folded up to three times and when opened, it ultimately covers only one third of the total area of the trunk lid. Although it does not get removed completely in the first attempt, this uncovering technique can prove itself to be very beneficial when folding and unfolding it in quicker time intervals. It can be detached from both of the ends whenever you feel that its not serving its purpose for a particular journey.
Strong and Durable:
Unlike the regular Soft Top Tri Fold cover for Toyota Hilux Revo, this Hard Top Tri Fold cover is much stronger and sturdier. With such improvements in its reliability and strength, even a person can stand on it without breaking it apart. This much strength is very important when you are planning for rough off-road trips and avoid liking that your Trunk Lid Cover displaces here and there or loses its original place.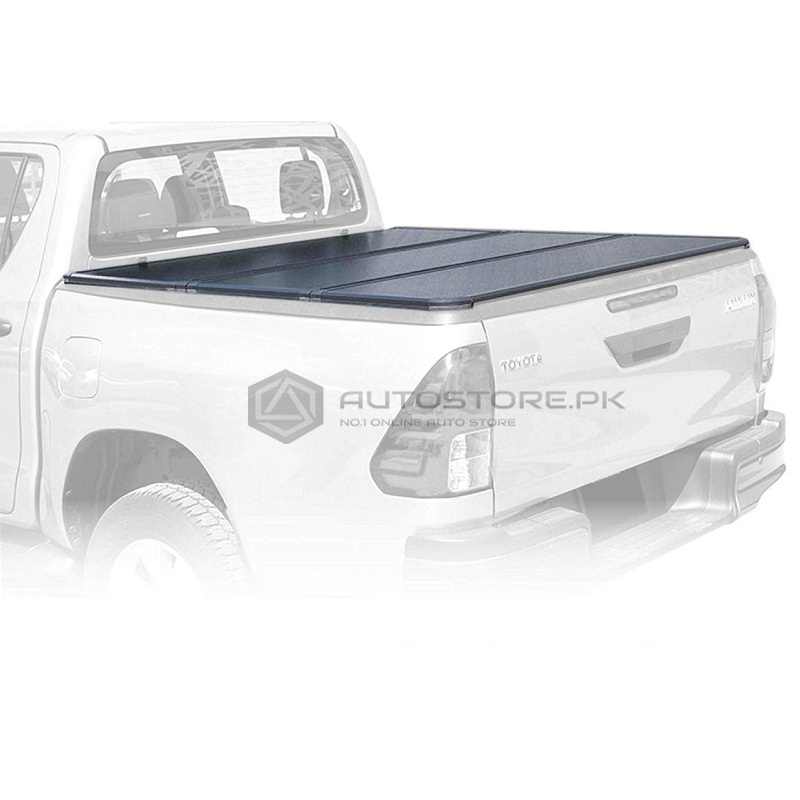 In terms of its strength and durability, It can provide enough defense and protection to any type of sensitive luggage present inside the lid of your Toyota Hilux Revo. If you want to put any type of sensitive luggage or goods to be placed in a very careful manner and do not want it to be exposed to the outer environment, do not hesitate to choose this aftermarket accessory for your Toyota Hilux Revo.
Styling:
Along with its various protective services, it can also be used to enhance the overall looks and styling of your Toyota Hilux Revo. With such a Lid Cover applied to your pickup truck, It will never expose the empty and hollow cargo lid area. This Tri Fold Lid cover also smoothens the rear finish of your pickup truck, making it look cleaner and more elegant.
Aftermarket Modifications:
Instead of getting yourself a simple and regular Tri Fold Trunk Lid Cover, you can apply some modifications to it as well. A number of modifications like the sliding hooks on each side of the internal walls of the lid allows ease in access for the hooks to strap on the lid cover. The LED lamp allows to lighten up the dark and hidden storage compartment, allowing more visibility for you and your goods. However, these modifications are secondary and depend upon their availability.
Conclusion:
Toyota Hilux Revo Hard Top Tri Lid Cover can be known for its extreme versatility, durability, and reliability. It serves its purpose as well as provides an overall decent looks to your Toyota Hilux Revo. If you are looking to modify your Toyota Hilux Revo with custom car accessories, especially with this Hard Top Trunk Lid Cover, do not forget to check out autostore.pk, the one-stop-shop for all your needs of perfect car accessories online.