The top 6 car accessories to add to your car's style!
Enhancement in the auto industry is coming day by day, and with every new accessory invented, car lovers are getting relaxed. Your car will become funnier and more enjoyable with these car accessories.
Now you don't need to purchase a new car after every one or two years as you can install these accessories in every vehicle model.
Car accessories can increase the car's efficiency, which is why people love to add more accessories to their vehicles.
Today I will tell you about the best accessories which will surely add style to your car. These are readily available at online auto stores, and you can have them at a very reasonable price. They will deliver the items at your home. So, you can relax and enjoy these accessories.
A gorgeous car mount never needs an installation:
Everyone is now used to the navigation to find a location. It will be a valuable addition to the car if you have this car mount to place your phone quickly and easily enjoy navigation.
You can easily have this car mount in the vent of your car for better visibility and performance. You can easily swivel it wherever you require.
This car mount is the best as they are using the best magnet with the phone. There is one problem, and that is not for the car mount. If you are using a wireless charger to charge your phone, then it creates a big problem.
It is a great product which will help your car look modern, and these are available at a very reasonable price.
7D car mats that can be the reason for a clean car:
7D car mats are also valuable accessories that will surely add style to your vehicle and make you comfortable.
These mats are easier to clean and odorless, which will give your car a fresh smell always. These mats are weather resistant to use them in every weather condition, and it is easier to clean these mats.
If you are on a journey, you will surely understand how bad the car looks after a family trip.
These mats will also secure your car floor and give your car the aesthetics which it deserves. It is the car accessories which is very useful for car lovers too. It will provide a stunning look to the vehicle.
Air freshener for the natural smell in the car: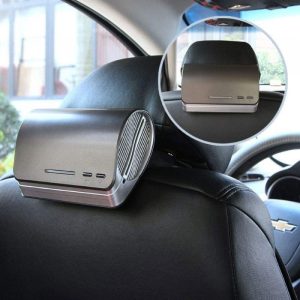 Car air freshener is the best car accessory that helps your car smell fresh. These are made with perfumes that can easily remove the car's odor and keep your car cleaner and hygienic.
You can hang it in the car or have these air fresheners on the dashboard. These air fresheners also help to get rid of bacteria and germs.
These air fresheners look very beautiful and add style to the car. I buy these air purifiers because I hate when my car smells like pizza or eating material.
Online auto stores have these air fresheners at a very reasonable price.
Seat Cushion that will provide you a good posture:
A stylish looking car should be comfortable to sit and drive. In a long journey, car seat cushions can provide you a good posture with comfort.
It can easily align your backbone correctly, and you can quickly drive for longer without getting tired from driving.
These car cushions are usually made with the memory foam that will support your back and keep you comfortable on the ride.
These car seat cushions are beautiful and make your car look stylish and comfortable to sit. These are made with durable material, and you can have these cushions as good as new for a long time.
These are very soft pillows on the whole and give satisfaction to the user.
Car seat organizer to manage your stuff:
Car accessories I love most are those who help to manage the stuff of the car. The seat organizer is designed to hold the stuff efficiently to put all the things you don't want on your car seats. You can go on long drives with these organizers more easily.
The hook in this organizer can hold your stuff easily. You can install this organizer in the back seats of your car. These are made with high-quality material, so it is one of the durable accessories for the vehicle.
My wife loves to have this accessory for my car now. She can never imagine traveling without the seat organizer.
Online stores can quickly provide you with it, and also, they will be responsible for delivering the product at your doorstep at a very reasonable price.
Dash Cam for the security you required while traveling:
It is tough to tell an insurance company about the accident, and usually, we fail to tell the accurate situation. Now with the help of dashcam, you don't need to worry much. These cams can easily record the video.
Suppose you have an accident on the road. If you are worried about the angle, don't worry because these cameras can easily take the video from every angle.
The cam's recording quality is 4k, and you can quickly transfer the cam's footage with one touch. The use of this camera is pretty straightforward. You can save all the footage on your PC.
Now you can travel without any problem, and also these cameras help make your car more stylish.
Conclusion:
There is a large variety of car accessories which are making your life comfortable. You can have them for whatever model you have without any issue.
Online stores can provide you with these accessories at your home. They usually have high-quality items at an economical price.
You don't need to put much effort. Just visit the website of the auto store and make an order for the best products online. These stores have the most extensive variety for the customers.