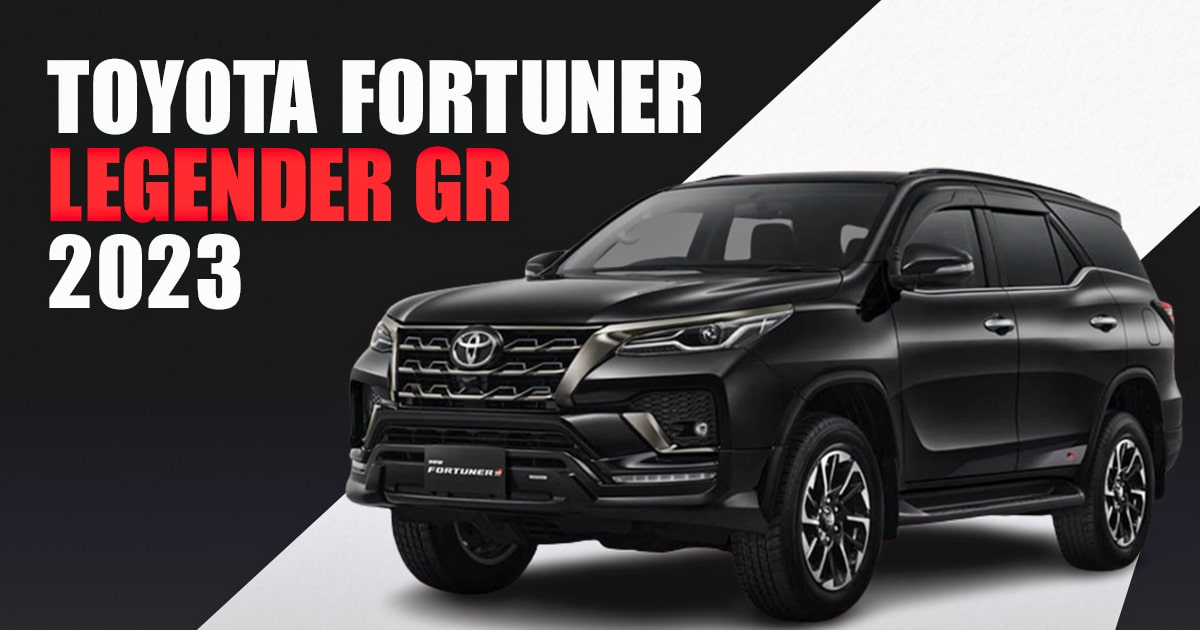 The All-New Toyota Fortuner Legender GR 2023: A Marvel on Wheels
Introduction
Prepare to be mesmerized by the pinnacle of automotive brilliance – the highly anticipated Toyota Fortuner Legender GR 2023. A true testament to engineering mastery and marvelous craftsmanship. Anticipation fills the air as automotive enthusiasts eagerly await the arrival of this groundbreaking masterpiece on wheels- poised to revolutionize the very essence of the driving experience. A symphony of elegance, technological prowess, and extraordinary performance, the new Fortuner Legender is poised to etch an indelible mark in the realm of automotive excellence. Embark upon a realm brimming with grandeur, where luxury reigns supreme and magnificence knows no bounds. Delve into the remarkable attributes and revolutionary breakthroughs of this extraordinary automotive masterpiece. 
Exterior

The Toyota Fortuner Legender 2023 exudes an aura of unparalleled distinction, as its exterior design captivates with bold flair and allure, setting it apart from its predecessors with unrivaled prominence. This SUV emanates an aura of dominance and elegance from every vantage point. Its sleek and fluid lines elegantly traverse its form- accentuating its aerodynamic silhouette with grace and poise. At the forefront, an awe-inspiring grille captures one's gaze, radiating an aura of self-assurance and unwavering might, commanding attention with resolute confidence.
The chic LED headlights cast an illuminating brilliance upon the road ahead- bestowing an unmatched clarity that leaves no shadow uncharted. Distinguished by chrome embellishments, this masterpiece embraces a touch of luxury, while its spirited alloy wheels infuse an athletic allure that cannot be overlooked. Impeccably honed to perfection, each intricate detail of the Fortuner Legender bespeaks a dedication to unmatched automotive eminence, firmly establishing it as an absolute standout in unrivaled excellence. 
Interior

Embrace the realm of sublime luxury as you enter the Toyota Fortuner Legender 2023, where a refined interior awaits, emanating an air of sophistication and luxury that is truly unparalleled. Unparalleled luxury is unveiled as high-grade materials grace every facet, bestowing an ambiance of refinement and sophistication that transcends ordinary expectations. Embark upon indulgent journeys, where expansive seating arrangements envelop all occupants in unparalleled comfort, transforming long voyages into blissful odysseys of pleasure.
Elevating the driving encounter to new heights, the Fortuner Legender proudly showcases many cutting-edge features meticulously designed to amplify and enrich every aspect of your automotive journey. The touchscreen infotainment system provides seamless access to entertainment and navigation, while the premium sound system immerses you in exceptional audio quality. Experience a seamless connection to the world as you traverse the roads, courtesy of astute connectivity options that ensure you're never disconnected. Immerse yourself in an elevated realm of interior indulgence with the Fortuner Legender, where every moment becomes a testament to refined luxury.
Power and Performance
Unleashing a symphony of power, the Toyota Fortuner Legender 2023 presents a captivating array of potent engine choices, each crafted to deliver an exhilarating performance that leaves an indelible impression on the senses. With awe-inspiring power output and torque prowess, this SUV embodies invincibility, purpose-built to conquer any terrain with effortless grace triumphantly. The Fortuner Legender, whether in petrol or diesel, displays its road prowess with an advanced suspension system that effortlessly absorbs bumps for a smooth ride in challenging conditions. Adventure seekers will appreciate the off-road capabilities, allowing them to explore untamed landscapes confidently. Get ready to unleash the beast within and experience the power and performance of the Fortuner Legender like never before.
Safety and Technology Features
The Toyota Fortuner Legender prioritizes safety and offers a seamless technological experience with advanced features like multiple airbags, ABS, and stability control systems. Ensuring the well-being of you and your passengers on every journey. Enriching your driving experience with opulent flair, the modern marvels of driver-assistance technologies, such as the illustrious adaptive cruise control and the impeccable lane-keeping assist. Bestow an abundance of convenience and unwavering confidence. Embrace a splendid convergence of safeguarding prowess and ingenious technological marvels within the Fortuner Legender, as it gracefully adopts intuitive features. Exemplified by the 360-degree camera system for effortless parking and maneuvering while ensuring uninterrupted connectivity on your adventures with wireless charging, granting perpetual power to your cherished devices.
Pricing and Availability
Exuding an aura of luxury, the 2023 Toyota Fortuner Legender entices discerning individuals with its captivating range of thoughtfully tailored pricing options. To diverse preferences and esteemed budgets. Within the realm of utmost luxury, the resplendent Toyota Fortuner Legender unveils an exquisite array of trims, offering unparalleled freedom to select the epitome of refinement and precision that seamlessly aligns with your discerning desires and illustrious specifications. Toyota offers abundant customization options, enabling Fortuner Legender owners to tailor their vehicles to their unique styles and preferences. With a steadfast commitment to accessibility, Toyota endeavors to forge an extensive distribution network, facilitating seamless acquisition for fervent enthusiasts yearning to embark upon their resplendent Fortuner Legender odyssey. Delve into the expanse of pricing possibilities and seize the moment to embrace your extraordinary voyage with regal allure.
Conclusion
In its majestic entirety, the 2023 Toyota Fortuner Legender GR reigns as a peerless contemporary masterpiece, seamlessly uniting elegance, luxury, potency, and security within an extraordinary ensemble. Radiating an aura of unparalleled distinction, the Toyota Fortuner Legender 2023 captivates onlookers with its captivating form, showcasing resolute lines and resplendent embellishments. Enter its opulent domain to be enveloped by an exquisitely curated interior adorned with luxurious materials and graced with state-of-the-art technological marvels. Immerse yourself in awe-inspiring performance as the Fortuner Legender GR unfurls its mastery with commanding engine options, imbuing each journey with exhilaration and unwavering security through its advanced safety features. Embark upon a voyage of discovery for the Fortuner Legender and stay abreast of automotive revelations and debuts by visiting autostore.pk, where an extensive collection of car accessories awaits to elevate your odyssey.