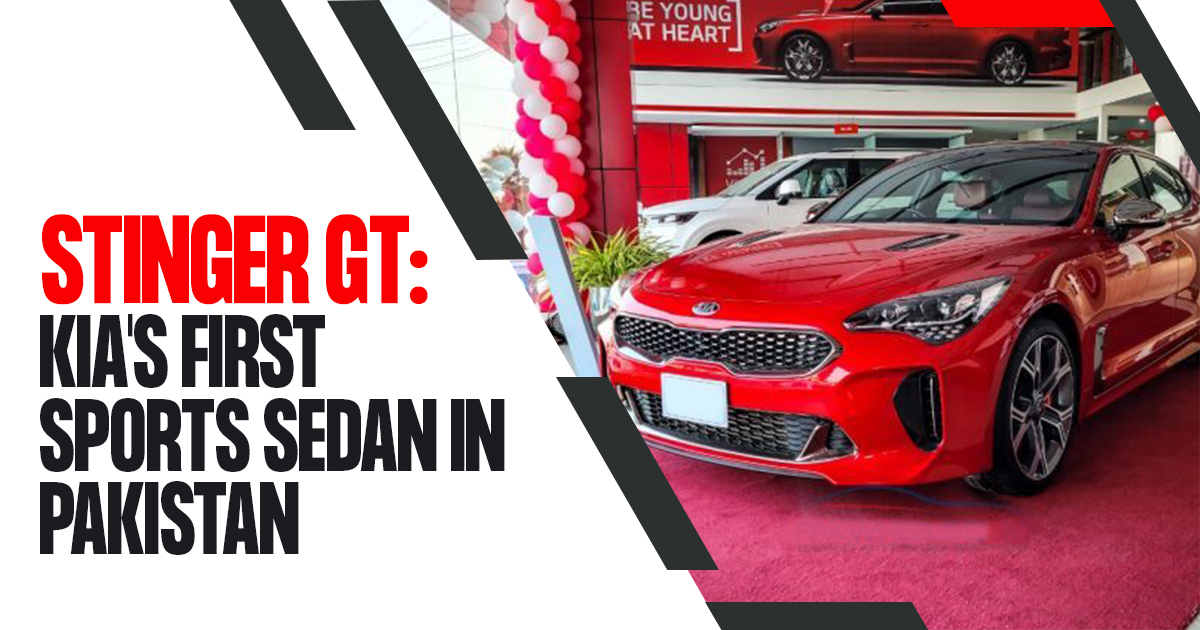 STINGER GT: KIA's FIRST SPORTS SEDAN IN PAKISTAN – PRICE, SPECS & FEATURES
Sports Car Buffs! Here is some good news! Stinger GT is now available in Pakistan for test-drive, which is Kia's first sports sedan in Pakistan. This classy sports Sedan was first launched in 2017 and have many variants. The overall performance of the Kia Stinger GT is very impressive. Due to its fastback design, Kia gives its name as the liftback Sedan. Its extraordinary features allow it to compete with BMW M3/4 and Audi A4/A5 in performance. Now, let's discover its specs, features, and, most importantly, the estimated price.
KIA STINGER GT ENGINE:
Stinger GT comes with a 3.3 GDI twin-turbo V6 heavy-duty engine, producing around 365 horsepower and 510 anamorphic torque, making the car super fast. It goes from 0 to 100 km in just 4.9 seconds! The engine chamber is efficiently laid out with bars to fortify the engine frame. There is a sheet inside the hood for sound dampening. The engine itself also produces relatively low sound.
EXTERIOR OF THE KIA STINGER GT:
Stinger GT is designed while keeping aerodynamics in focus. On the Front, we have headlights with projections that are auto-leveling with LED DRLs and indicators. Kia's signature tiger-nose grille is elegantly placed in the center. Ducks are located on either side for airflow. A honeycomb grill is fixed below the parking sensors. Air vents are mounted on the hood, giving the front end an aggressive and sporty look.
On the rear side, high-mounted brake lights are established along with LED tail lights and chord exhausts, all of which give the Stinger a more fierce look. On the left side comes Stinger's badging. Diffusers are located at the lowest portion of the rare end.
On the sides, we have 19-inch alloy rims on wheels. Rainbow brakes, designed with 350 mm discs with 4 piston calipers on the front and 340 mm discs on rare wheels with 2 piston calipers, are placed aesthetically. Ducks are also installed on both sides for efficient ventilation. Glossy side mirrors with chrome garnish and LED indicators on either side with a silver finish on the back make the Stinger more aesthetically pleasing.
Kia Stinger GT has an automatic sunroof top with a swooping roofline that gives it a bit of a Porsche Panamera feel.
The cargo compartment has an electronic tailgate with a decent capacity, enough to keep 2 large suitcases. Underneath the compartment upholstery is a separate section for the tire kit to carry a spare tire and other necessary tools. A few small compartments are also available for keeping small things. Inside the boot is the button for automatic closing.
KIA STINGER INTERIOR:
The Kia Stinger GT Interior is designed with red, black, and silver. Talking about the front, the driving position is quite low. The steering wheel with a GT emblem in the center is flat-bottomed and positioned parallel to the driver's eyes. It has Aluminum-finish panel shifters along with Multimedia Controls on the left and Tool Controls on the right. Also, the steering wheel is electronically adjustable and can be moved up and down and extended inside out and vice versa. Side mirrors and Window controls are also located on the front.
Covered with soft padding material, the black premium quality plastic dashboard is extended pompously with stitched leather covering near the windscreen. Extended a bit forward from the center, the dashboard is adorned with an 8-inch LED touchscreen, fitted with all the necessary features along with apple car play and android auto. It also gives you a 360-degree view of the car for a safe and better driving experience. Unlike local cars, there are 3 main AC vents (similar to Ford mustang) under the screen.
Multimedia controls with aluminum finish are also located on the dashboard below, which are dual zone AC controls that allow you to manage driver and passenger seat temperature separately. A USB port is available on the bottom with a wireless charging option. The engine control button for automatic engine management is between the steering wheel and AC vents.
Located behind the steering wheel is a partially digital Instrument cluster with Analog dials for speed on the right and rpm on the left. MID is fixed in the center, providing various information like weather, drive mode, fuel economy, gear selection, etc. The fuel cap, headlight, and trunk control are on the steering wheel's right side.
Wrapped in Red leather, all the seats are electronically adjustable and can be controlled by seat controls which come with separate front and back seat management. The seats are cozy with a long head and under-thigh support, providing a strong grip from both sides. There is good room for the knee and head in the driving area, but due to its swooping roof design, the car has less space for the head on the rear seats. The front two seats are heated and ventilated. The armrest has a compartment for keeping small things like phones, keys, wallets, etc.
Center Cluster is finished in silver material with an automatic gear. The hand brake is located below the gear knob under which the electronic parking brake, auto hold, traction control, and parking sensor controls are placed. The cluster also has a driving mode option from which you can select your favorite driving mode from Smart, Eco, Comfort, Sport, or Custom. Heating and ventilation controls for the front area are also installed here.
KIA STINGER FEATURES:
–           3.3-liter twin-turbo V6 engine
–           Rear & Front Parking Sensors
–           Strong Brakes
–           All-Wheel Drive
–           8-speed automatic transmission
–           8-inch LED Touchscreen
–           Leather interior with heated front seats
KIA STINGER PRICE:
The estimated price for Kia Stinger GT is 2.70 to 2.85 crore, which is quite reasonable compared to Audi A4 and BMW M3, which have almost the same features.
Final Thoughts:
After reading this article, you will consider having a Kia Stinger GT Sedan for yourself. How did you find the details about specs and features?? If you want to know further about this car, do let us know in the comments below. Have a safe drive.