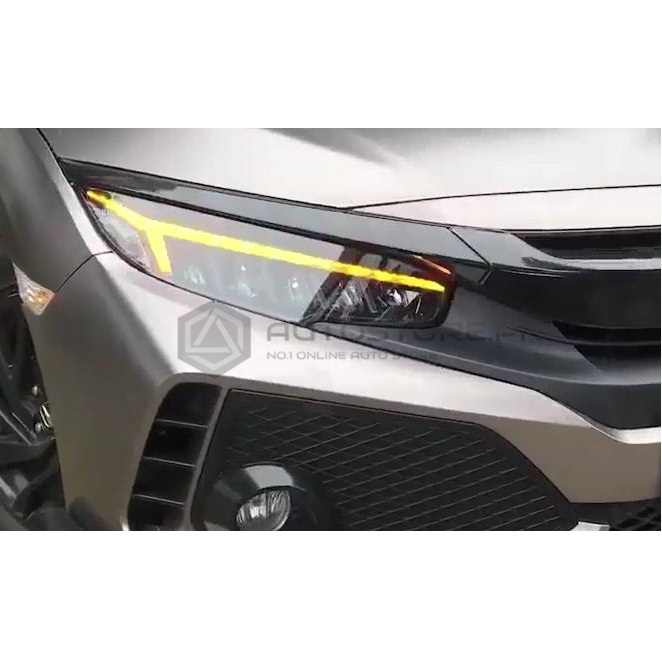 Most Popular Sedan in Pakistan & its Hottest DRL Product
Introduction:
Honda Civic is one of the most renowned names in the modern car industry of Pakistan. Wherever there is a discussion regarding luxurious sports sedans, the all-new Honda Civic 10th generation sedan secures its place on the top. Being one of the most demanded cars in Pakistan, Honda Civic promises reliability, comfort, and performance, all under the same roof. 
This statement can never be declared false that Honda civic 10th generation Sedans started a new era of customization and aftermarket modifications throughout Pakistan. Its unique exterior design makes it eligible for a number of modifications that can further increase its overall beauty and sophistication. One of the most popular aftermarket modifications that can be considered in this new 10th generation Honda civic sedan is the Honda Civic Audi Style LED headlights.
Construction:
Audi Style headlights for Honda Civic are specially designed to give an edge to your sedan in the market. Its flawless design makes the overall looks of your car far more superior and stylish than before. This accessory can be replaced with the original ordinary halogen headlight that comes with the stock Honda civic sedan.
The 'Audi' style: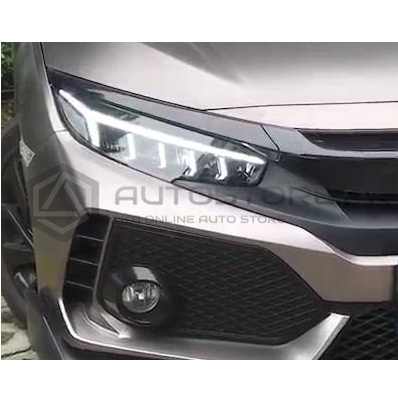 Many of the aftermarket parts are inspired by the brand 'Audi'. They are considered as the 'professionals' in this field regarding designing, tail, and headlight manufacturing and styling.  Their famous DRL structure of having a long DRL bar in the front that splits into two when gradually approaching the ends of the headlights is fascinating. This style has inspired a lot of aftermarket accessories makers to develop this particular style for a variety of automobiles. Hence, presenting this subtle style for the Honda Civic sedan as well.
Sequential Indicators:
Audi is also known for its sequential indicators that are mounted on each side of the headlight. The special thing about this indicator is that it flashes sequentially when turned on. Its sequence starts from one edge of the headlight and gradually proceeds to the other end. This effect gives an overall cool impression whenever the turn signals are used. One more fun fact is that these indicators use the DRL strip lamp in order to flash themselves throughout their useful period. With less occupied space and centered upon styling, these flashing indicator mechanisms have conquered the aftermarket industry in a short period.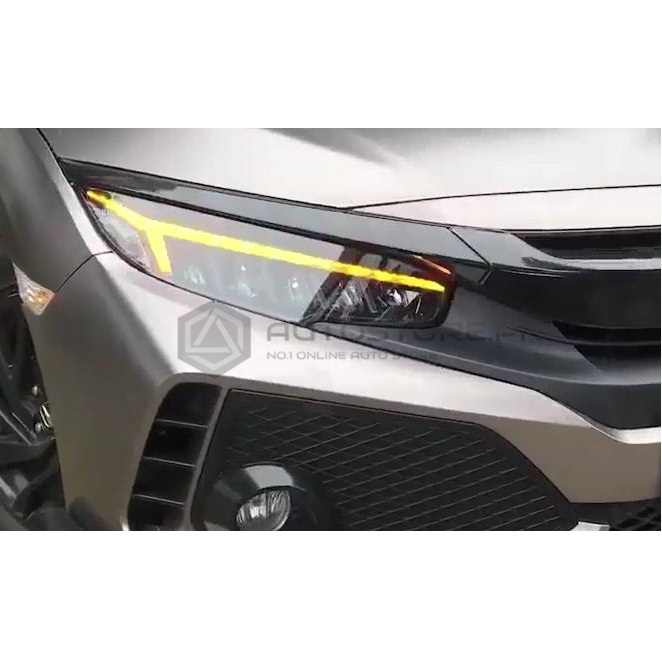 These types of sequential indicators were also introduced by Audi in their cars. But now they are used worldwide and a lot of automobile manufacturers are adopting this technique in their product. Therefore, this technique has been adapted for the headlights of Honda Civic as well.
The 'Dance'
You might not be familiar with this Easter egg but whenever you turn on the Audi style headlights on your Honda Civic sedan, it does a sort of 'dance' when completely getting lit up. This sequential synchronization includes a series of sequential animations that the headlights do in its DRL compartment.
 At first, a glance of the light is generated from the inner side of the headlight and proceeds towards the outer direction. After hitting the edge, it comes back to its originating position and disappears for a millisecond. After that, a gradual sequence of DRL display started getting lit from the inside and again, slowly proceeds towards the outer edge, illuminating the whole light in one shot. This ultimate show can be seen whenever you will turn on your Audi style headlight.
Conclusion:
As being said, this can be stated as one of the most sophisticated and elegant pair of aftermarket DRL headlamps that one can choose for their Honda Civic Sedan. Its mesmerizing sequence of illuminating the whole light is fascinating. However, it is not easily available due to its overwhelming demand. Therefore, in order to get yourself a nice and decent pair of Honda Civic Audi Style LED headlights, you should consider visiting autostore.pk which provides the best and genuine aftermarket products for your vehicle under the best price tag.