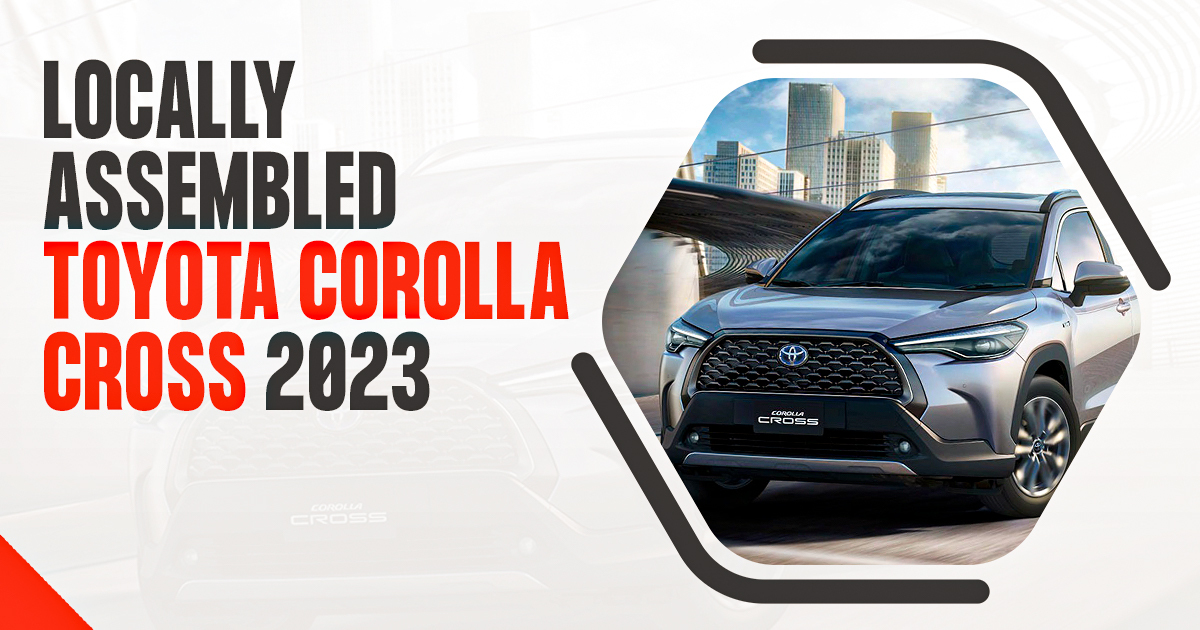 Locally Assembled Toyota Corolla Cross is to be Launched in 2023 by IMC
Toyota, the giant automobile manufacturing company, always ensures to offer its loyal customers top-notch machines. This time again, it has come up with yet another great assembly of parts, which it has named as Toyota Corolla Cross. This Hybrid Electric Vehicle, also known as HEV, is available globally, and car enthusiasts adore it. Now, the company has decided to make it the first locally assembled HEV to get its launch in Pakistan. At any time in 2023, the company will finalize its launch and make it happen! It is huge news, which will give a much-needed boost to the automobile manufacturing industry in Pakistan.
Price Range of Locally Assembled Corolla Cross
The pricing of this locally assembled Corolla Cross is very nominal! It's very likely to come within the budget of many car enthusiasts. All the information regarding the possible prices comes directly from the CEO of Indus motors company, Mr. Ali Asghar Jamali.
The CEO said that the price of this locally assembled Toyota Corolla Cross would be somewhere between five million rupees to seven million rupees. This is the range that prospective car buyers should expect now. However, later, if there are any changes due to the increased taxes by the government on automobiles, this price can surely increase. The parts that the manufacturers use in the car are local. If the cost of the raw material increases, it may also directly affect the prices of these cars. Obviously, as the rate of inflation augments, the cost of everything enhances in the same pattern.
The price of a Toyota Corolla Cross currently is Rs 1.22 crores if imported from a foreign country. It is for the base variant. As far as it's about the top-spec variant, the price goes up to 1.34 crore. Hence, these cars' local assembly and manufacturing offer a better price range to the consumers.
Why do we Need HEVs?
The most viable option that anyone would want to avail of is a fully electric car. However, it's currently not possible in Pakistan due to the lack of infrastructure and setup. Pakistanis are not yet ready to drive fully electric vehicles on the roads. As the power generation in Pakistan primarily relies on fossil fuel, a full-fledged electric vehicle is undoubtedly not a possibility now.
Hence, a midterm solution comes in handy, which turns out to be the best possible option. Hybrid Electric Vehicles turn out to be the perfect way out of such a situation.
HEVs are the midterm solution, and the local car enthusiasts are more than happy to avail them. What makes them convenient for the locals is that the mixed HEVs work well on the current power generation. Therefore, they don't only reduce the carbon emission, but local manufacturing of automobiles will aid in enhancing the GDP of the country.
Features of Toyota Corolla Cross
The Toyota Corolla Cross comes with fantastic features. It makes it easier for five people to adjust to it comfortably, even when the travel duration is quite long. The rear cargo space is quite extensive, letting the passengers add a massive bulk of stuff.
The car has a modern design, and the 18 inches alloy wheels are super stylish. In addition, the Features of Daytime Running Lights, Remote Connect, Front and Rear Parking Assist with Automatic Braking, the  Multi-Information Display, power liftgate, and Adaptive Front-lighting System set this car apart from all those competing with it.
The Advanced Airbag System works quite efficiently to keep you safe while you are driving. These nine airbags ensure you are out of danger, even if some mishap occurs. In addition, this car comes with a Toyota care plan, which is a complete maintenance plan, using which you can make it appear functional as a brand new one for several years!
To further customize your car, you can always get your hands on some SUV Accessories. You can have SUV internal and Exterior accessories from a well-reputed auto store at very reasonable prices. Adorning your car with them will surely make it appear distinct on the road. Furthermore, with the help of 4G Wi-Fi Connect, you can connect as many as five devices with one hotspot.
The 2.0-Liter Engine is a feature that ensures its performance is top-notch. It is a 4-cylinder engine, which offers exceptional fuel efficiency. Furthermore, the multi-link rear suspension takes the bar of functionality relatively high. Finally, the 8-in. touchscreen will keep you entertained while driving the car on long routes.
If you travel on highways for long hours, the Full-Speed Range Dynamic Radar Cruise Control will make the car run smooth! In addition, Automatic High Beams come in handy for comfortable driving experiences during the night. They illuminate your path well, and you can easily see the traffic.
Which Colors are Available?
As far as it's about choosing the color of your car, you have a wide variety. There are as many as six colors from which you can select your desired one. These colors include Graphite Metallic, Metal Stream Metallic, Nebula Blue, Celestite Gray Metallic, Platinum White Pearl, and Red Mica Metallic.
Each one of these colors oozes sophistication and grace. However, as there is so much variety, you will find it challenging to choose one amongst them. Hence, car enthusiasts recommend you to see these shades yourself in a Toyota car showroom before opting for one! This will give you a better idea of its appearance!
Final Thoughts
The decision to manufacture auto vehicles in Pakistan is undoubtedly beneficial for its economy. It will help in the inflow and outflow of the resources, helping the economy flourish. The Locally Assembled Toyota Corolla Cross launching in 2023 will pave the way for other substantial automobile manufacturers to manufacture more SUVs in Pakistan. An HEV is a great mid-range option for drivers in Pakistan who want to ride unconventional cars on the roads!