Car Coating: Types and Benefits
We all want our cars to outshine the rest of the wheels whenever we drive them through the town. But it becomes pretty difficult to fight with so many environmental conditions and weather changes which gradually cause our beloved car to lose its shine and glamor.
Therefore, we need to give our car a protective covering that not only resists any damages happening to the exterior but also provides the vehicle with a tasteful and glossy look. This is where Car Coating comes into play. Car Coating is a thin layered protective coverage done on the car's outer body to fight against weather conditions, scratches, grease marks, fingerprints, dust, birds' droppings, etc. Car wax covers the car paint while car coating makes a much stronger bond with the particles in the paint, making it challenging to remove easily. That's why it is considered to be more durable than car waxes. There are many types of Car Coatings which we'll discuss below.
Different Types Of Car Coating
We can divide car coating into 3 types based on coating material; Glass and Ceramic Coating, Paint Protection Films, and Synthetic Paint Sealants. They all vary in price and durability due to their substantial properties. So let's discuss them in a more detailed manner.
Glass & Ceramic Coating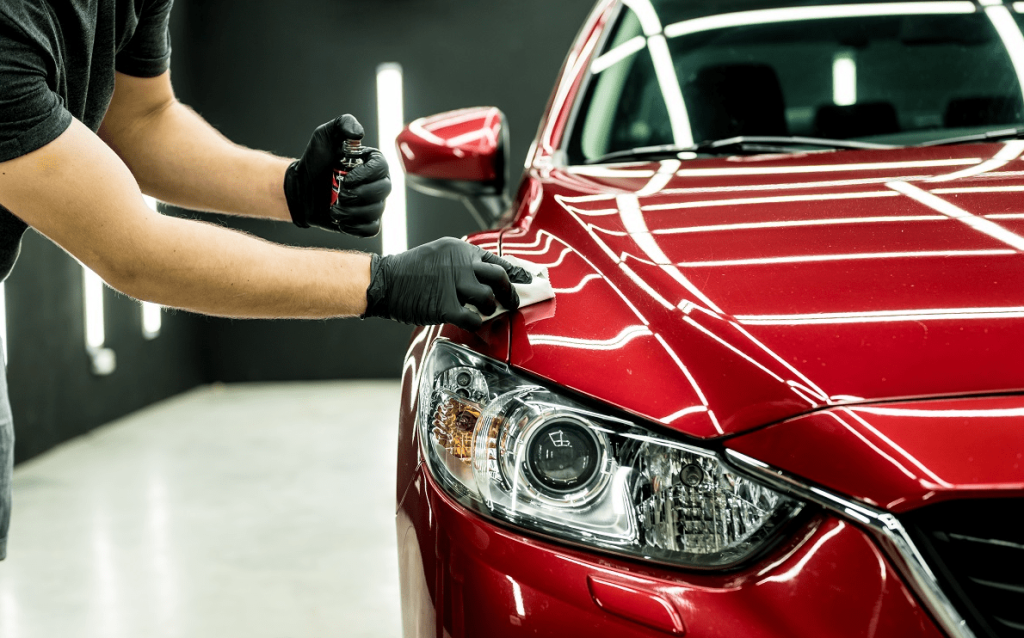 The most popular types of car coating are glass and ceramic coatings. Glass Coating, also known as Liquid Glass or Quartz Coating, is not done using real glass. Instead, it simply contains Silicon dioxide, which immediately sticks to the paint without any external pressure. Glass Coating provides complete protection against harmful chemicals, detergents, and bad weather conditions, which ultimately cause the car exterior to appear dull and grow faint. Different types of glass coatings are available at automotive stores, which vary in quality and price. This type of coating is highly durable, with a lifespan of 1-2 years.
The second most common car coating, Ceramic Coating, is a hard liquid polymer protective coating that demands heating to get set on the car's outer body coating and requires approximately a week to be fixed entirely on the paint coating. It is water-repellent with an easily cleanable surface and smooth texture. The coating protects the car from Ultraviolet (UV) Rays, scratches, dirt, dust, grease, and petrol marks. It is more long-lasting than sealants and lasts about 5-6 months.
Paint Protection Films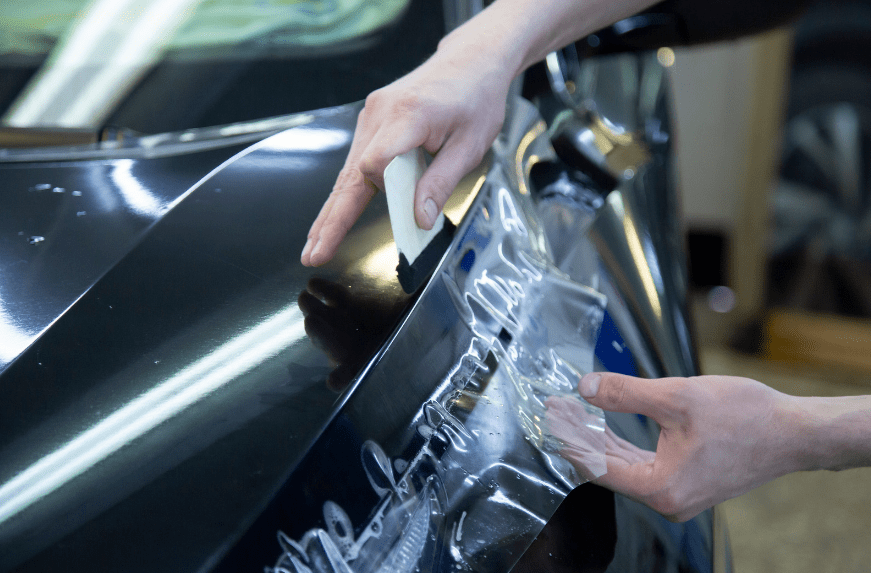 Paint Protection Films consist of an Ultra-Thin Thermoplastic Urethane (TPU) which provides clear and transparent coverage to the car exterior from dust, dirt, stone chips, scratches, heavy watermarks, birds' droppings, rust, etc. Unlike a ceramic coating, these films are disposable and often self-healing. Depending upon driving and weather conditions, a paint protection film can last up to 6-7 years. However, its mind-blowing properties and astonishing performance can be costly compared to glass and ceramic coatings.
Synthetic Paint Sealant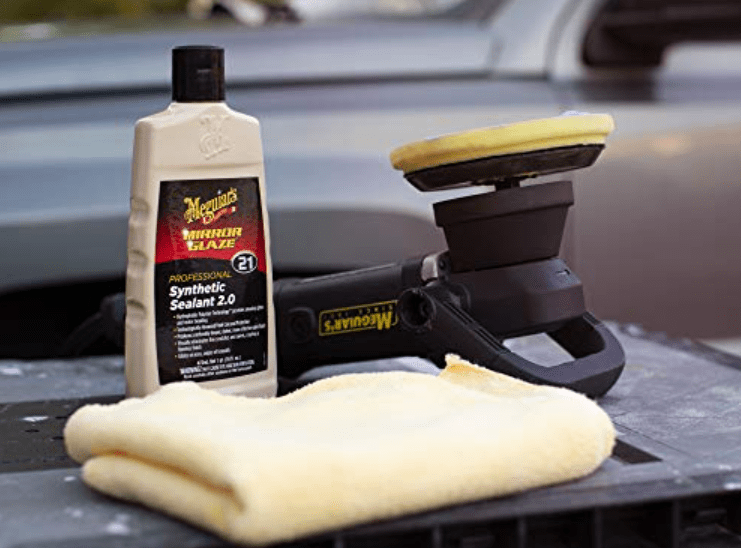 Synthetic Paint Sealant is a man-made liquid product composed of synthetic polymers manufactured to protect the car's exterior from mud, impurities, harsh weather, and other unpleasant conditions. Unlike other car coatings, which require professional hands to be installed, Sealants can be applied all by ourselves without much difficulty. Synthetic polymers, with the help of resins, form a strong molecular web that provides durability and protection against environmental effects. Once installed, a sealant application can last up to 6 months.
Benefits Of Car Coating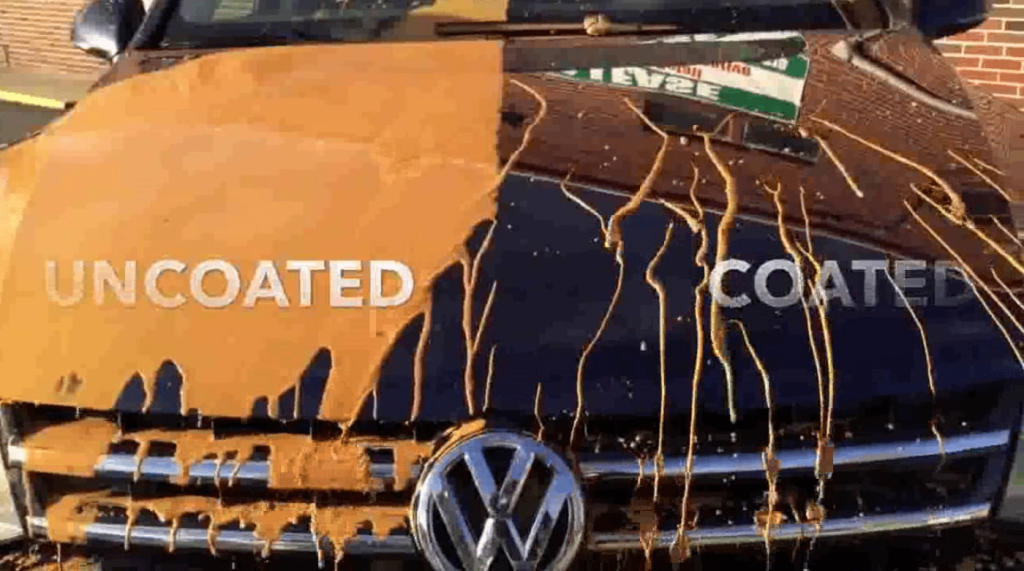 There is no doubt about how important it is to get a car coating. To summarize its advantages, we will now briefly explain why we should install a car coating if we still need to do it.
Protects the Paint
It does not matter whether your car is brand new or old. Car paint is the one thing that is constantly under the threat of being damaged due to scorching sunlight. Rust caused by heavy rainfall, acid rain, dust, and stones hitting the car resulting in scratches and dirty marks. Car Coating is the best solution for protecting the paint from getting washed out and lackluster.
Repels Dust & Dirt
Car Coating makes it possible to effortlessly brush off the dust from the car's exterior. Also, it provides a smooth and water-resistant finish to the vehicle, making it easier to remove any stains generated by grease, petrol, guano, etc., thus maintaining the car's scintillating look as fresh as day one.
UV Sunlight Protection
Sunlight is not only harmful to human skin but is also detrimental to cars unless your car has a coating installed on it. Car coating plays a sacrificial role by bearing all the UV rays-rich scorching sun heat, especially screening the car paint from being dead away.
Easier To Clean
Stains, bird droppings, dust, and mud are the natural enemies of your car, which directly affect the car's appearance and are not so easy to clean. But if your vehicle is secured with a coating, you needn't worry, as a bucket of soapy water and a thick cloth will be enough to do the job.
Cost-Effective
The best thing about car coating is it is cost-effective. Compared to other services, coating for cars is more economical and reasonable in price and can go on for up to months with one-time installation.
Your Car Looks Great
Car coating guards the car's exterior against harsh environmental circumstances and grants it a smooth finish and glossy look. Making it tower over the other motors in elegance and grace.
Lasts Longer
Besides being pocket-friendly, car coatings satisfy us regarding longevity. These coatings are relatively resilient, can come through any challenging surroundings. If dealt with care, can last up to years!
Final Thoughts
We hope that you will find the information about various types of car coatings helpful. After reading this article, you will want to get a car coating done immediately! Have a safe drive!