Feel The Luxury Under Your Feet In Your KIA Sportage
Introduction:
Up till now, you have been aware of an enormous variety of aftermarket accessories related to your KIA Sportage. You have all the information regarding the front bumpers, rear bumpers, headlights, taillights, side steps, spoilers, etc. At this moment, you have completely transformed the looks of your KIA Sportage from both exteriors as well as from the interior. But one thing that you and many of us forget about upgrading is about the floor mats!
Indeed, the floor mats are one of the most essential car accessories that we all neglect the importance of. There is a whole world related to car floor mats, and talking particularly about the KIA Sportage, the variety is huge. 
Here we have compiled a list of top trending floor mats for KIA Sportage that you will love to consider to enhance the looks and workability of your crossover SUV.
KIA Sportage Rubber Floor Mat Black 2019-2020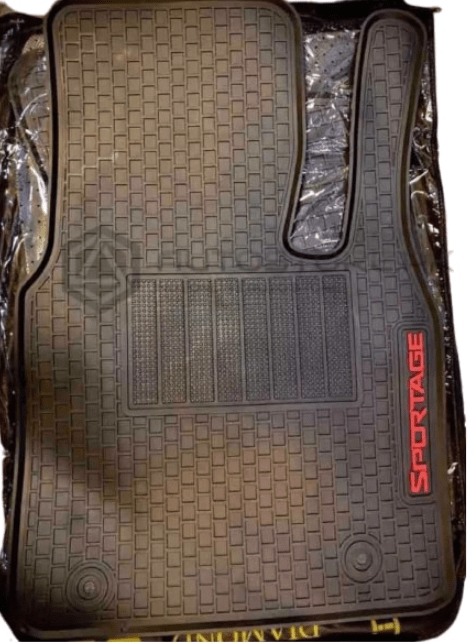 Starting with the basic type of Floor mat features for the KIA Sportage, the standard KIA Sportage Rubber Floor Mat can be considered as a smooth alternative for the pre-installed floor mats. Although most of them are commonly available only in two colors i.e. black and beige, here we are offering it in a subtle black shade. The material used in these rubber floor mats is mainly a thick, durable yet flexible synthesized rubber that can prove itself practical in several ways.
There is also a minimal pattern on the top of the rubber floor mat for friction purposes. It is present for the better grip of your foot on that mat while you are driving.
One of the main reasons most people prefer buying rubber floor car mats for their KIA Sportage is its pricing and availability. It is easily available in the aftermarket accessories shops due to its lowest price range. For being easily available as the cheapest floor mat, most people utilize it as a temporary solution rather than treating it as a permanent accessory.
To get your hands on this Rubber Floor Mat Black, we would highly recommend you to visit autostore.pk to grab its best deals.
KIA Sportage Carpet Style Floor Mat 2019-2020: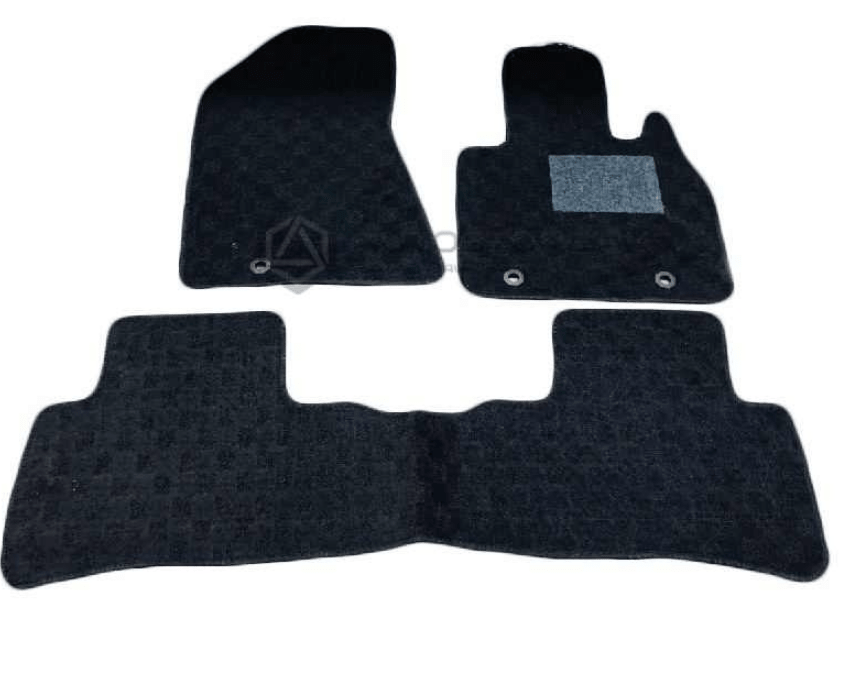 Next up in the category lies something better than the basic Rubber Floor Mat. With an improved structure than the regular Rubber floor mat, the KIA Sportage Carpet Style Floor Mat adds a suitable style to your KIA Sportage as well. Although its addition would still be considered as one of the basic installments in terms of floor accessories, yet the matching material can somewhat cover the overall looks' gap. 
The Carpet Style Floor Mat is mainly composed of material similar to the ones we have on the carpets in our homes. Just like a regular home carpet, these carpet-style floor mats are also easy to wash and clean. Their texture might look rough but in terms of cleaning and practicality, they serve their purpose just like the rubber floor mats. 
KIA Sportage 5D Floor Mat Black 2019-2021: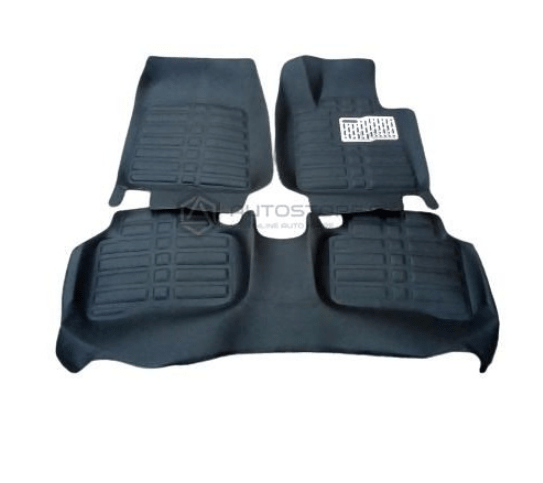 Now the time has come to step up the game of floor mats from the regular and inexpensive rubber and carpet mats and upgrade them enough that they look like a unified piece of accessory in your KIA Sportage without giving any odd sensation.
The KIA Sportage 5D Floor Mat Black offers a tremendous amount of detail along with an improved volume of workability along with covering the visual appeal inside your KIA Sportage as well. 
The new 5D floor mats can be considered as a direct upgrade from the regular 3D Floor Mat. This type of mat comes with a bucket shape that completely fits inside the space of the regular Floor Mat. This 5D Floor Mat comes in the proper design along with proper packed-in fitting that restricts it from moving sideways, sliding upward or downward. Unlike the traditional carpet and rubber mats, the 5D Floor Mat covers the floor from the sides as well.
They contain an improved amount of durability along with unbelievable endurance. There is a strong metal plate on the driver's side of the floor mat for easy grip on the pedal when on the road. There is also a minimal scattered pattern throughout the floor mat for better friction and grip between the foot and the floor mat. 
KIA Sportage 9D Diamond Floor Mats: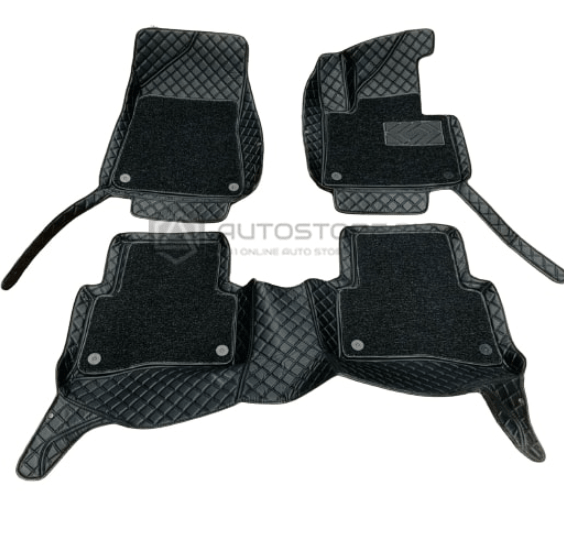 The top of the line variant of the Floor Mats, the KIA Sportage 9D Diamond Floor Mats are considered as the end line on both the premium-ness and luxury for the floor mats.
Talking more about these types of floor mats, the 9D Floor Mat covers the entire ground surface of your KIA Sportage. Yes, you heard it right, the complete ground surface is wrapped up in the 9D Designed Floor Mats. These are full-size customized Floor Mats that cover every single corner of the floor where a normal floor mat can not even reach. There are many extendable parts when it comes to 9D Floor Mats that help you protect even a small corner on the side of the floor. 
Other than its enormous functionality and protectivity, the KIA Sportage 9D Floor Mats also feature an elegant Diamond cut premium design on the surface as well. That design is fabulously stitched in a very symmetrical way without any chance of an error. 
There is also a detachable piece of grass on those 9D Diamond Floor Mats that serves you the convenience of better grip and stability of your feet on the Floor Mat.
With that many specifications, the 9D Floor Mats are not universally designed mats, but they are specifically made for a particular type of model. This means that the 9D Floor Mats that are specifically designed for the KIA Sportage ONLY fit inside the floor of the KIA Sportage and not in any other crossover SUV. 
As far as their cleaning is concerned, the 9D floor mats (in fact all of the floor mats listed above) are very easy to clean and wash. Especially when it comes to servicing the 9D Floor mats, you can either wipe away the dust with an ordinary wet piece of cloth or even detach the Floor Mat from the surface and wash it out properly, separately. 
Speaking of detaching the 9D Floor mats, although they look quite complicated and hard to install, they are quite easy to fix and remove as well. So it will not be a problem to take out that set of Floor Mat once in a while and rinse it properly with fresh, clean water. 
There is a wide variety of 9D Floor Mats for KIA Sportage in autostore.pk. By going through the 9D Floor Mats inventory for your KIA Sportage, you will get 3 prominent shades in it that you will be able to choose according to your mood and requirement.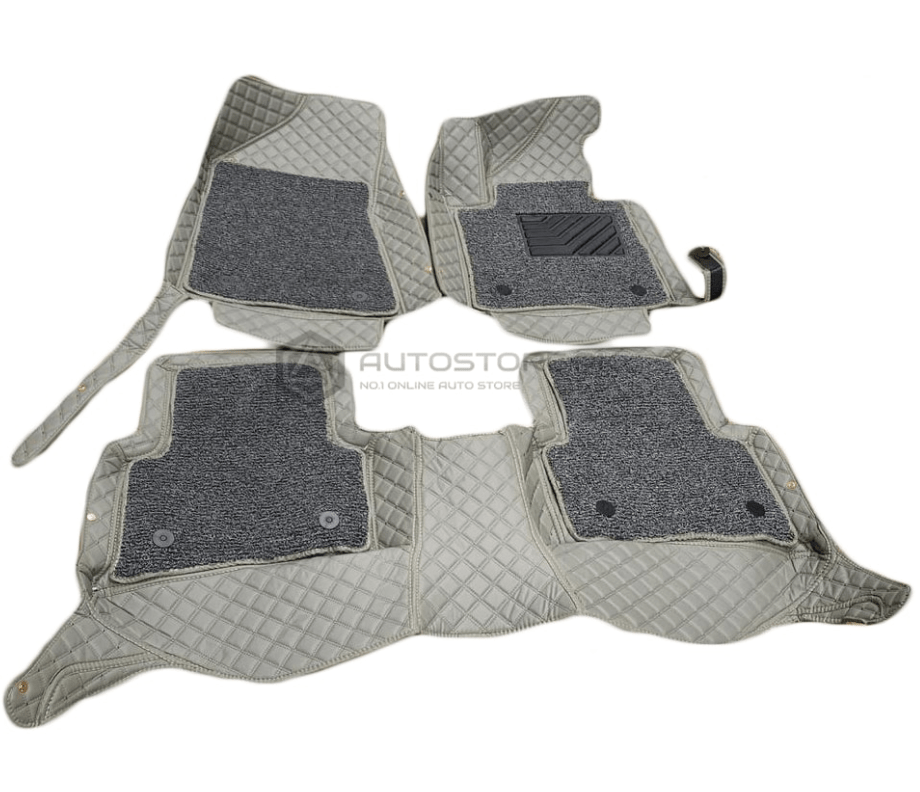 You can get your hands on the KIA Sportage 9D Diamond Floor Mats Black Stitch With Black Grass if your car's exterior body paint is black or anything of a darker shade. You can choose the KIA Sportage 9D Floor Mats Horizontal Stitch Black with Black Grass if your KIA Sportage's aesthetics match around a Blue theme, or you can go for KIA Sportage 9D Floor Mats White Grey with grey grass if your KIA Sportage's color scheme matches with something lighter, or even white. 
Conclusion:
Although there is a huge variety of car floor mats for the KIA Sportage Pakistan, it is up to you to decide which one would suit you the most. If you will go with our consultation, we would highly suggest you go for 9D Floor Mats as they provide the best value for money. You will be getting a lot more than you have paid for if you consider going for the best floor mat lineup. However, we would highly recommend you to make all your aftermarket accessories' purchase from auto store.pk. Autostore serves as the most authentic and genuine source of aftermarket accessories for all types of vehicles around Pakistan.