The Best Engine Degreasers to Keep Engine Bay Clean
Did you ever find yourself wanting to pop your hood open to fix something but not wanting to touch the parts because they were so gross and greasy? You've heard the saying, "Cleanliness is next to Godliness." So we're going to help you keep your engine bay clean using the best engine degreasers.
There is a high chance that your engine does not receive regular maintenance even if you regularly clean the interior and exterior of your car. Sometimes, people don't attempt to clean the engine bay because the dirt and grime may be much more difficult to remove. It is more demanding than what accumulates on the body or the carpeting inside the vehicle. You won't be able to remove spilled oil on the engine from the valve covers or dirt from the engine cover with an all-purpose cleaner. The engine degreaser plays a vital role in this process.
It takes a special product to dissolve dirt and oil burnt at feverish temperatures for prolonged periods on your engine. A high-quality engine degreaser will remove grime like that by breaking down and loosening under-hood dirt.
Being fanatical with cleanliness and knowing that your engine bay requires a specialized cleaner, you may be uncertain which to choose. There are various engine degreasers available on the market, whether you look online or at your local parts store. Our goal is to provide you with the best engine degreaser shopping guide so you can get rid of that dirty, old engine bay in no time.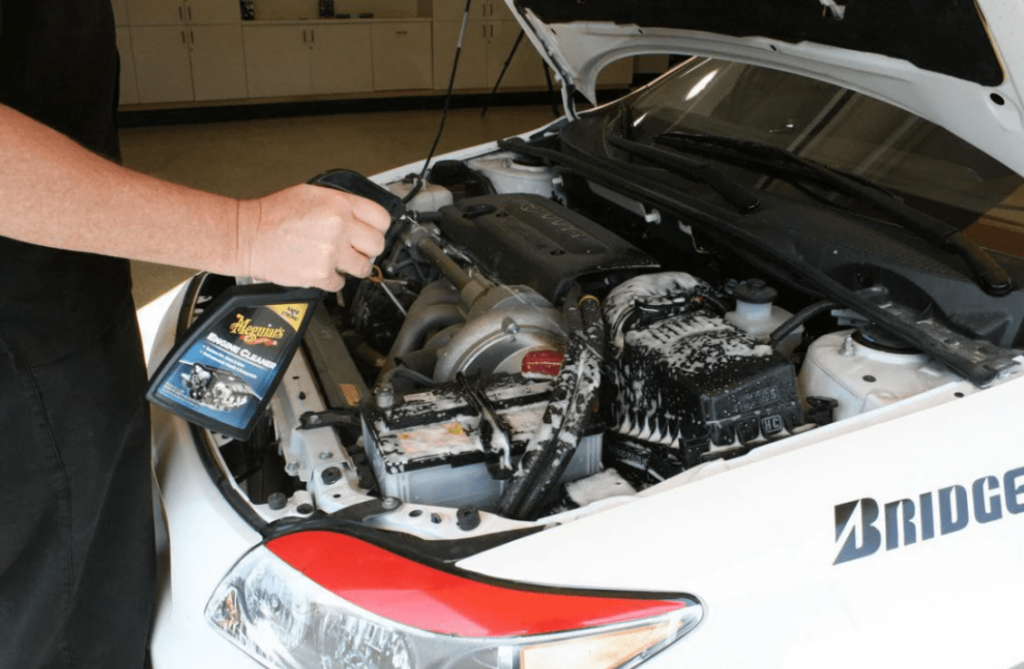 Meguiar's Engine Cleaner supplies the most intense cleaning performance while being safer for all-wheel and brake finishes! This innovative chemistry combines surfactants that fight road dirt with powerful brake dust-dissolving reagents. As it gently loosens difficult pollutants, the deep-cleaning gel mix makes brake dust purple and road filth brown. This wheel cleaner is also safe and efficient for all-wheel coatings and painted brake parts because it is acid-free. It has a stable pH.
Ultimate wheel cleaning active gel dissolves heavy brake dust rapidly and changes color as it cleans

The formula is acid-free and pH-balanced, making it safe for all wheels

All-wheel cleaning is harsh on-road filth and dirt, thanks to chic chemistry that combines surfactants that fight road grime with ingredients that dissolve brake dust

It is both safe and effective on painted brake components

The deep-cleaning gel mix makes brake dust purple and road dirt brown as it gently loosens problematic impurities

It penetrates and cleans even the most challenging stains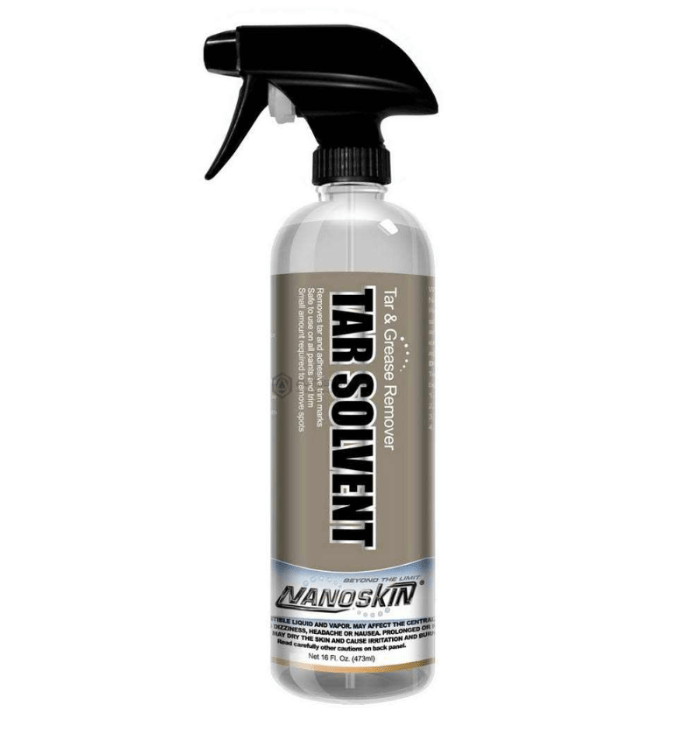 Nanoskin Tar Solvent & Grease Remover is water-based and is an effective, fast-acting remover for numerous automotive surfaces, including metal, plastic, and fiberglass. It removes adhesives, labels, grease, tar, motor oil, sap, crayon, candle wax, and oil-based foods from carpet, fabric, vinyl, and virtually any solid surface. In addition, it is excellent for removing grease, silicone, and road film.
Water-based formula

Quickly removes tar and glue trim marks

It is safe to use on a variety of automobile surfaces

Pleasant citrus scent

A little quantity is necessary to remove stains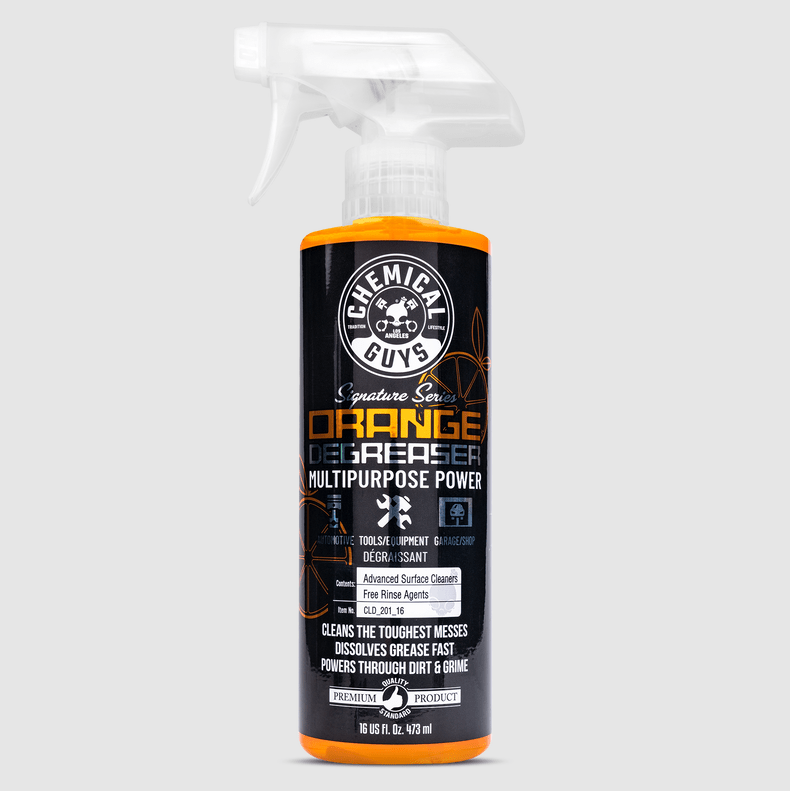 Chemical Guy Orange Degreaser Plus is a professional-grade citrus degreaser for removing brutal filth, grime, and grease. Detailers worldwide rely on Chemical Guys Orange Degreaser for the most challenging jobs. The degreaser is excellent for cleaning unclean engines, machinery, tools, tires, wheels, and flooring. Its multifunctional ability is incredibly useful in any scenario. It helps to easily clean dirty garage floors, greasy tools, industrial equipment, and domestic disasters. Moreover it removes dirt and grime from your tires to return them to their natural black color. It also helps to clean wrenches, ratchets, and screwdrivers. Chemical Guy Orange Degreaser Plus is ideal for cleaning heavy mud, filth, and grime from off-road and four-wheel drive vehicles.
Deftly removes stubborn oil, filth, dirt, and debris

A citrus-based cleaner cuts through grime and pollution

Helps to clean dirty engines, machinery, tools, wheels, tires, undercarriages, shops, toilets, and other surfaces

Concentrated formula: Use at full strength for severe cleaning operations or dilute up to 20:1 for lesser-pressure cleaning projects

Dissolves and emulsifies grease, oil, filth, and grime quickly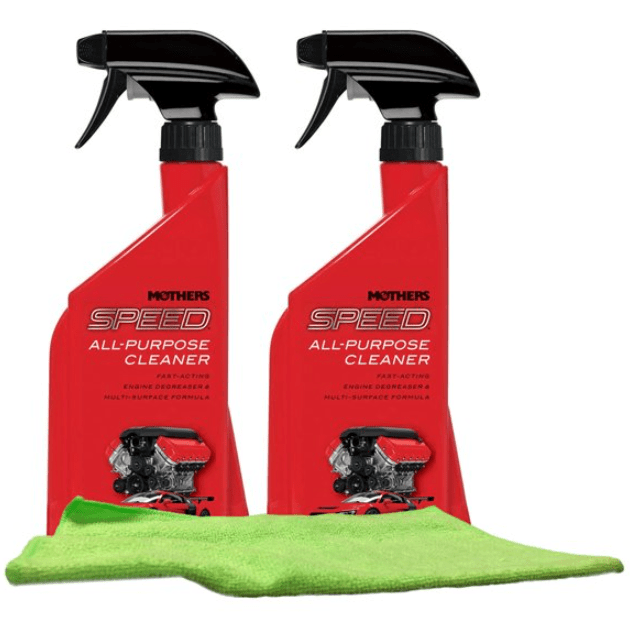 Mothers Speed All-Purpose Cleaner is a high-performance cleaner that is strong enough for even the greasiest chores, including beneath the hood. But it does not end there. It's a specially formulated mix of nonionic surfactants and powerful cleansers. In addition, it is mild enough to remove oils and difficult stains buried in your fragile carpet and upholstery. It is helpful to clean carpets, textiles, vinyl, engine compartments, fender wells, door jambs, factory/OEM coated rims, hubcaps, tires, and whitewalls with this product.
An all-purpose cleanser that may be used on both outdoor and interior surfaces

Strong enough to clean beneath the hood while still being gentle on carpet, upholstery, and other surfaces

Removes oil, filth, grime, and other difficult stains with ease

It is safe for textiles, vinyl, engine compartments, fender wells, door jambs, factory, OEM coated rims, hubcaps, tires, and more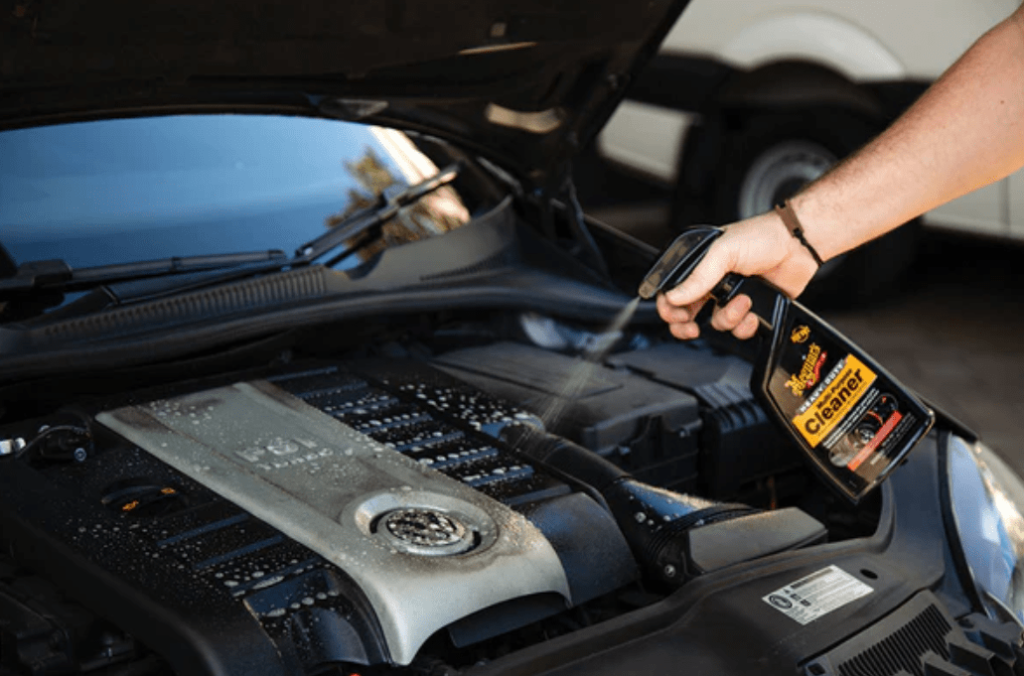 Meguiars Heavy Duty Multi-Purpose Cleaner is specially formulated from our professional range to remove difficult-to-remove filth effectively. Tires, wheel arches, and footboards continuously collect dirt that is difficult to remove with a standard wash. In addition, the everyday usage of interior surfaces pollutes them. This solution is powerful enough to remove grime from both the exterior and inside of a vehicle, and it restores the as-new appearance and feels that every auto lover wants.
The versatile mixture cleans both the inside and outside of the vehicle

Stuck dirt is rapidly removed

Strong cleaning without leaving stains or bleaching the surface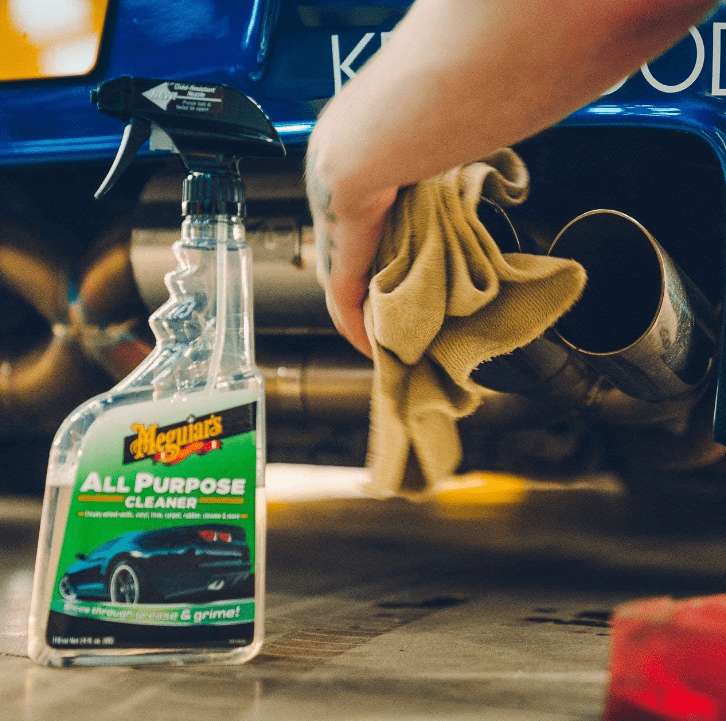 Meguiar's All-Purpose Cleaner cleans all surfaces, including textiles, plastics, leather, and everything else you can think of. A universal method for cleaning surfaces, including textiles, plastics, leather, and whatever else you can think of.
Because the solution penetrates deeply and leaves no shields on the surface, you can remove everything from your pet's accidents, dust, stains on the back of the seat from the children's winter boots, or trodden dirt in the carpet. The product is sprayed on and allowed to dry for a few seconds before being wiped away with a dry towel. For exceptionally tenacious stains, run a brush over the spot.
Excellent for pre-washing wheel arches, bumper rubber and plastic pieces, and other external elements

Non-hazardous to interior surfaces such as carpets, vinyl, and textiles

It is well-liked by professionals all around the world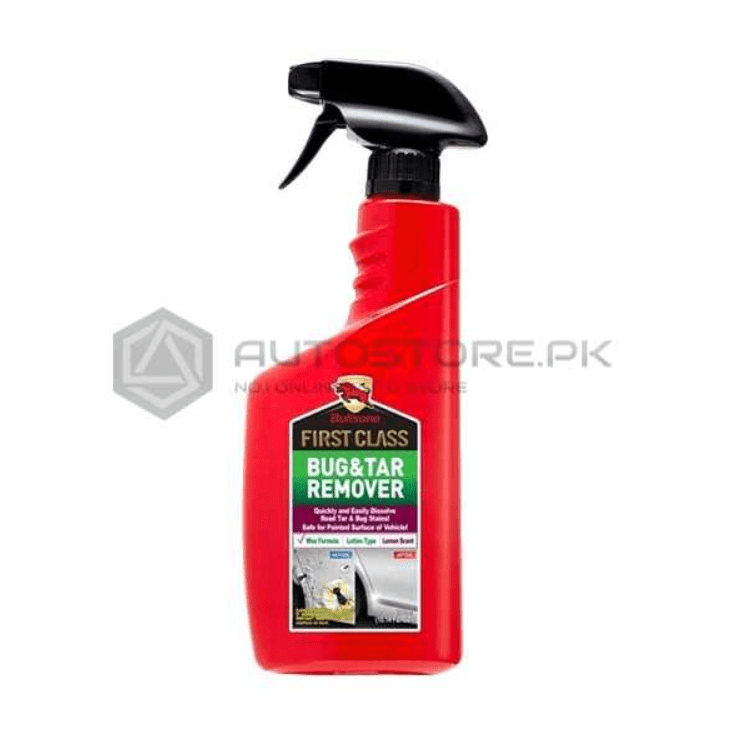 Bullsone Bug & Tar Remover is ideal for removing difficult bug guts. The professional-grade mixture washes off the impurities. It allows you to spend less time cleaning and more time enjoying yourself. Bullsone Bug & Tar Remover has developed a bug-removing dirt that works on every surface, from on-road streets to off-road pathways. This degreaser can quickly remove any pests that you come across. This cleanser is good against love bugs but also removes road film, tar, and dirt.
Dissolves insect deposits, road tar stains, and other stains from car surfaces quickly and efficiently

It has protease (protein dissolving enzyme) and a premium wax mixture that keeps the lustrous look

It is safe to use on any painted car surface
Final Thoughts
Keeping your automobile in the proper situation entails extra than simply washing it. Cleaning your automobile's paint is essential, but that applies to the outside. Likewise, cleaning the engine bay is essential for every automobile enthusiast. Fortunately, keeping these components clean is not difficult for the one who cares about their vehicle's vital organs.
The first-class engine degreasers for cleansing are universally accessible and much less luxurious than ever. We hope we cover all you need about car care accessories available at autostore.pk. Our engine degreaser opinions can help you pick the fine choice for car care accessories that meet all your necessities.