A Guide to Car Interior Detailing
Has your car interior gotten filthy with dust, grime, and fingerprints, and you don't thoroughly know how to wipe them off?? What are the things essential for car interior detailing?? Will it be costly?? It can be hectic to gather all the valuable information regarding car interior cleaning and detailing. Still, you need not worry, as we are here to guide you through Car Interior detailing step by step. So, without any further ado, let's get started.
List of Things You Will Need for Car Interior Detailing
Talking about Car Interior Cleaning, there are a few things you need to get started. Don't worry! These are all cost-effective and will give you great results. Let's discuss them one by one:
Vacuum Cleaner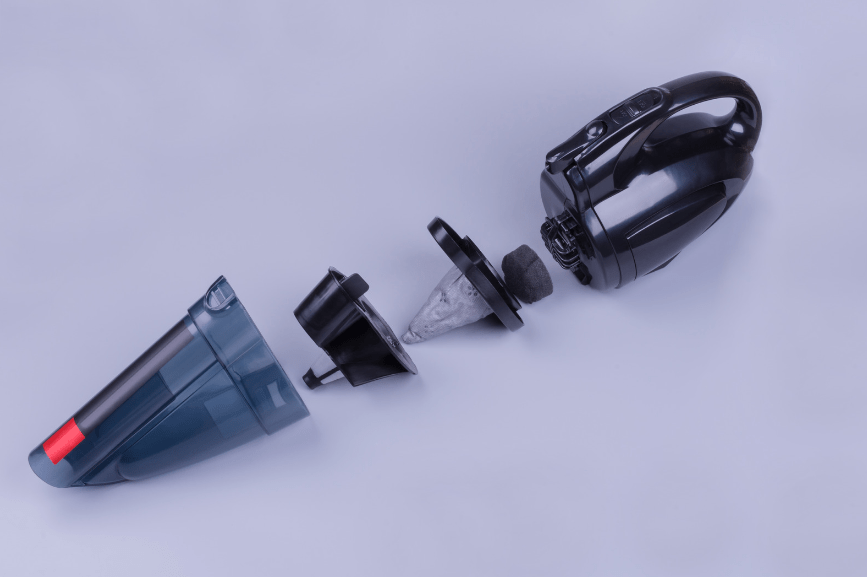 The first name that comes on the list is a car vacuum cleaner. Like any domestic vacuum cleaner, a vacuum cleaner removes dirt, dust, gravel, hair, and other tiny dirt particles that diminish the beauty of the interior from car seats, mats, and other small parts without much effort. Some vacuum cleaners can also clean wet surfaces by sucking up spilled water, mud, slush, or the like.
Interior Cleaners / Detailers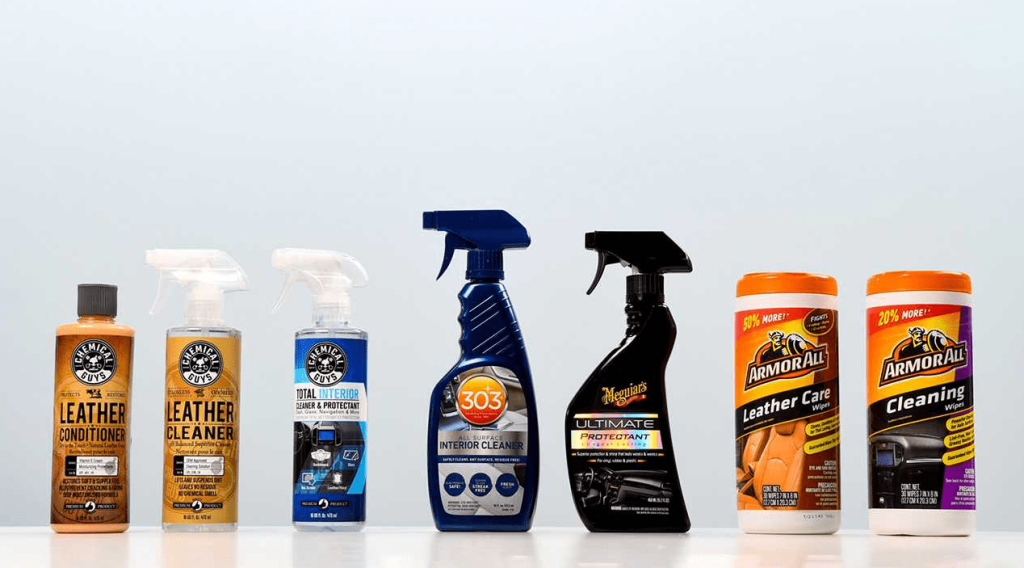 Source: Motor1
The second most important thing is Car Interior Cleaner or detailer. It is a synthetic liquid solution made up of detergent and other powerful cleaning agents. They are suitable for cleaning both car interior and exterior. Depending on the surface material and its condition, you must mix the car cleaner with water to prepare a dilute solution with the desired consistency. They clean all kinds of surfaces, be they rubber, plastic, or fabric. They are also suitable for cleaning leather without cankering. They won't harm your skin, but it is better to wear gloves while using them.
Wipes and Microfiber Cloths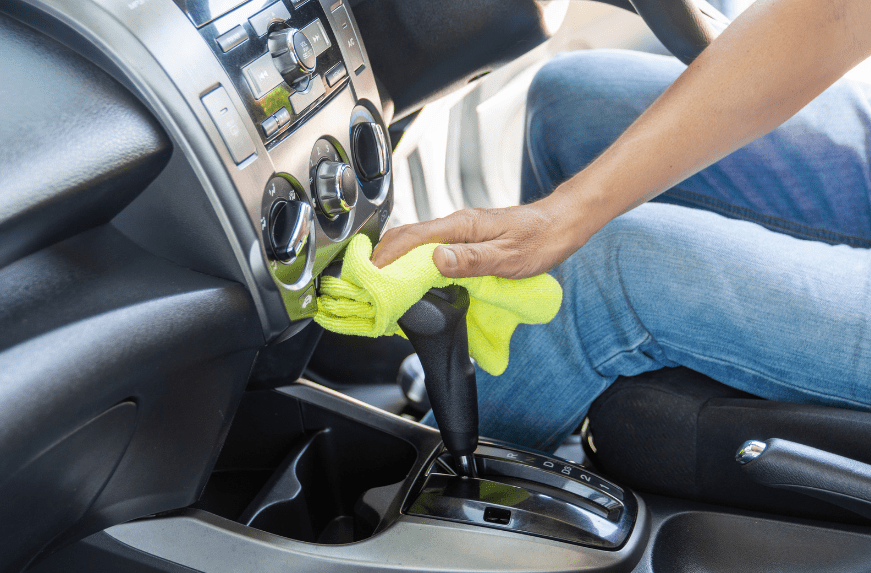 While choosing the type of cloth for cleaning the car interior, you need to be cautious because the material it consists of can change the game. You cannot simply pick any cloth and start cleaning the car as many types of clothes, like cotton, don't clean the dirt. Instead, they push it around and also cause micro-scratches. For efficient interior cleaning, a microfiber cloth is the best choice. When used with a good cleaner, it effectively lifts all the dirt, dust, grease, mud, little stones, and debris. It has a soft texture and doesn't cause scratches at all. Also, they are inexpensive and can last up to 2 years.
Car wipes are also an excellent alternative to microfiber cloths. They can effectively erase the dirt from leather, fabric, plastic, vinyl, rubber, and metal. They have a gentle texture and are ideal for cleaning all big and small car interior areas.
Air Freshener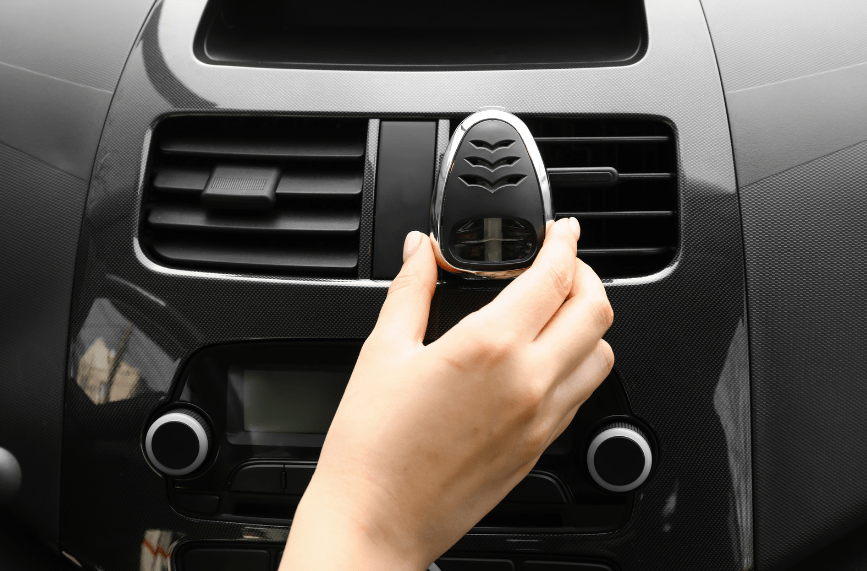 Air freshener is indispensable when it comes to car detailing as driving can be a big challenge under scorching rays of the sun and sweating caused by continuous moving across the roads. Unfortunately, we can't control the weather, but fortunately, we can make our car interior pleasant by installing a car air freshener. Depending on your taste, many car perfume companies in the market offer a wide range of aromatic fragrances to choose from. Available in both gel and liquid form, these car fragrances freshen the air and enhance the car's beauty as they come in exquisite shapes and designs.
Glass Cleaners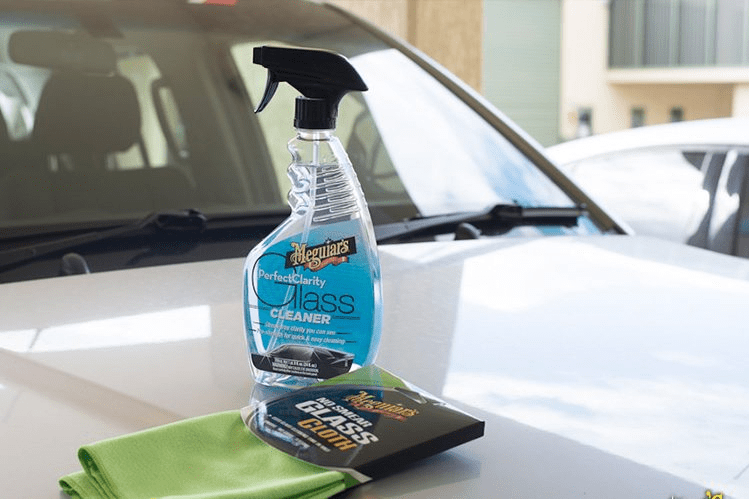 Source: aradbranding
Gone are the days when cleaning car windows and windscreens was drudgery. Thanks to car glass cleaners, now it is a cakewalk. These cleaners proficiently remove grease, oil, fingerprints, and water stains from the glass, leaving it super shiny. In addition, some cleaners have fog and water-resistant properties, which save a lot of cleaning time. Moreover, they are economical and don't cost much money.
Brushes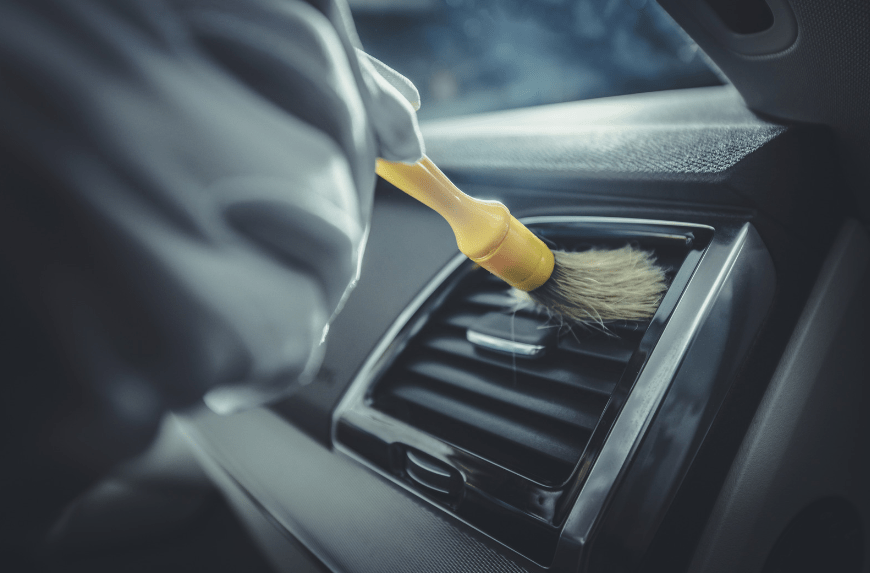 Last but not least, you need car cleaning brushes for detailing small parts of the car interior. They come in various sizes and are best for cleaning interior parts like dashboards, seats, etc., as well as exterior structures, e.g., vents, grills, exhaust tips, tires, and rims. Also, these brushes are composed of soft plastic and gentle bristles and won't cause scratches.
Step-by-Step Guide to Car Interior Detailing
Clear It Out
We can commence detailing now that we have gathered all the necessary items. The first thing to do is clear all the objects placed anywhere inside the car, i.e., tissue box, magazine, books, dusting cloth, ornaments, show pieces, etc., so that we can smoothly begin our next step.
Vacuuming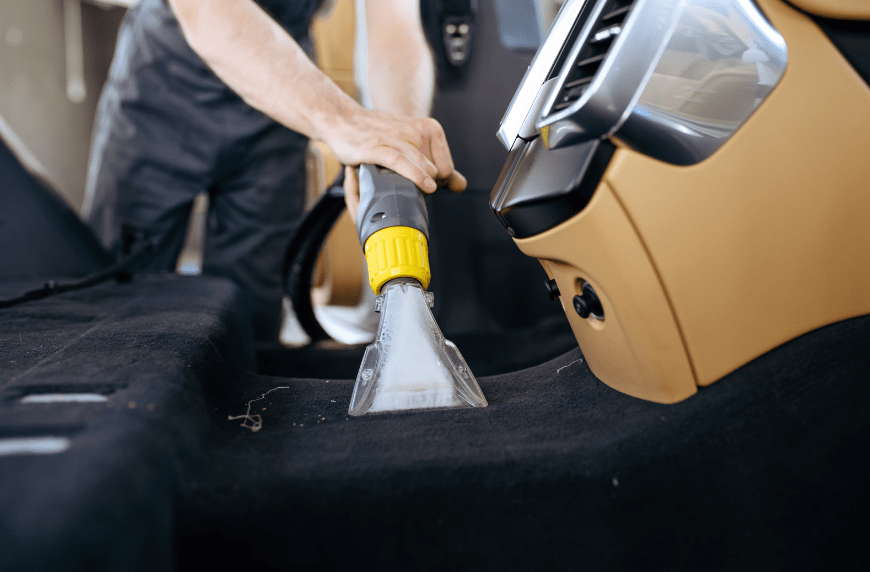 After clearing out all the things, we can initiate vacuuming. For this, we need brushes and a good car vacuum cleaner:
Open all the doors and remove all the carpets and mats, as we will clean them separately. Working from top to bottom, start with the dashboard. Vacuum it with the help of a soft brush, and remember to dust all the crevices properly.

Clean all the panels in the front and back doors and sections between the front and back seats (hollow spaces/fans / USB Ports).

Vacuum the upholstery with a soft brush (You can also use a Crevice Tool) and remove the dust with car wipes.

Vacuum the bottom of the car with a big brush, sweep all the dust and wipe it off using a towel or microfiber cloth.
Mats and Carpet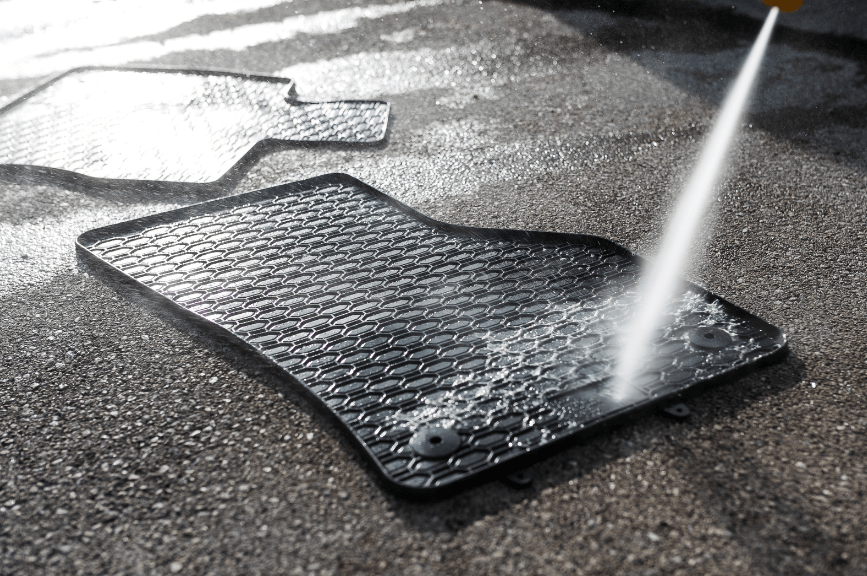 Mats and Carpets are the most soiled items in car interiors that require thorough cleaning. There are different ways to clean car mats which bank on the type of material they comprise of. For carpets, firstly remove any solid residue or debris (or soak up water or spilled liquid, if any) from the woolen surface and then vacuum it with the help of a car vacuum cleaner. Now, sparge the surface with cold water and let it get absorbed. Next, apply a dilute car interior cleaning solution, leave it for a few minutes, then wash it with a damp towel or cloth. Let it dry. You can also use a machine for this procedure.
For rubber mats, wash the surface thoroughly with water to remove all the dust. Apply the car interior cleaning solution, leave it for a few minutes to cut all the stains, then rub it using a scrub pad, towel, brush, or a microfiber cloth. Wipe it off with a damp cloth. Leave it to dry.
Dashboard and Console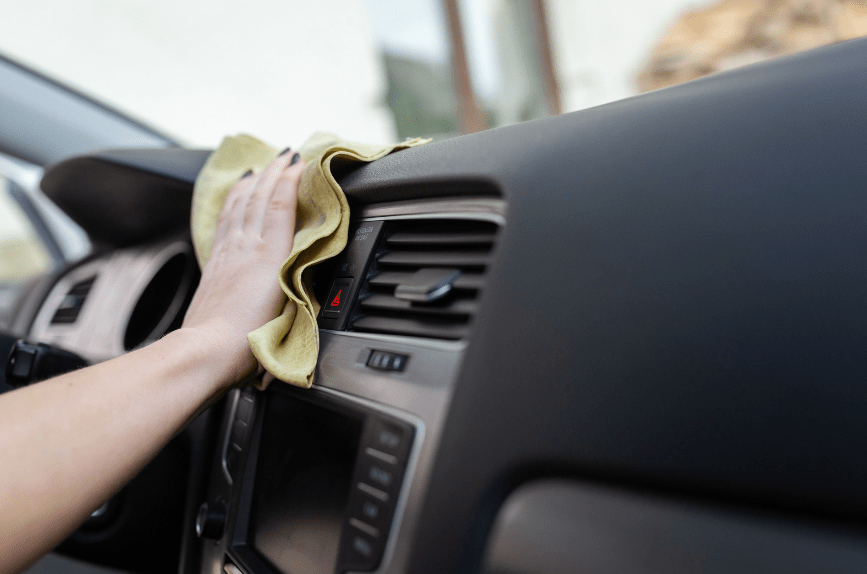 There are many ways to clean a car dashboard and console. The simplest and most accessible is the car dashboard cleaner solution. It effectively cleans rubber, leather, or plastic surfaces. Just sprinkle the cleaner with a spray bottle, leave it for a while, then rub it with a microfiber cloth to remove dirt and stains. You can also wash it with a mild oil soap and water mixture. Another way is to use disinfectant wipes. You can use both household and car wipes to get the job done. These wipes not only do cleaning but also protect against harmful germs and viruses, including COVID-19. Other detailing ways include using toothpaste and a brush to remove stains and clean narrow fissures.
Seats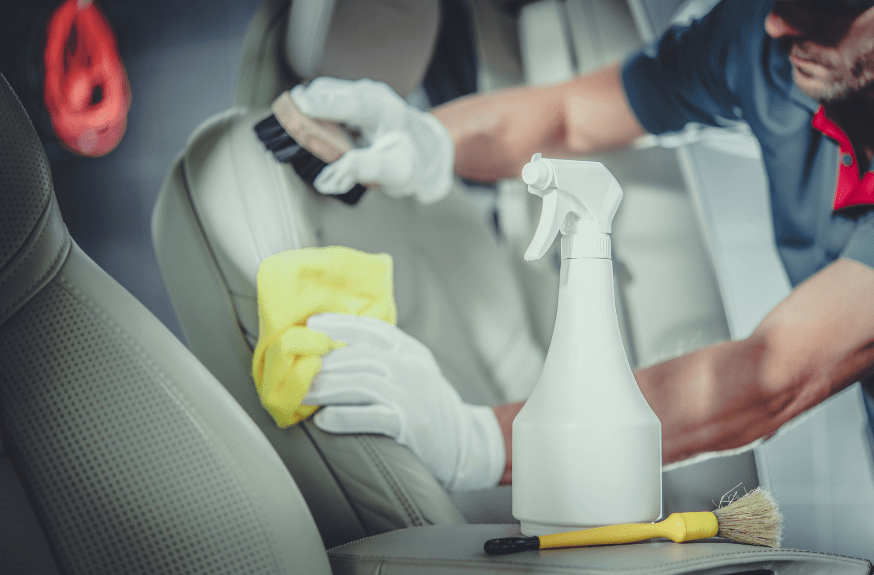 Car seats can be made of different materials, each requiring another method to wash up dirt, dust, and stains. For fabric covering, the best method is to use car cleaners which also act as fabric cleaners. Apply any of them on the fabric, rub it a few times and rinse it with water. The cheapest way to remove stains quickly is to mix baking soda with warm water, making a smooth paste. Then, apply a thin layer of this paste onto tough stains and leave it for a few minutes. Rinse it with water. You can also use a regular or car detergent to remove stains. 
Use a leather cleaner or a mild oil soap with a microfiber cloth for leather seats and clean the upholstery in a gentle circular motion. Try to apply as little water as possible, for it can penetrate easily, corroding the leather. Instead, clean the solution with a damp cloth and wipe it with a dry one. For vinyl seats, spray an all-purpose cleaner, let it dry and rinse it off with water.
Doors and Other Plastic of the Car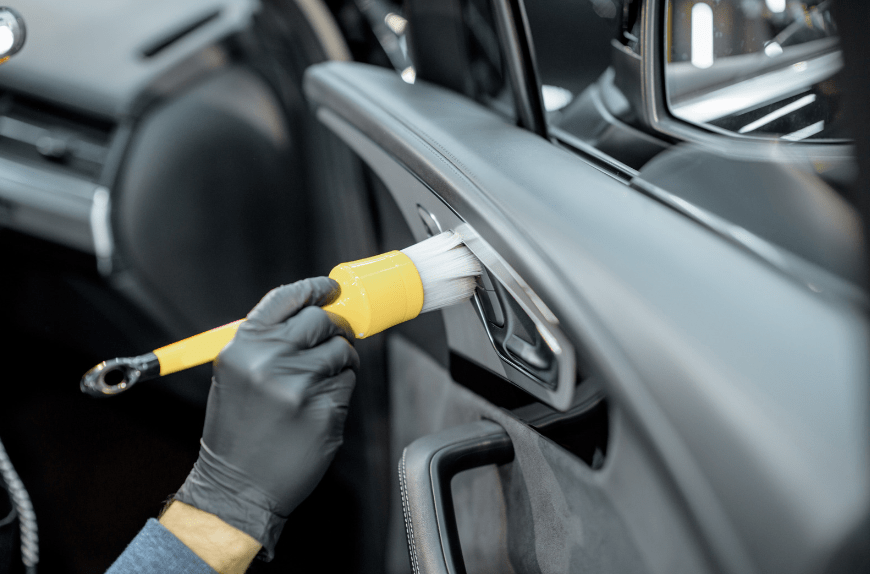 To clean doors and other plastic areas, wipe the interior with a wet microfiber cloth. Then, apply car interior cleaner, scrub it gently, and clean it up with a damp cloth.
Glass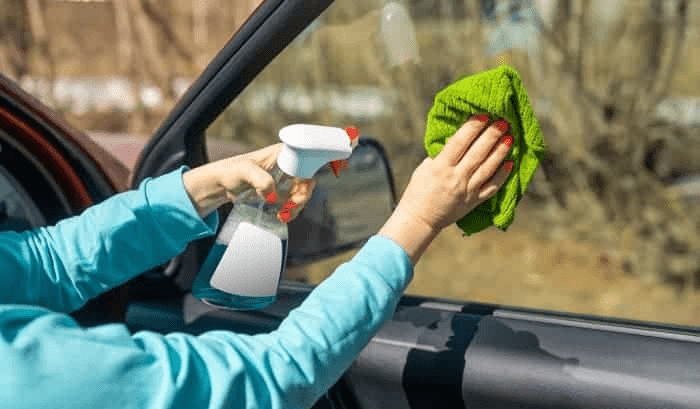 Source: charmcitycalculator
Streak-free glass cleaning can be tricky, but we are here to make it easy. Using a damp microfiber cloth, wipe off all the dust. Soak another cloth in diluted alcohol and rub it against the glass to make it crystal clear and fog resistant. Apply an ample amount of car glass cleaner onto the glass and, with a wet microfiber cloth, scrub it in a vertical and horizontal motion. Don't let the cleaner dry on the glass, as it will leave streaks, making it smoggy.
Roof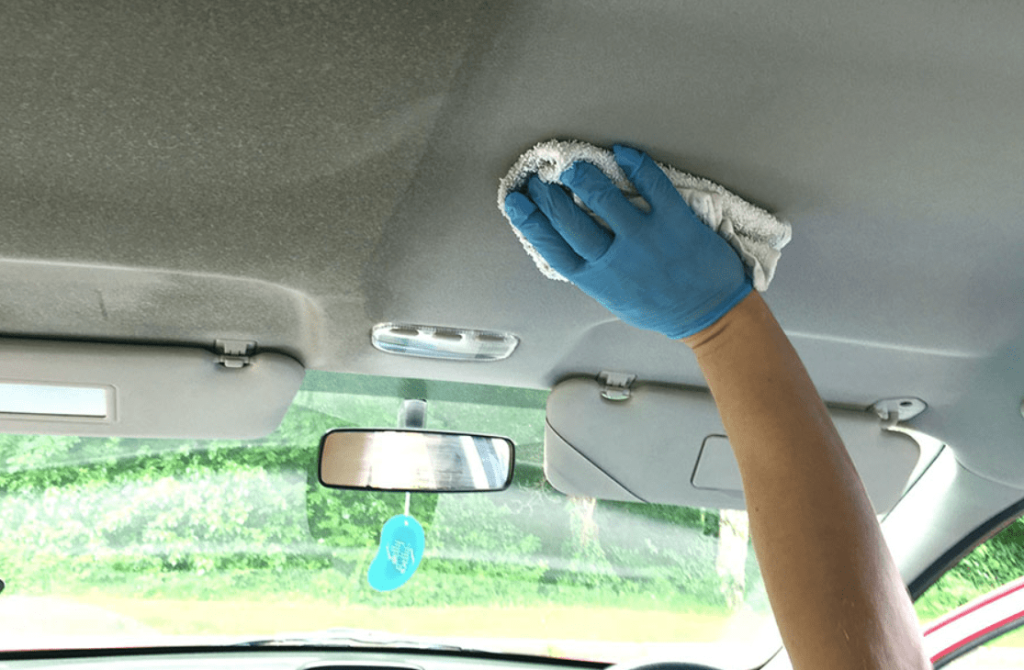 Source: CarfromJapan
Spray a car cleaner solution onto visible marks and stains, gently rub as not to damage the surface, and dry it with a microfiber cloth.
Dressing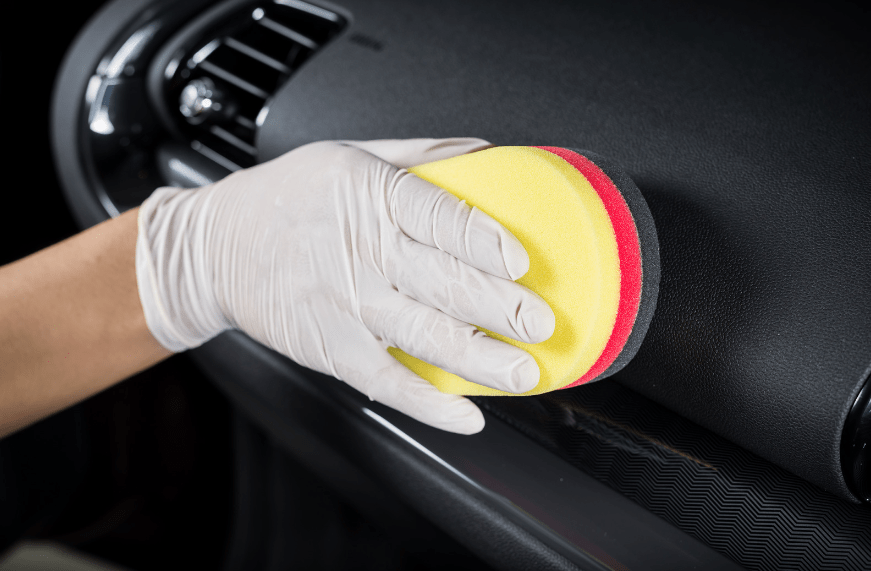 Car dressing is the art of giving the final touch to all the toiling of car interior detailing. It brings shine and gloss to the interior upholstery. These dressing liquids can be used directly or diluted to add luster and protect against Ultraviolet Rays. In addition, they come in various fragrances, so you can easily pair them with any of your favorite car air fresheners that will help bring a pleasant sensation and add beauty to the interior.
Protection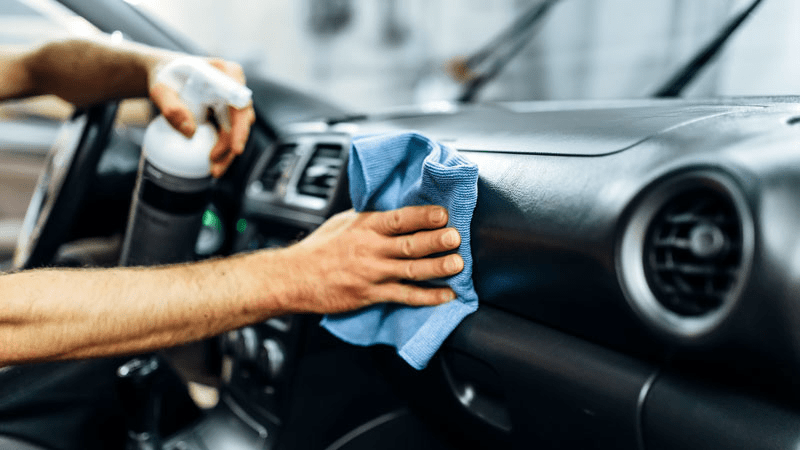 Source: oards
Finally, it's essential to give additional protection by applying a car interior protection spray to the upholstery and other parts. Its primary purpose is to protect the interior from ultraviolet rays, water, oil and liquid stains, molds, fungi, and bacteria. Moreover, it enhances the car's beauty by darkening the interior vinyl and leather parts, boosting its elegance.
Closure 
So, we discussed in detail all the interior car care accessories and methods to clean and detail your car interior step by step. Tell us in the comment section if you want further information about car interior or exterior detailing. We will be glad to be of service. Have a safe drive!