7 Best Steering Anti-Theft locks for your Car
Cars are not the simplest items for burglars to steal, but it does happen. If you wish to keep them from taking your automobile, you have several alternatives for locking it up. Anti-theft locks for cars are a great and necessary feature, especially if you want to keep your car safe.
If you want to improve the safety of your car, obtaining the finest steering wheel lock could be the way to go. Unfortunately, car theft is common in mega-cities and less populous rural portions of the nation. As a result, automobile owners are searching for dependable solutions to safeguard their goods. True, there are a plethora of contemporary digital gadgets on the market.
There is a vast range of steering wheel locks, ranging from simple and affordable to high-end, heavy-duty devices. Be aware of your requirements and make intelligent purchases.
What are Anti-Theft Locks for Your Car?
The steering lock is a vintage anti-theft lock. The steering wheel lock is self-explanatory. It is a gadget that secures the movement of a steering wheel of ca. it prevents stealing your automobile. It's a metal and plastic locking rod-style device that spans across your steering wheel to prevent it from being properly directed by the wrong hands.
Solid stainless steel is the basic material for anti-theft steering wheel locks, which makes them tough and long-lasting. The steering wheel lock has two pieces. It will have a locking mechanism and an exterior design that clamps directly to the steering wheel.
What is the importance of Steering Anti-theft Locks?
Using a steering wheel lock is one of the simplest techniques to prevent automobile theft. It guarantees dependable performance and is safe to use. You can gain an edge by using it.
The gadget will prevent your steering wheel from moving, preventing a burglar from driving away with it.
This cheap and easy approach makes it more difficult to steal your car.
Steering wheel lock can provide rudimentary protection
The steering wheel lock decreases the possibility of theft
Types of Best Steering Theft Locks.
Using a steering wheel lock is one of the simplest ways to prevent car theft. The steering lock provides dependable efficiency and is safe to use. It is ideal for steering wheels of various diameters. It provides you with a sense of security and may include various features. An anti-theft steering wheel lock is meant to last, so you may use it for a long period. Check out the top 7 best anti-theft automobile steering wheel locks in the list below: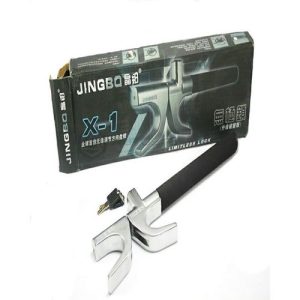 Description
The anti-theft crook automobile steering wheel lock comes with a safety hammer. The lock can keep you and your car safe. It is one of the best anti-thefts steering locks.
Features
It is both a security car lock and a safety hammer
Material—–High-quality steel and aluminum alloys
High security and tamper-proof
Anti-theft hyperbolic lock cylinder with a low mutual opening rate
The locking fork is compatible with most automobile steering wheels
Simple to store
It is simple to use; simply extend the lock to change it
The mutual open rate is low, and the anti-theft performance is excellent
Excellent craftsmanship, beautiful, robust metal texture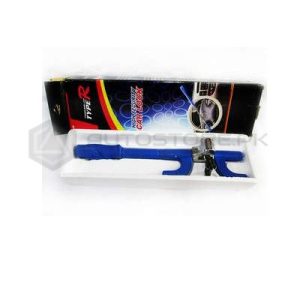 Description
Steering lock Type R 6026 is a Top Hook Lock made up of steel and aluminum alloy. It comes with two keys. The lock comes with a standard key, so you don't have to worry about changing the key every time you want to use it. Not only does this lock look stylish but it also features a powder and PVC-coated surface, which means that it will not rust easily over time due to weather conditions or UV rays from sunlight getting into the metal parts.
Features
Material— Steel and aluminum alloy
Colour—-blue
This lock is suitable for all types of cars since it has a universal design that can fit most vehicles without any problems at all.
It has a powder and PVC-coated surface.
It is compatible with all cars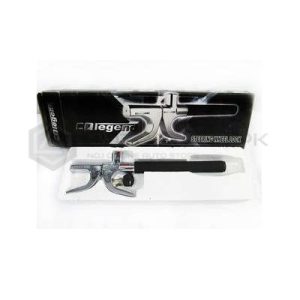 Description
The steering wheel lock is a strong physical and visible deterrent to auto thieves, dramatically lowering the probability of your vehicle being broken into or stolen.
The lock time is quick, making it easy to use and put on. It's quite bright and apparent to onlookers. With the reinforced steel steering wheel immobilizer put in place, the steering wheel cannot be fully rotated.
Steering wheel locks are also known as anti-theft devices that can help keep you safe from potential theft. These locks are very easy to install in any vehicle with a steering wheel.
Features
It's not only a security car lock but also a safety hammer.
It provides reliable functioning.
It is available at a reasonable price.
Very attractive design that is functional and long-lasting.
It is simple to use.
Made from high-quality materials
The automobile security lock is extremely difficult to remove with a strong locking mechanism without the key.
The lock is adjustable to accommodate any steering wheel.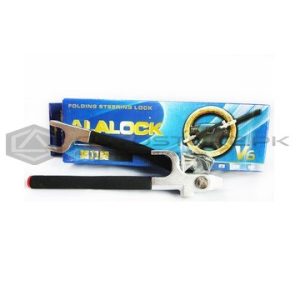 Description
The V6 Folding steering wheel lock is the perfect choice to secure the steering wheel and protect your car; it is suitable for all vehicles. The most popular steering lock nowadays is a cutting-edge design that makes use of ergonomics.
You should always use the steering wheel lock with the best metals and the most secure lock mechanisms. It is compatible with any thick leather-wrapped steering wheel. Its fashionable pursuit is met with a range of colors.
It is user-friendly, easy to set up, has two keys with distinct designs, and has an extremely low mutual opening rate. The handle has a soft rubber covering to avoid odors and provide comfort.
Features
The V6 foldable steering wheel lock offers a significantly larger adjustment range
The lock body is more aesthetically pleasing and harmonious
The locking fork is adjustable in a broader range to accommodate more cars
Material —-Steel
The metal structure is tamper-resistant, rust-resistant, and corrosion-resistant
It has an elegant design
It comes in reasonable and affordable prices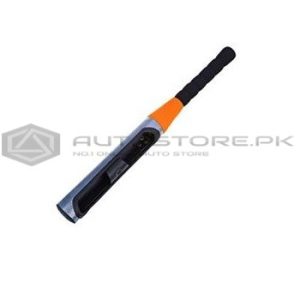 Description
This baseball steering wheel lock provides a layer of protection to the automobile steering wheel security lock. When using the product, insert the key to open it, which can be achieved immediately on the steering wheel. Adjust the location's direction and play a role in locking the steering wheel. It comprises high-quality rubber and iron, with a heavy-duty design and a pleasant grip. It comes with two keys and is easy to use.
Features
Exceptional performance
Superior quality material
Maximum durability and reliability
High strength with an extensive grip
Comes with standard keys
Rust and corrosion resistance
Easy to install
It is easy to use
The lock is adjustable to accommodate any steering wheel

Description
High-quality metal steering locks to secure your vehicle. It is easy to use. It provides you with extensive security for your steering wheel. You can easily carry and store it in your car.
Features
Dubber steel cover, brass cylinder with hardened steel cover
It is compatible with most cars
Unauthorized persons find it difficult to pick the lock with a dimple keyway cylinder
It provides maximum security
Lightweight and small, they are easy to stow in the car
Easy to use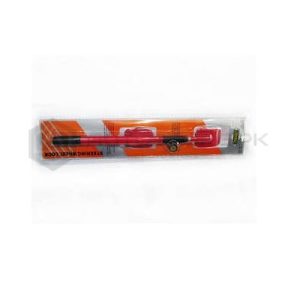 Description
It's convenient to use. With a powerful lock body, it may also serve as a self-defense weapon. It can be used for shattering the window for security escape and the anti-theft function. If you ever need this lock, it might be an excellent friend for any unforeseen event.
Features
A sponge-packed handle with excellent texture
It will not harm the inside of your vehicle
The LookMas 6006 is compatible with the majority of steering wheels
Its lock body comprises a toughened metal with stronger alloy molding to ensure protection
It is also a self-defense weapon in case of emergency.
 Final Thoughts
Regarding your car, safety should be your number one priority. That's why investing in a quality steering anti-theft lock is important to keep your car safe from thieves.
The greatest strategy to avoid automobile theft is to secure the steering wheel with a tough-to-crack lock. This is where a steering wheel anti-theft lock comes into play. Several varieties of anti-theft automobile steering wheel locks are available, and you should go through all the finest locks we have chosen for you.
So don't wait any longer. Invest in the safety of your car today with one of the best steering anti-theft locks on the market. AutoStore is now a Car part distribution online store. We offer steering wheel accessories, anti-theft locks, car interior accessories, and more.