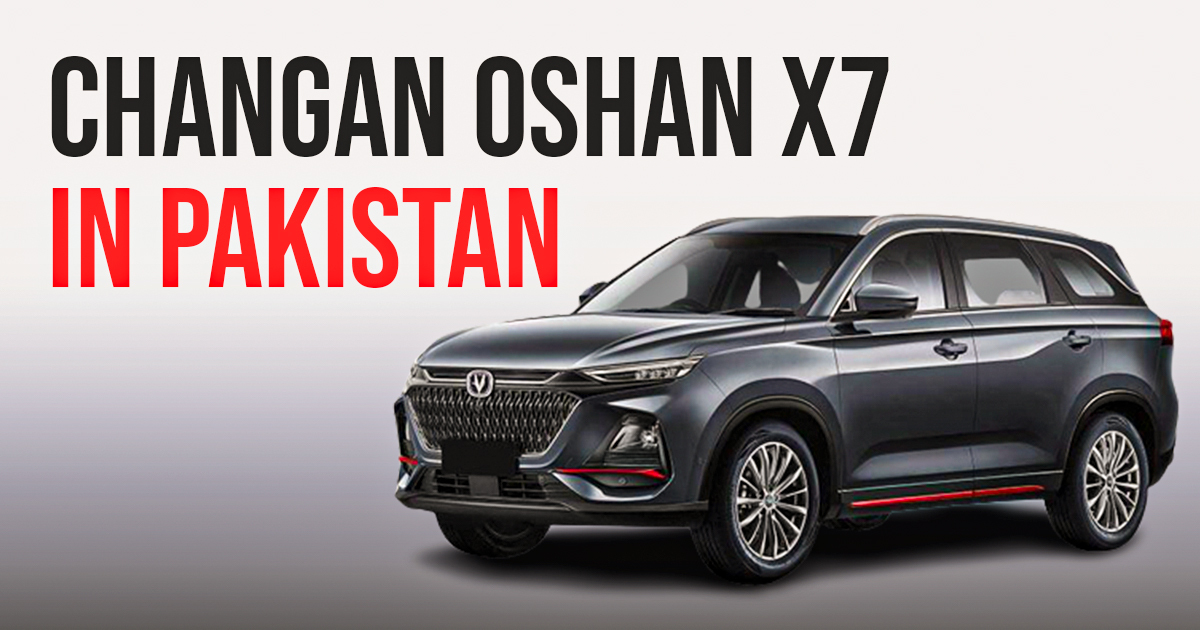 First Crossover SUV by Changan: The Oshan X7
Yes, you heard it right. The Pakistani automobile industry has welcomed a new addition. And this time, it's a dazzling and sparkling SUV by Changan. Pakistan's all-new Changan Oshan X7 has taken over the automobile industry with a boom. Everyone seems to be talking about this new mid-sized SUV on all automobile-related forums.
So today, we will talk about all the Specs and Features of the First crossover SUV Changan Oshan X7, in Pakistan. So you can have a clear idea of all the things this new SUV in Pakistan has to offer.
Specs and Features of Oshan X7
Oshan X7 launch is undoubtedly a significant addition to the Pakistan automobile scene. It's getting a lot of attention from Pakistani car enthusiasts. It appears as a tough competition for some market favorites like Toyota Fortuner, Kia Sonentto, etc. This SUV provides comfort and a smooth drive and screams style and elegance. It also is getting readily famous in the local market because of its great value of money. So now, Let's have a look at all the specs and features of the First crossover SUV Changan Oshan X7 in Pakistan and see what all this hype is about:
Dimensions
Oshan X7 is a mid-sized Crossover SUV. It is a D-segment SUV that is a little smaller than its familiar competitors on the market. Its dimensions are as follows:
The wheelbase is 2786 mm
Width is 1870 mm
Overall length is 4730 mm
Height of oshan X7 is 1720 mm
Engine and Transmission
The new Changan Oshan x7 is offered in two variants, comfort and futurescene. Both variants sport a 1.5L turbo petrol engine. Which can produce 185hp power, and its torque is 300Nm.
It offers an auto transmission with seven-speed DCT. In addition, Oshan X7 has disc brakes and an ABS braking system, which makes it secure and safe to drive with swifter stopping power and better road grip. It also has a multi-link coil spring system at its back.
Exterior
Oshan X7 is undoubtedly a piece of art to look at. It's beautifully designed and has a sporty yet elegant kind of way, which gives it an edge over its competitors in the market. Its most striking exterior elements include:
The very thing that makes the Oshan X7 one of the sharpest-looking cars in its front grille. Oshan X7 has an elegantly designed mesh pattern that distinguishes it from other D-segment SUVs.
It has a pair of sleek back-swiping LED headlights which adds to its sporty look. It also has day running lights.
Oshan X7 sports a sleek and sporty front bumper and a simple, classy hood.
Another extraordinary feature of this car is its backlight. It is a light bar that spans at the complete width of the car. It screams contemporary style and elegance.
Its back bumper is thick and broad with dual exhaust outlets.
It has a panoramic sunroof. That can help you enjoy the beautiful landscapes while driving.
The exterior accessories of the Oshan X7 also have heated and foldable side mirrors.
Interior
The interior of the Oshan X7 is elegant yet practical. Here are some of its silent features:
The first impression of the Oshan X7 interior is a comfy contemporary look.
It has a spacious cabin that can comfortably seat 5-7 passengers.
It has an ivory-colored interior that adds up to its sophistication
The seat has high-quality leather covers for more durable and comfortable seating.
Its climate control system is up to the mark with rear vents.
Its interior accessories also include a well-equipped 10 inches informant touch screen which has various connectivity options.
It offers modern high-tech features like keyless entry and pushes start, making your drive more convenient and hassle-free for you.
This car comes with six speakers, perfect for all the music enthusiasts out there.
Safety and Comfort
Oshan X7 has some extraordinary features that make it a safe and comfortable ride. Here are some of these features:
Firstly, this car has an ABS braking system which enhances its road grip and provides a faster stopping time.
It contains four airbags that can offer a great cushion to passengers in unfortunate events on the road like collisions.
Oshan X7 has modern safety elements like tier pressure monitor, parking sensors, traction and stability control, hill descent assist, etc.
Its top-notch variant offers more distinct features like walk-away door locking, smart proximity entry, forward collision warning, autonomous braking, cruise control, etc.
Price of Oshan X7
Changan Oshan X7, no doubt, is one of its kind. It possesses an unmatchable style statement, yet it is one of the most comfortable rides on the road. It's equipped with all modern safety features, which makes your ride safe and a lot more comfortable. And all this comes at a very cost-effective price compared to the similar car in the line. The price of oshan X7 is:
The price of the Oshan X7 Comfort variant is Rs. 5,750,000
While Oshan X7 FutureSense variant is for Rs. 5,950,000
Booking for both variants starts from Rs. 1,200,000
Final Thoughts
The launch of Changan Oshan X7 in Pakistan creates a lot of hype in the local automobile scene. It's all because of its unmatchable sleek and stylish look as well as the high-tech it is offering. Undoubtedly, Oshan X7 will provide tough competition to all the big names in the industry and will create a positive reputation in no time. We hope that this article will help you learn all about this new car and all its specs and features.