7 Best SUVs in Pakistan That Are Gaining Popularity
SUVs' reputation has changed drastically from being treated as gigantic, gas-guzzling behemoths to becoming the prime movers of well-paved roads of the city-side and mazy terrains of beautiful Northern Pakistan.
As a hedge against the evolving consumer tastes, most automakers are ridding of their line-ups of Sedans to enter the SUV market – which means that there are many SUVs now comfortably homed in Pakistan. So which one is the best fit for your needs?
If you are a car enthusiast like us, you probably already have a preference. For others, we have compiled a list of the most incredible SUVs available in Pakistan.
Sit back, read on, and head to the showroom after finishing up.
Honda BR-V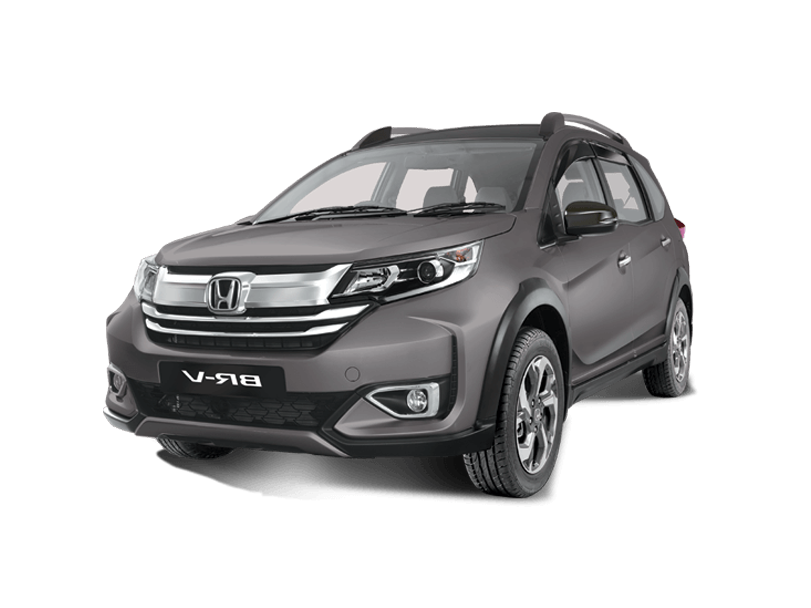 Source
The Honda BR-V is an aggressive, sporty-looking 7-seater crossover of Sedan and SUV. This affordable, cheap family vehicle is long-lasting and offers a composed and compliant ride to long-haul trips within the city.
Exterior Aesthetic Profile
BR-V comes with a wide chrome grille, chrome side skirts, and complementary door handles – pretty sure you are already convinced that it's fine-looking. We have enormous taillights placed on the rear to give you optimum visibility. The aggressive styling on the front is your typical Honda Vehicle.
Powertrain Options
We have nothing overpowering in Honda BR-V – just a moderately powerful motor. There are two engine options to opt from – a 1.5-L gasoline engine and a 1.5-L diesel engine. The engine is paired with a 6-speed manual or a 6-speed CVT with two motors.
How spacious is it?
As mentioned before, the vehicle has enough space to accommodate seven people easily. In addition, the seating is modernistic and ergonomic, which speaks for the comfortability of the ride. However, the problem with the third row of the seats is insufficient headspace and legroom (but you might not always need to onboard seven people in the car, right?).
Interior Features
To enhance the user experience and safety, BR-V comes with side airbags, digital climate control, rear air vents, rear-view camera, power windows, power doors, keyless entry, infotainment system, and retractable side mirrors. And oh, the Beige sand interior definitely has our heart.
If you find anything amiss in this price range, you can browse and select from the list of SUV accessories listed online and personalize your experience.
Starting Price
BR-V was launched into major Asian automotive markets (and developing countries) like Pakistan to cater to the demand of people for cheaper vehicles. Hence, its starting price is as low as PKR 3,600,000/-. This is not too much, considering the rising SUV prices in Pakistan.
KIA Sportage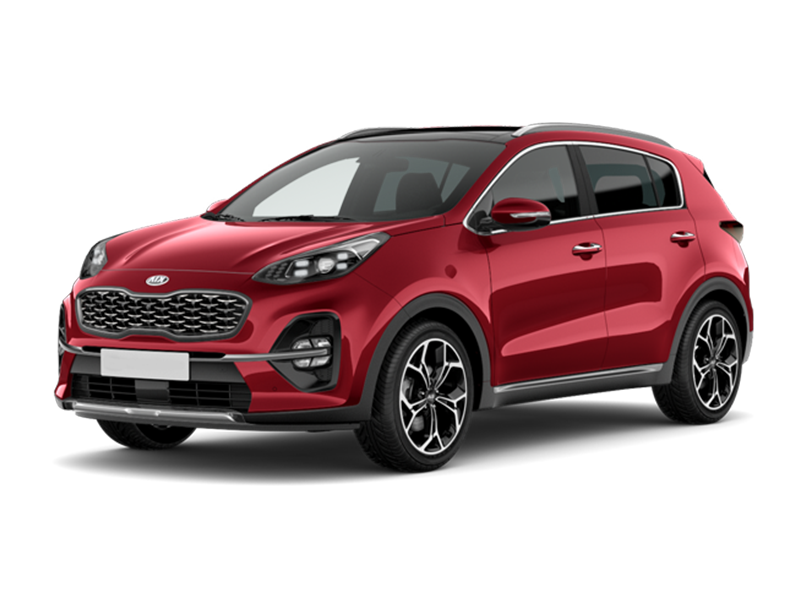 Source
To best describe KIA, let's say it's sporty and stylishly compact – stands out when stuck at a traffic light or speeding up across the road. This SUV x Sedan crossover has a beautiful interior and adequate passenger space, which makes up for its below-average luggage capacity. Fourth-generation KIA is a top-rated SUV in Pakistan.
Exterior Aesthetic Profile
The exterior offers halogen projector headlights, headlamps with DRLs, fog lights with black piano inserts, and a 3D mesh grille in the front. The heated power side mirrors come with LED turn-indicators and are retractable. The door handles are chromed with a smart, keyless entry system. The taillights are, again, halogen-lit.
Powertrain Options
This Sportage has a 2-L gasoline MPI engine that can give up to 155 horsepower at 6200 RPM and 196 Nm of torque at 4000 RPM. The engine is mated with a 6-speed automatic transmission.
How Spacious is it?
Kia Alpha is a five-seater that offers a roomy passenger space filled with a fun mix of quality material. The rear leg space and headroom are also ample. However, the cargo area is not spacious enough. To make up for that, we have seats-down luggage capacity along with an adjustable load floor.
Interior Features
Kia Sportage Alpha features a 7.0-inch touchscreen infotainment system with standard Apple CarPlay and Android Auto capability. The physical knobs and buttons make it easy to navigate through the system. For the passengers' security, Alpha has two front airbags. Unfortunately, many of the features available in high-end models are missing here. Overall, the interior resembles that of Audi Product.
Starting Price
You can get KIA Sportage for around 4,294,000 PKR. Alpha is on the lower-end side of SUVs/crossovers in Pakistan's market; you can check KIA FWD or AWD for high-end variants.
Proton X70

Proton X70 comes as Executive AWD, while Premium FWD is also available on the higher end. The crossover is a striking design with novel tech features inside.
Exterior Aesthetic Profile
Premium FWD's exterior is equipped with adjustable LED headlamps (with DRLs), alloy wheels, rear spoiler, side mirrors with indicators, and guess what, a moon roof!
Powertrain Options
The DOHC 12-valves 1.8-L engine can give up to 177 hp @ 5500 RPM with its 3 Cylinders and a torque of 255 Nm @ 4000 RPM. The engine is mated with a 7-speed automatic transmission.
How spacious is it?
This 5-seater has a spacious cabin room. The legroom is generous, and surprisingly, even with a panoramic glass roof, the headroom is sufficient. Additionally, the boot space is significant if you avoid using the tonneau cover, reducing the available area.
Interior Features
The interior is close to being impeccable. Supple Nappa leather seats make the interior close to being impeccable; what's more, the front seats are ventilated. The GKUI infotainment system is highly responsive. Additionally, you can easily control your vehicle with a voice command system. Dual-zone Automatic Climate Control ensures an outclass user experience. Six airbags ensure passenger safety.
Starting Price
The on-road price of this SUV in Pakistan is 5,096,480 PKR. That includes freight, taxes, and other documentation charges.
Hyundai Tucson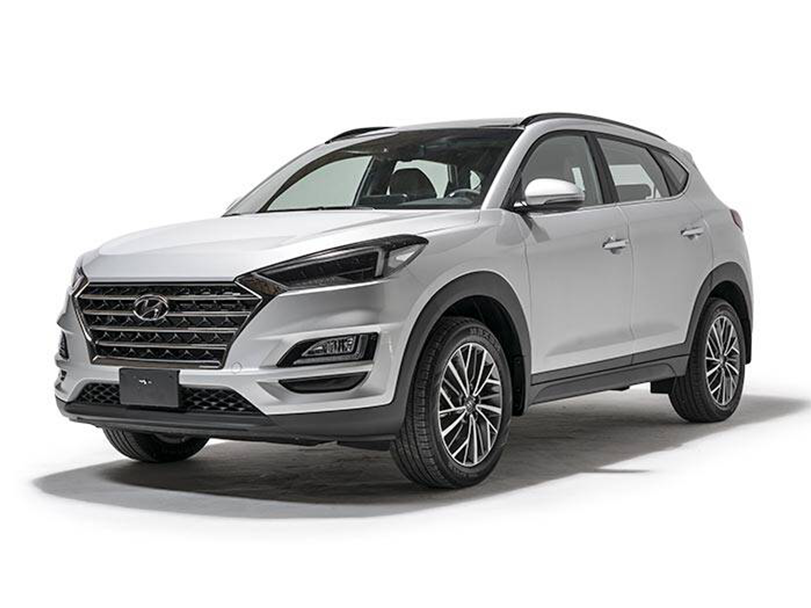 Tuscan is Hyundai's most-selling SUV in Pakistan. With its futuristic looks, it's a head-turner on the road. On top of that, the smooth driving dynamics and overall practicality makes it a drivers' favorite. You can opt for the base Variant FWD A/T GLS Sport or the high-end variant AWD A/T Ultimate depending on your budget (or preference).
Exterior Aesthetic Profile
The Hyundai Tucson 2022 has an upscale exterior; a sharp nose features a hexagonal grille. It is equipped with full led headlamps (and daytime running lamps) with an auto-leveling device. Running across the tailgate is a prominent light bar. Additionally, you can spot full LED taillights and a spoiler with a high mount stop lamp on the rear. And the favorite part is the car has a panoramic sunroof.
Powertrain Options
Its 2.0-L DOHC 16 Valve Inline-4 engine can give up to 155 horsepower at 6200 RPM and a torque of 196 Nm at 4000 RPM. The engine is mated with 6-speed automatic transmission.
How spacious is it?
The vehicle has ample cargo and passenger space. It has one of the largest boot capacities in the SUV market. Rear seats have a 60/40 split option to increase the boot space.
Interior Features
Tucson has a dapper cabin featuring a 4-spoke electrically powered steering. THE HYUNDAI CLAIMS THAT the FWD sports variant has cloth seating capable of resisting stains and odors. If you prefer leather-covered seats, you can opt for the AWD variant. The center console has a 10.1-inch floating display that supports Bluetooth and Android Auto and allows auto light control. Two airbags ensure passenger safety.
Starting Price
The on-road price for Hyundai Tucson FWD A/T GLS Sport is around PKR 5,838,055, while for AWD A/T Ultimate, it is PKR 6,301,555.
Toyota Rush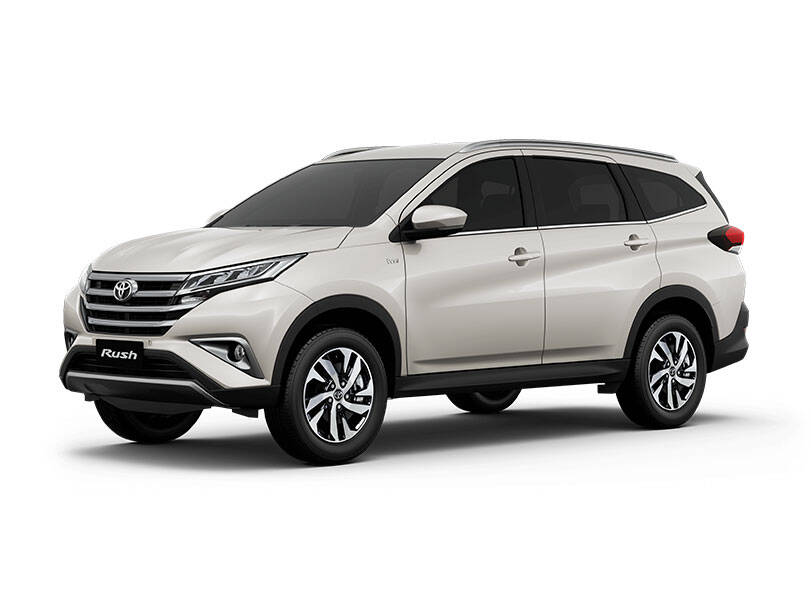 Tough road conditions? Your Toyota Rush would never shy away. Are you Looking for something which looks like the miniature version of Fortuner? Toyota Rush it is. Rush is available in three variants: G manual, G auto, and on the high-end, we have S variant.
Exterior Aesthetic Profile
Toyota Rush's shape is no different than any subcompact SUV you see on the roads. It has a sleek-looking, tall stature. The car features a clustered headlight design with LED DRLs. If you opt for the S variant, you see roof rails adorning the sturdy exterior. This high-end variant also has smoked DRLs and smoked front grills.
Powertrain Options
The vehicle comes with a 1.5-L DOHC 16 Valve Inline-4 engine that can give up to 103 horsepower @ 6000 RPM. In addition, you have a choice between a 4-Speed automatic (gate type) and a 5-speed manual transmission.
How spacious is it?
Toyota Rush is a spacious glee. You can choose the 7-seater variant if you have a larger family; otherwise, 5-seater offers are just as relaxing. What's more, you can easily increase the already-spacious boot room with a flexible seating configuration.
Interior Features
Again, we have a 7-inch touchscreen infotainment system along with a dependable climate control system. Apple CarPlay and Android Auto connections can be established with the Weblink Connectivity function available on all variants. Side shield, front, and front side airbags ensure safety.
Starting Price
The on-road price for the base variant G M/T is around PKR 5,748,778, while the G A/T variant is around PKR 5,962,978.
MG HS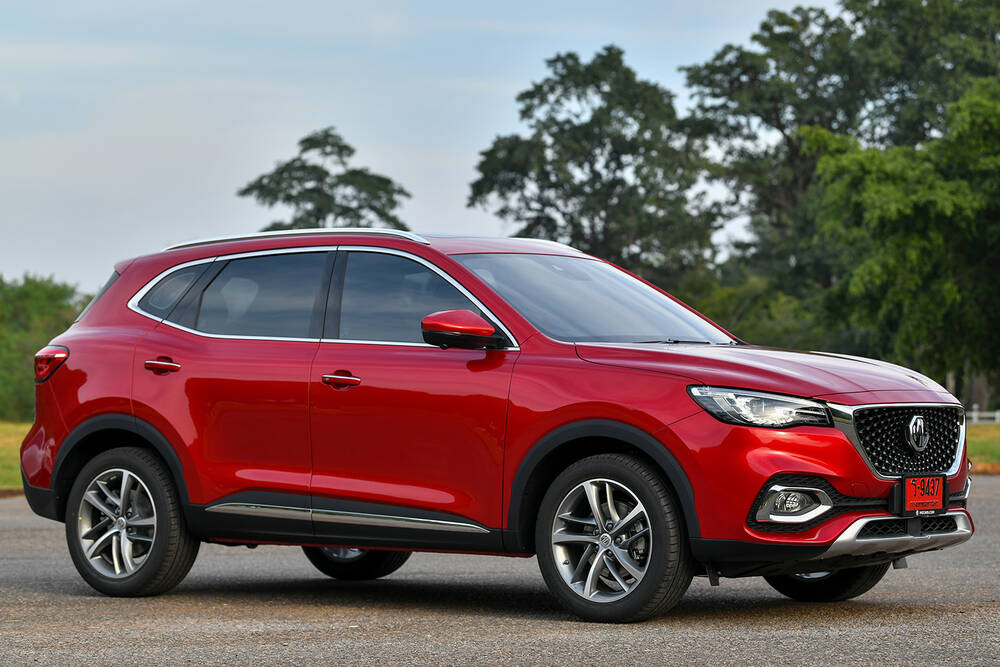 This subcompact crossover SUV gained immense popularity in Pakistan due to its sporty exterior and luxurious interior. There are two variants of MG HS, which are 1.5 Turbo eHS.
Exterior Aesthetic Profile
The exterior is visually appealing, featuring a large MG emblem on the front yield grill. What's more, we have bi-function projection headlights, intelligent high beam and stylish LED DRLs, LED center brake light, automatic headlights, and front fog lights to accentuate the whole look.
Powertrain Options
MG HS has a 1.5L GDI turbocharged engine that gives up to 160 horsepower at 5600 RPM and 250 Nm of torque at 4400 RPM.
How spacious is it?
This 5-seater is a fully-fledged SUV with a spacious interior with considerable head space and leg space, even when the front seats are fully reclined. The boot space is roomy, but if you need to increase it, the seats can split and fold 60/40.
Interior Features
The most noticeable feature of MG HS' interior is its unique speedometer that showcases a compound of analog and LED digital. In the center of the dash is a clear and responsive infotainment system supplemented by a row of within-the-reach switches, ensuring that the important functions can be operated quickly. 6 airbags ensure your safety.
Starting Price
The on-road price of the SUV in Pakistan starts at PKR 6,737,158, whereas for the top-of-the-line eHS variant, it is around PKR 8,675,158.
Honda CR-V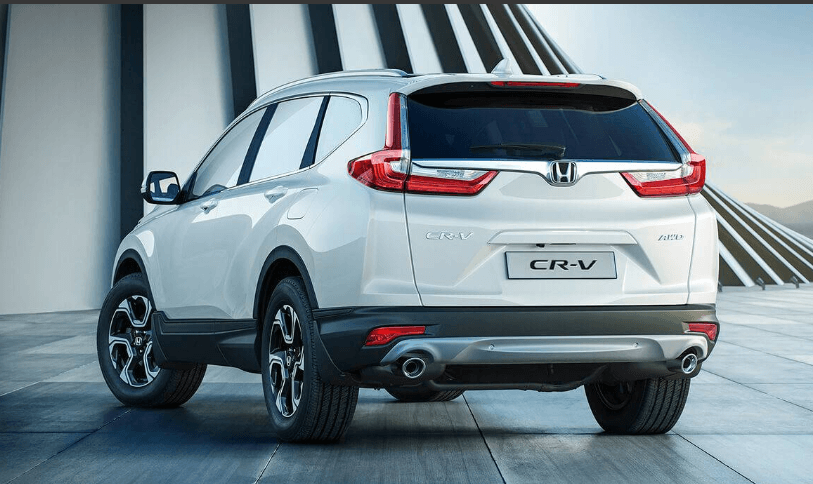 The CR-V has all the desirable qualities of the best compact SUVs: fuel efficiency, versatility, and plenty of the latest tech. Honda's Comfortable Runabout Vehicle has all the desirable qualities of the top-class SUVs; it's good-looking, fuel-efficient, versatile, and modern. 2.0 CVT variant is available in the Pakistani automobile market.
Exterior Aesthetic Profile
CR-V is rich with Honda's typical design cues. It features a prominent chrome grill that is surrounded by LED DRLs. The rear side has a dominant line running across the tail lights which reminds us of the Honda Civic. Dual exhaust tips add sportiness to the vehicle.
Powertrain Options
In Pakistan, this SUV is available with a 2.0-L engine that produces 113 horsepower at 6500 RPM and 189 Nm of torque at 4300 RPM.
How spacious is it?
Two-row Honda CR-V has an attractive and spacious cabin enhanced by bountiful storage solutions and cargo capacity that appeals to pack rats and road runners. To further increase the cargo space, you can fold the back seat flat.
Interior Features
CR-V is a tasteful blend of faux-wood accents, chromed plastic, and brushed-satin that features user-friendly and useful equipment like heated and powered front seats and Honda's new infotainment system, and dual-zone climate control.
Starting Price
The On-Road Price of CR-V 2.0 CVT is currently around PKR 11,029,680.